Northern Ireland is bestowed with otherworldly geological formations; ancient castles perched on verdant, craggy cliffs; and beaches on the Atlantic Ocean and Irish Sea whose bracing waters never deter hearty locals from a restorative dip. It's no wonder various scenes from Game of Thrones were filmed in 25 locations in this spectacular part of the United Kingdom; now it boasts yet another claim to fame.
Limavady Single Malt Whiskey, made in Northern Ireland, is the only constantly available single barrel, single malt Irish whiskey. While other distillers there might do a limited edition or special bottling, only Limavady offers one in its permanent portfolio. Made from 100 percent Irish barley in small batches and triple-distilled in copper pot stills, the whiskey ages in former bourbon barrels and finishes in PX sherry casks. The end result, smooth on the palate, features warm tones of dried fruit over a sweet vanilla base and a lingering, satisfying finish. Each barrel produces only 846 bottles, lending an exciting level of variation for the dram fan.
The spirit is the brainchild of Darryl McNally, whose decades of experi- ence include 17 years as distilling operations manager of Old Bushmills Distillery. He also happens to be a descendent of the original Limavady distillers in County Derry, one of Ireland's first licensed distilleries in 1608.
On the horizon for Limavady are experimental bottlings aged in various wine casks (McNally is tight-lipped about the exact details, but expect a few surprising finishes). "Limavady" derives from the Gaelic léim an mhadaidh, translating to "leap of the dog" — chosen by the team as a symbol of bravery and goodwill as much as a leap of faith in bringing their vision to market. A current fun nod to the name (available on the distillery website) is a bottle of its flagship whiskey with a limited-edition dog collar boasting a mini cask adorned with the logo; proceeds support Best Friends Animal Society.
Though a distillery and tasting room are at least five years away from becoming reality, you can still immerse yourself in the region — and the whiskey — with a spirited sojourn. Get that requisite Instagram photo at The Dark Hedges, a long row of ominous beech trees whose intertwining branches bow to the ground and feature prominently in a Season 2 Game of Thrones episode. Even more epic is Giant's Causeway, where 40,000 basalt columns formed by an ancient volcanic fissure eruption are so perfectly interlocked and stacked they appear to be the workings of man (or giant), not nature.
Tour the ruins of Dunluce Castle, built in the 13th century on a basalt outcropping and protected by steep drops. Lunch on Asian small plates (and a Limavady sour) at Urban in the charming seaside resort town of Portrush in County Antrim. A stroll in Roe Valley Country Park gives you a glimpse of Roe River, a water source for Limavady whiskey dating back to the seventh century. Finally, grab happy hour Limavady highballs (with a Guinness chaser) at Blazing Saddle, the McNally family-run pub. On first glance, the Wild West-themed bar seems decidedly out of place. But step inside and you might be welcomed by any one of the McNally brood (including Darryl's son, whose band plays traditional tunes) or a sprightly clan of pint-sized Irish step dancers. Sláinte!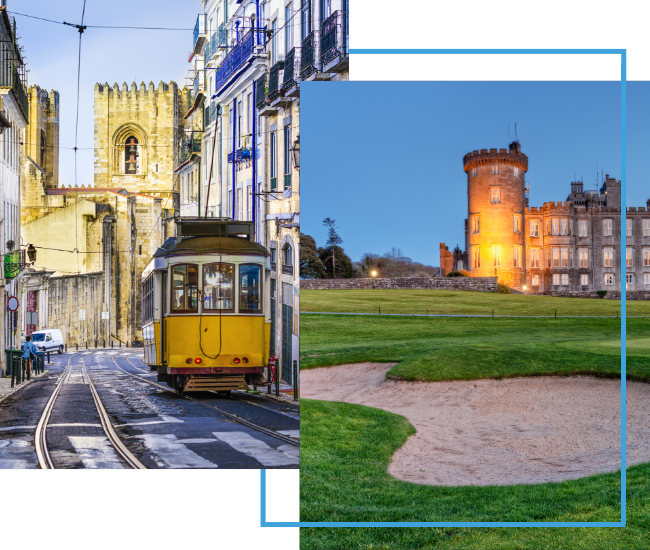 FX Excursions
FX Excursions offers the chance for once-in-a-lifetime experiences in destinations around the world.
Explore Excursions
If fabulous food and beverages are a must-have for any weekend getaway, then look no further than the City of Brotherly Love. Whether your palate has a penchant for vibrant Latin American fare or cozy French cuisine, whether you're an oenophile looking to swirl, sniff and sip your way around the globe or you'd rather sample farm-to-glass cocktails, Philly's got it all this fall. (With the exception of Bolo, which is a short taxi or Uber ride away and definitely worth the trip, the rest of these spots are all within walking distance of each other.)
Sponsored Content
From the moment you step onboard Air Tahiti Nui's Tahitian Dreamliner, you will be transported to The Islands of Tahiti. The French Polynesian carrier considered every detail to awaken its passengers' senses, creating the feeling you are already on the Islands while 30,000 feet in the air.
From Santoríni to Dubai to New York, some hotels just have that "it" factor that draws visitors far and wide. For some hotels it's their proximity to popular landmarks and attractions, for others it's their amenities. But these hotels have something few can claim: a true room with a view.