The Region of Murcia sits in the southeast of Spain, guaranteeing Mediterranean-esque temperatures year-round, with more than 300 days of sun per year. My journeys through Murcia took me from the futuristic landscape of Lorca and the picturesque port city of Cartagena to the hustle of the capital city of Murcia, with a visit to tranquil Mar Menor in between.
Mar Menor is Europe's largest saltwater lagoon, separated from the Mediterranean by La Manga, a strip of land nearly 14 miles long. It was here, on Mar Menor, after driving the length of the arm-like La Manga, I found a haven of blissful relaxation.
I should say my entire visit to the Mar Menor area of Murcia focused heavily on wellness. Earlier in the day I bathed in the healing mud of Mar Menor. While I did not swathe myself in the mud from head to toe like many of my fellow sunbathers, I did dig along the sea's bottom, pulling up handfuls of mud and wiping it generously down my arms, neck and chest. It's believed the mineral content of the mud boasts health and skin benefits.
Late afternoon, I checked into InterContinental Mar Menor Golf, Resort & Spa, where the pampering continued. The property is located in the Mar Menor Golf Resort complex and offers the 18-hole, 72-par Mar Menor Village Golf Course in addition to its 5-star spa. On stunningly beautiful grounds with gorgeous views and sumptuous accommodations, the only thing that lured me from my in-room balcony was my beckoning appointment at that very spa.
Arriving through the antique wooden doors of the spa, just about 90 minutes before it closed, I was the last appointment of the day. Aside from one other guest, gone before I re-emerged from my treatment, I had the serene place all to myself, greatly furthering my Zen.
Before or after treatments, spa goers are encouraged to indulge in the thermal circuit, a series of water-based treatments designed to promote hydration, circulation and relaxation. The unique offering includes a revitalizing pool, a tropical shower, a steam bath under a starry sky, frozen rain, a sauna with chromotherapy, the ice fountain, a waterfall shower, a relaxation area, a heated pool and a gym.
Eager to begin my massage, I opted to head right into the treatment room. I followed the advice of the spa staff and chose the Placid Paradise massage, highlighted by the use of scented sachets of nutmeg, cinnamon and cardamom bathed in rice, sesame and almond oils. At €78 (about $88), the massage was affordable and accessible, given the spa's obvious 5-star quality. The other highly recommended treatment was the Ayurveda massage, which uses warm oils to eliminate toxins, activate the metabolism and restore energy.
My treatment was aptly named. As soft music played and the scent of the sachets filled the room, my therapist began with a soft touch as she gently patted the spiced pouches up and down my back and legs, which left a beautiful, lingering aroma on my skin.
The massage's description read (and appropriately summed up the experience): "Exotic aromas mingle to induce the purest state of relaxation." Weeks beyond my visit, I remember the smell vividly; it stands out as my clearest reflection. The massage concluded with stronger, more traditional strokes as I floated somewhat above myself in a state of semi-consciousness.
It all ended too quickly. As I had dinner reservations, I couldn't linger as long as I desired, but I did wind down a bit in the relaxation room. The dark décor and tiled accents reminded me of a Turkish hammam. The spa does offer a hammam experience in its Private Spa area, where couples enjoy in-sync treatments, an aroma bath and hammam.
Sipping on a warming tea, I reluctantly pulled myself from the cushioned lounger, slipping out of the quiet spa which had quite literally been my exclusive retreat at the end of a long afternoon.
Inspired by treatments from India and the Pacific Islands, the spa offers massages, exfoliations, body treatments and facial treatments as well as hair and waxing services. Treatments such as the Exotic Sri Lanka, Mediterranean Light and Exotic Orient bring spa visitors on an around-the-world journey of wellness philosophies and healing practices. Other luxurious treatments, like the Litho Zen Ritual, utilize mousse exfoliation techniques and precious stones.
Aside from hitting the links and seeking tranquility in the spa, guests at InterContinental Mar Menor Golf, Resort & Spa also enjoy two pools, a children's club, luxe accommodations and eight restaurants and bars serving a far-flung palate of gourmet dishes and flavors. Mizu is located at the spa, offering traditional Japanese cuisine with an "edgy essence." Even though I've mentioned golf, I'd be remiss not to note this isn't just any old golf resort — the property boasts six Nicklaus-designed courses for golfers of all skill levels.
InterContinental Mar Menor Golf, Resort & Spa
Calle Ceiba, Mar Menor Golf Resort
30700 Torre Pacheco
Murcia, Spain
tel 968 041 840|
intercontinentalmarmenor.com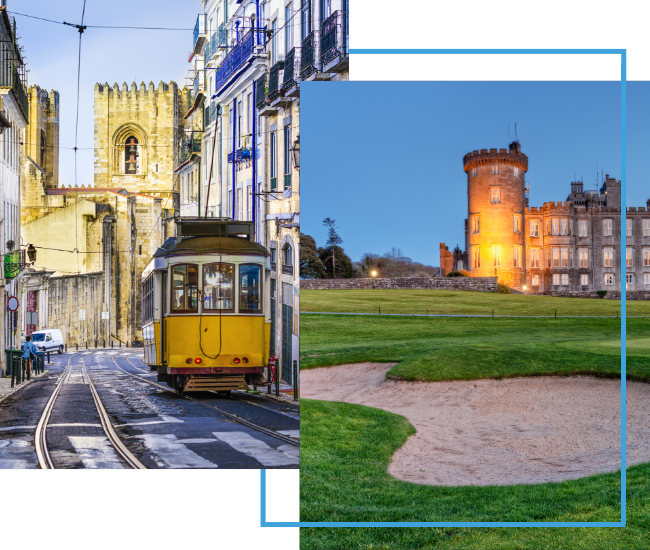 FX Excursions
FX Excursions offers the chance for once-in-a-lifetime experiences in destinations around the world.
Explore Excursions
Imagine yourself lounging in a stone cottage suite with a fireplace and freestanding tub, sipping hot chocolate in a rustic game and reading room with a raftered ceiling, and ice skating and cross-country skiing in the crisp mountain air. Sounds pretty perfect, doesn't it? Especially when you add in seasonal touches.
Sponsored Content
Are you looking to enhance your business trip with a little leisure? Look no further than Portugal, a country renowned for its captivating blend of history, culture and natural beauty. And with TAP Air Portugal, you can effortlessly transform your business trip into an unforgettable bleisure adventure. Discover why Portugal and TAP Air Portugal are the perfect combination for an enriching and rejuvenating experience.
For the first time in Olympic history, when the 2024 Summer Olympics kick off on July 26, 2024, they will not do so in a stadium. Instead of an Olympic venue, the entire city of Paris will become the Olympic stadium, hosting the games among monuments, on bridges and on the grounds of some of the world's most historic sites. The Opening Ceremony will take place on the River Seine, where athletes will drift along on a flotilla of boats as spectators wave them on from the quays and bridges throughout the city.