AFTER TWO DECADES, my favorite aunt announced she was planning to remarry and blend her small family with her fiancé's large, extended one. Her daughter's reaction? "Mom, I love you. He's a great guy. His kinfolk seem nice, and I know you'll be happy, but let's cut to the chase … what does this mean for me?" My aunt's response: "We'll just have to wait and see."
Like my cousin, business travelers want to know how Marriott International's acquisition of Starwood Hotels & Resorts will affect them. They have questions, lots of questions. And the answers from both Marriott execs and travel industry insiders, for the most part, are "Wait and see." Here's what we do know about the "new" Marriott.
Marriott is the largest hotel company in the world, with more than 6,000 properties and nearly 1.2 million rooms in 120 countries. No matter where you go, you should be able to find a Marriott hotel. The portfolio now includes luxury brands The Ritz-Carlton, St. Regis and Bvlgari Hotels & Resorts. Westin, Renaissance and Autograph Collection occupy an evolving lifestyle category. Premium brands such as Marriott Hotels and Sheraton anchor the portfolio. And there are new, fun, accessible experiences at Moxy Hotels, AC Hotels and Aloft. Bottom line: The new Marriott allows travelers to find a property that fits their budgets, lifestyles and preferences.
"But our focus is not on bigger, rather, better," says Tim Sheldon, president, Marriott Caribbean and Latin America (CALA). "We have tremendous talent at our properties who ensure that our guests receive world-class service and enjoy unforgettable experiences. New brands in our portfolio and new markets mean more experiences for our customer."
Sheldon adds that thanks to the merger, Marriott has been able to add new markets. Argentina, for example, where Marriott had not been operational for several years, is now again a Marriott destination with Sheraton, The Luxury Collection and the newly introduced Tribute brands. And expansion continues to be a priority. "Marriott has a robust pipeline of new projects for the next five years and plans to open 37 new properties in CALA in 2017. We will continue to increase our footprint across the region, with a special focus on Mexico," he says.
In December 2016 The Luxury Collection added five flagship properties to the brand: The Wellesley and The Westbury in London; Hôtel de Berri in Paris; Cristallo Resort & Spa in Cortina, Italy; and The Alexander in Yerevan, Armenia.
To Matthew Carroll, vice president, Marriott Hotels, the merger kick-started the flagship Marriott Hotels brand to elevate the guest experience. "We're renovating and deploying new guestrooms around the world to give them a more contemporary feel," he says. For example, many properties converted tub/shower combos to walk-in showers and replaced carpet with hard-surface floors.
Marriott is also pushing innovation. Last October the company unveiled what it called the world's first hotel in "live beta," M Beta at Charlotte Marriott City Center. "Beta buttons" throughout the hotel enable guests to instantly give feedback on amenities and concepts. Among the test features: personal greeters in lieu of traditional front desk check-in; access to 1,000 on-demand workouts on screens in the fitness studio; and a coffeehouse with locally sourced coffee.
Marriott's plans to evolve, sign more franchise agreements and open new properties are no surprise. So let's deal with the million-dollar question: What is happening to the loyalty program? On day one — Sept. 23, 2016 — as the ink was drying on the acquisition papers, Marriott announced loyalty members could link their Marriott Rewards and Starwood Preferred Guest accounts, obtaining instant Elite status matching and unlimited points transfer between accounts.
Now Marriott Rewards and The Ritz-Carlton Rewards members can use points to travel to destinations such as the Maldives, Santoríni in Greece and Bora-Bora, while SPG members have access to popular locales such as Aruba, Tuscany's Serchio Valley and Kruger National Park in South Africa.
They also gain exclusive access to money-can't-buy events and experiences in music, sports (including professional football, baseball, basketball and tennis) and entertainment such as Broadway shows, an increasingly valuable perk, according to Thom Kozik, vice president, global loyalty, Marriott International.
"Our members increasingly value experiences over points. Whether they get to throw out the first pitch at a World Series game or attend a private concert with Demi Lovato and DNCE, the combined partnership of Marriott Rewards and SPG means we can deepen the emotional relationship with them," he says. "We are giving members once-in-a-lifetime access to pursue their passions in ways they could never have imagined and that our competitors cannot match."
Also, when members book stays directly with Marriott, they can use the Marriott mobile app to check in and check out, receive an alert when their room is ready, as well as make service requests directly to participating hotels using Mobile Requests before, during and after their stays. Similarly, SPG's mobile app allows guests to use SPG Keyless to check in, get their room numbers and unlock the room doors using their smartphones or Apple Watch at participating hotels.
"For the business traveler who was a Marriott customer, this is a positive. You get new properties to earn and burn points and gain a more global and more upscale footprint. For those loyal to Starwood, there is skepticism," says Gary Leff, author, ViewFromTheWing.com. "Marriott is known for being more rewarding on spend, Starwood more rewarding to Elite guests with more robust suite upgrades and breakfast perks. Which will get adopted by Marriott is anyone's guess."
Overall, Marriott made a lot of early moves to allay the fears of Starwood members. As Leff points out, the ultimate goal of Marriott International is to become the only brand and only loyalty program a traveler needs. "A loyalty program is how a consumer experiences a chain as a whole and can ultimately be the reason to stay or switch brands," he says.
For Marriott, it's a long transition process. The company has to review and negotiate with suppliers, credit card companies, airlines, rental car companies and rewards partners. Wanting to avoid the technical snafus that plagued airline mergers, Marriott is taking it step by step as it upgrades and merges its reservations, loyalty and operations backend software. Nothing in the immediate term is likely to radically change, and Marriott doesn't want to over-promise and under-deliver. Moves will be revealed in the next six to nine months. We'll just have to wait and see.
MARRIOTT INTERNATIONAL
Demographic: With an ever-evolving portfolio of innovative brands ranging from upper midscale to luxury, Marriott attracts a wide range of travelers seeking attentive service, exceptional amenities, a commitment to excellence, in-depth local connections and preeminent loyalty programs.
Offerings: Marriott operates 6,000-plus properties worldwide, offering 1.2 million rooms in 120 countries. Guests can opt to join three loyalty programs: Marriott Rewards, The Ritz-Carlton Rewards and Starwood Preferred Guest.
BRANDS:
Luxury: St. Regis, W, The Luxury Collection, The Ritz-Carlton/The Ritz-Carlton Reserve, Bvlgari Hotels & Resorts, JW Marriott, EDITION
Upper Upscale: Westin, Le Méridien, Sheraton, Tribute Portfolio, Autograph Collection Hotels, Renaissance Hotels, Marriott Hotels, Delta Hotels by Marriott, Marriott Executive Apartments, Marriott Vacation Club, Gaylord Hotels, Design Hotels
Upscale: Four Points by Sheraton, Element, Aloft Hotels, AC Hotels by Marriott, Courtyard, SpringHill Suites, Residence Inn
Upper Midscale: Moxy Hotels, Fairfield Inn & Suites, Protea Hotels by Marriott, TownePlace Suites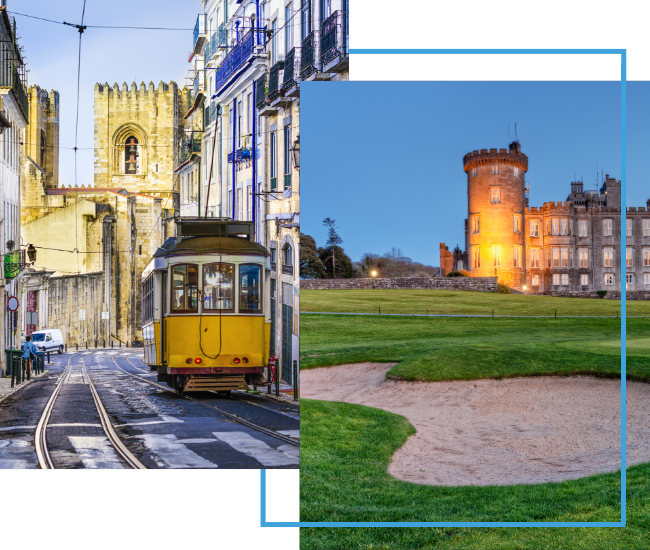 FX Excursions
FX Excursions offers the chance for once-in-a-lifetime experiences in destinations around the world.
Explore Excursions
Mazatlán, Mexico, has long been an attractive home destination for Canadian and American retirees, but, in recent years, young, digital nomads have also discovered the charms of this coastal city, finding inexpensive accommodations, beautiful weather and plenty of bandwidth for working remotely. The laid-back beach scene definitely eases the transition of relocating to Mexico's West Coast.
Sponsored Content
Exclusive Sailing with Global Traveler
For its third year, Global Traveler awards the airline, cruise line and hotel brand best representing diversity, equity and inclusion within the travel industry. Over the past year Global Traveler analyzed many airlines, cruise lines and hotel brands to determine which companies prove most committed to changing the world through diversity and inclusion.