At this new luxury resort, one inevitably experiences a Papa Hemingway moment, though without the marlins. The drop-dead gorgeous scenery at the beach hideaway on one of Cuba's tropical islands tugs at the heartstrings. Surrounded by unspoiled boulevards of sea grapes and thatched tiki huts along a strip of sugar-white sand overlooking the turquoise sea, is it any wonder Ernest Hemingway fell for Cuba's blessed archipelago, the Jardines del Rey?
Home to an aquatic playground that boasts every marine activity imaginable alongside one of the country's best scuba diving and deep-sea fishing sites, Cayo Coco is aptly included in the "King's Gardens" for its plethora of nature reserves.
Among the latest island ventures, Meliá Hotels International — the Spanish-headquartered hotel chain that's been skillfully bottling the sun vacations formula for 60 years — opened the 1,176-room Meliá Jardines del Rey on Cuba's idyllic Cayo Coco. The company's largest hotel to date debuted during Cuba's national tourism trade show last May. The luxury, all-inclusive property, only minutes from the main airport, also doubled as the trade expo's venue and wowed industry influencers and travel agents worldwide.
Hotel developments like these continually set Spain's No.1 hotel company apart. In the process, Meliá sets other records and wins awards that are the envy of hotel rivals. MHI reports it is the No. 1 hotel company in Latin America and the Caribbean, and the thirdlargest in Europe.
Meliá Hotels International's tagline, inevitably: "Everything is possible."
Its origins may be traced to 1956, when hotelier Gabriel Escarrer Julia, a 21-year-old entrepreneur, opened a quaint Mediterranean seaside hotel known as the Altair Hotel in idyllic Palma de Mallorca, Spain. Selecting a small hotel for the business venture in what was then a residential area was indeed a gamble. But business boomed, and so has Escarrer's hotel empire.
Since 2009, a second-generation Escarrer runs the company. Gabriel Escarrer Jaume, CEO, Meliá Hotels International, once told The Telegraph his biggest mentor was his father. "He told me to never say that something isn't possible — a rule he followed throughout his life." "We can have a hotel in any part of the world," adds Rodolfo Cresta, director of global sales, U.S. and Canada, who oversees all the brands and hotels in the MHI portfolio. Cuba, he notes, is proof. "We are the largest hotel company in Cuba, with 27 hotels there," he says. He predicts the company will only grow in Cuba "because we're going to need the [room inventory] growth to keep up with the demand."
This year, as MHI celebrates its 60th anniversary, the family company, which remains headquartered in Mallorca, also marks its arrival into the U.S. market with openings in Miami and New York City. The majority of properties, however, are based in destinations such as Europe, the Caribbean, Mexico, Brazil, the Arabian Gulf, Southeast Asia and Asia, with two hotels in China.
"We have different brands and different hotel concepts for both the city and the beach," says Cresta, noting that with more than 350 hotels in 40 countries, the company provides more options for guests. He adds, with a smile, "In a year you can spend one night in each of our hotels around the world."
Gran Meliá
Demographic: Well-heeled luxury seekers
Offerings: The jewel in Meliá's crown, this 5-star luxury brand (more than 90 percent of the properties are in the Leading Hotels of the World collection) is situated in the most sought-after destinations that cater to timeless luxury. Predominately in Europe and the Caribbean, find alluring architecture verging on masterpieces that match the location.
Highlight: In the heart of Rome, the Gran Meliá Villa Agrippina is a magnificent museum hotel boasting exclusive Vatican views and a fine-dining restaurant helmed by a Michelin-starred chef.
INNSIDE by Meliá
Demographic: Caters to business travelers seeking more than business amenities in their hotel; its design-rich décor also appeals to leisure travelers.
Offerings: In 2007 MHI acquired this lifestyle business city hotel from Germany with properties across Europe and an expansion into the United States. Expect the latest technological amenities and specialized services suitable for corporate guests. With a guiding principle of wellness, properties feature intimate lifestyle spaces such as whirlpools, Turkish baths or saunas and fitness areas.
Highlight: This year INNSIDE New York NoMad debuted in Manhattan, marking the brand's U.S. introduction, opening in the "City That Never Sleeps."
ME by Meliá
Demographic: Attracts 35- to 45-year-old hipster singles with disposable income who enjoy mingling with other trendsetters but like to mellow in chic surrounds as they enjoy nightlife in highly sought-after locales like London, Madrid and the Caribbean.
Offerings: Experience-based personality hotels, these sophisticated 5-star properties feature a bent on design. Expect cutting-edge DJs showcasing the latest dance music in modern surroundings with beautiful staff in designer-inspired fashion. These family-friendly and pet-friendly properties have more adult cachet.
Highlight: While the brand's flagship, ME London, designed by Sir Norman Foster, opened in 2013, the newest, ME Miami, opened earlier this year in another urban hotbed of cool.
Meliá Hotels and Resorts
Demographic: Business and leisure travelers
Offerings: Considered the company's most popular brand with the largest room inventory (32,000 rooms), this combination of city and beach 4-star hotels offers the best of both worlds: urban and sun getaways. The accent is on quality service from the finest culinary offerings to ample activities.
Highlight: Opened last December, Meliá Braco Village, MHI's first all-inclusive property in Jamaica, is reminiscent of a stately colonial plantation house but with 21st-century amenities and exceptional personalized service.
Paradisus Resorts
Demographic: Upscale, family-friendly and popular for destination weddings
Offerings: Started in 1995, this 5-star luxury lifestyle all-inclusive accentuates elegant beach settings in Mexico and the Caribbean for families as well as couples seeking romance. The brand offers two unique concepts: Royal Service, a boutique resort-within-a-resort for adults only that focuses on pampering and luxury amenities, and a Family Concierge program featuring special kids' packages and in-room services.
Highlight: At the Paradisus Cancun Resort in Mexico, a Michelin-starred chef adds to the luxury mix.
Sol Hotels
Demographic: The brand focuses on families, so watch for water parks and family activities.
Offerings: Considered the newest and smallest in the MHI portfolio, this 3- to 4-star brand features a collection of seasonal resort properties managed by MHI. Mainly Mediterranean-centric with some resorts in the Caribbean, these beachfront hotels offer comfortable guestrooms and fresh interiors.
Highlight: The newly renovated Sol House Aloha – Costa del Sol in Málaga, Spain, boasts beach access and new pool areas.
TRY P by Wyndham
Demographic: TRYP caters to a new generation of business travelers seeking premium space in the heart of world-class cities. In 2010, MHI and the Wyndham Group partnered to open business hotels in urban hot spots such as Madrid, Paris, Lisbon and Buenos Aires. With the brand slogan "Own the City," the Spanish flair offers a unique selling feature.
Offerings: Expect select services without the leisure frills of MHI's highertiered INNSIDE brand; watch for specialty guestrooms for young executives traveling with children.
Highlight: The 201-room TRYP München City Center occupies a prime downtown location near the Munich Trade Fair Centre and train station.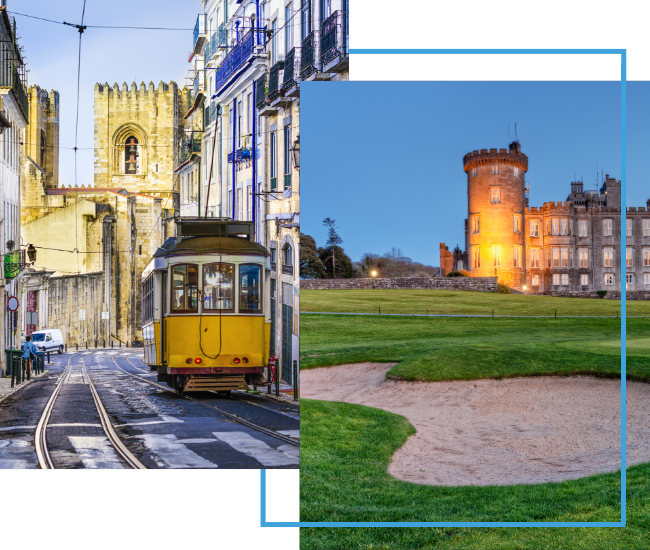 FX Excursions
FX Excursions offers the chance for once-in-a-lifetime experiences in destinations around the world.
Explore Excursions
The Perelman Performing Arts Center (PAC NYC), the cultural cornerstone and final public element of the World Trade Center site, opened this September.  The new performing arts center in Lower Manhattan provides a dynamic home for the arts, serving audiences and creators through flexible venues enabling the facility to embrace wide-ranging artistic programs.
Sponsored Content
Whether it's the people, the craic (fun) or the coasts, travelers always find something to love about the island of Ireland. What fills your heart?
Whether you call secondhand fashion treasure troves "thrift stores," "fripperies," "charity shops," "vintage boutiques" or something else, shifting the paradigm from "old clothes" to "new finds," you may find the best, most conversation-starting souvenirs inside these shops and neighborhoods located in the world's most fashionable cities and a few unexpected places.