Name: Ho, Nuan-Hsuan
Title: Chairman
Company, city: China Airlines; Taoyuan City, Taiwan
Number of employees: 12,645
First job: Teaching assistant
Little-known fact about you: I have extensive experience in the transportation sector, most recently as chairman of the Taoyuan Metro Corp.
Your Business
What innovations/initiatives do you foresee in the industry over the next years?
Global economic growth, oil prices and political and economic trends strongly influence the aviation industry. The latest forecast by Oxford Economics suggests the global economy will grow by 2.6 percent in 2017, higher than the 2016 rate of 2.3 percent. Nevertheless, Taiwan's major trade partners such as China and Japan showed signs of slowing or near-zero growth. Oil prices are expected to stay low in the short term but may increase as OPEC and non-OPEC nations agreed to cut oil production for the first time in December 2016. The International Air Transport Association reports during the vibrant development of the air travel market in recent years, overall supply grew faster than demand. IATA expects the trend to hold for Asia Pacific in 2017, with supply and demand to grow by 7.6 percent and 7 percent, respectively. Cargo demand is expected to grow by 3.5 percent in 2017 and Available Tonne Kilometres to grow by 5 percent.
Best career advice you've received: The only path to greatness is through tolerance and acceptance.
What advice would you give someone starting out in the field? If you have tasted the bitterest of the bitter, you will become the greatest of the great.
Ho, Nuan-Hsuan as a Traveler
Favorite travel memory or story: Business travel aboard the new China Airlines Airbus A350 and Boeing 777 aircraft
One travel tip you cannot live without: Pack luggage of all sizes with basic travel items in advance so you can leave on any trip at short notice.
Best advice for business travelers: Keep your valuables on your person at all times.
About China Airlines
Tell our readers about China Airlines' Airbus A350, which scored a double win at TheDesignAir 2016 International Awards.
China Airlines became the first airline in Taiwan to introduce the latest A350-900 XWB next-generation medium- to long-range aircraft, which won praise as the "most high-tech, most energy-efficient, most ecofriendly, most spacious and least noisy" passenger aircraft. It is 70 percent built from advanced composite materials that deliver significant weight savings and increase safety by reducing metal fatigue. The A350 is the most fuel-efficient aircraft model in the world, and its Rolls-Royce power plant boasts 25 percent lower CO2 emissions than the previous model.
What can premium travelers look forward to from the China Airlines experience?
The all-new A350 provides a quiet and spacious cabin; mood lighting and music for a serene ambience; seven temperature control zones, advanced medical-grade air filters and a cabin pressurized to 6,000 feet for a comfortable journey; wide-area windows; and capacious storage, including oversized overhead spaces.
In business class, the diagonal seating configuration allows easy access while maintaining privacy. The ergonomic seating designed for Asian body types converts into 180-degree fully flat beds. Premium economy uses rigid-back seating to avoid interfering with seats to the rear when reclining. The increased seat pitch and 20-inch width let passengers sit however they like. In economy, the 18-inch slim seating combined with the fully flat capability and cable-free floor provides more legroom. In addition, 12 rows feature our Family Couch seating, and Sky Lounge transports travelers to a scholar's study for a refined experience.
What can readers expect from China Airlines in 2017?
China Airlines will provide more product options through partnerships with other airlines. By expanding our codesharing with KLM to use Taipei (TPE) and Amsterdam (AMS) as transit hubs, we will expand our network in Europe, boosting the scope and competitiveness of our European products. At the same time, as Japan is the most popular destination for Taiwanese travelers, we will introduce full codesharing on Taiwan–Japan routes with Japan Airlines. We will develop new destinations and combine them with the NexGen products to offer the most convenient and comfortable flying services. Our goal is to open a new blue sea in a fiercely competitive market.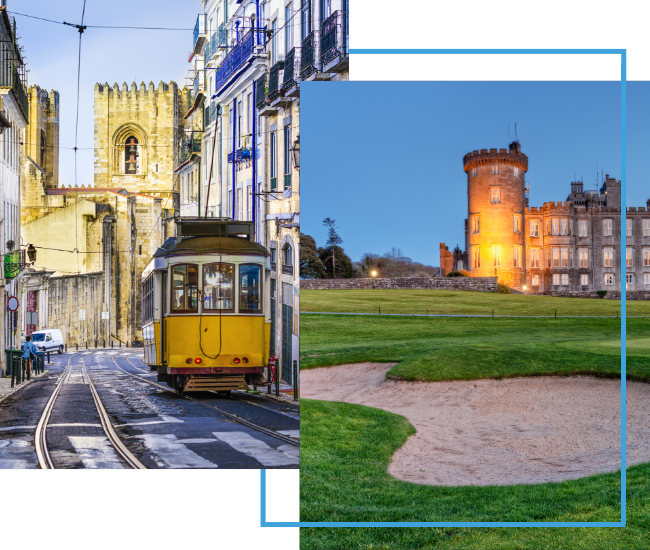 FX Excursions
FX Excursions offers the chance for once-in-a-lifetime experiences in destinations around the world.
Explore Excursions
Less than five years ago the world's first hybrid cruise ship, Hurtigruten Expeditions' MS Roald Amundsen, set sail for Antarctica in November 2019 with 450 passengers. The battery-hybrid-powered ship, named for the first man to cross the continent and reach the South Pole, was built specifically for voyages in polar waters. Its battery-hybrid power reduces the ship's consumption and CO2 emissions by 20 percent compared to equally sized ships.
Sponsored Content
Exclusive Sailing with Global Traveler
A few months ago, I flew Polaris business class on a United flight from Dulles (IAD) to Paris (CDG). It was only when I got to my hotel in Paris I realized that I didn't have my iPad or its bag or accessories. Since I had been working on it in the restaurant in the Polaris lounge and then went directly to the gate, I knew I either left it propped up on my table when I packed up or in my business-class seat. But what was the best method to alert the airline about my careless mishap and (hopefully) retrieve it? With spotty data and WiFi, searching for information on my phone was frustrating and slow. Here's what I learned from the anxiety-inducing experience (and unexpected ending) about what to do if you leave something behind on your flight: