Long before the world's first commercial passenger flight landed in Tampa on Jan 1., 1914, the city was a proven center of business accomplishment. From its early days as a trading nexus and its establishment as a major source of the mineral phosphate and on to major railroad development and a swift rise to fame as Cigar Capital of the World — Tampa earned its present-day status as a key player in the world of industry.
At present, a $38 million Capital Improvement Plan enabled Tampa Convention Center to augment its ideally located waterfront meeting and exhibit spaces, and to renovate existing infrastructure to better serve the needs of the business community.
"The growth of Tampa Bay has been tremendous as we continue to add more meeting space and look forward to the million-dollar addition to our beautiful waterfront Tampa Convention Center," said Santiago C. Corrada, president and CEO, Visit Tampa Bay. "These additions make it possible for Tampa Bay to host even larger meetings and conventions, bringing in significant dollars to our industry  by supporting our attractions, unique culinary profile and incredible hotels."
Meeting planners, exhibitors and attendees can enjoy new lodging and hotel experiences that include impressive renovations of two iconic Tampa Bay-area properties: Floridian Palace Hotel, now part of Hilton's Tapestry Collection; and Saddlebrook Resort, which features 500
rooms, 45 tennis courts and two Arnold Palmer-designed golf courses. Purchased by Mast Capital and undergoing its facelift, Saddlebrook will provide 100,000 square feet of meeting and event space, along with restaurants and cafés. In addition to rebranding, plans for the historic Floridian Palace Hotel include a $25 million renovation of the 212- room property and a selection of new, high-end boutique shops and dining experiences.
Finished and fresh on the local scene is The Tampa EDITION. Ideally located in the Water Street Tampa neighborhood and occupying 56 acres, the new 5-star property adds 172 swish guestrooms and suites to available rooms in the area, plus all of the expected branded spaces and experiences for which EDITION has become known.
These new spaces likely will prove necessary. Currently, the "Make It Tampa Bay" mixed-media campaign is up and running, an initiative with the goal of attracting out-of-state professionals to the area by amplifying awareness on a national scale of local opportunities and developments. According to Craig J. Richard, president and CEO, Tampa Bay Economic Development Council, Hillsborough County, growth areas span a range of industries: finance, life sciences, information technology, cybersecurity, fintech and health tech.
Elsewhere in the city, sights sure to impress meeting-goers, investors and potential new residents include the colossal steel-span Bob Graham Sunshine Skyway Bridge, which reaches majestically across Lower Tampa Bay. At night the bridge transforms into a twinkling spectacle with more than 1,800 LED lights that glitter and glow through a series of programmed displays.
Corporate events and gatherings are easy to enhance with the city's many culinary, entertainment and recreational activities. Opportunities include tours of Ybor City Historic District. Established by businessman Vicente Martinez-Ybor in the 1880s, Ybor City became a world-renowned center for cigar manufacturing and a settling place for thousands of working immigrants from countries including Cuba, Italy and Spain who made Tampa's cigar industry successful. Now, TECO Line Streetcar brings passengers directly to the old neighborhoods that gave rise to one of the city's more enduring nicknames: Cigar Town. While you're there, be sure to introduce your colleagues to The Cuban Club. Listed on the National Register of Historic Places, this address not only symbolizes an era but is also reputed to be one of the most haunted locations in America.
SCENIC DRIVES
The dense transportation network surrounding the Tampa Bay area requires a city departure route involving highways, but the drive is worth it. Two memorable choices for a glimpse into a slower-paced, nature-focused Florida include Green Swamp Wilderness Preserve and The Ridge Scenic Byway. Compris- ing hundreds of thousands of acres of wetlands, flatlands and low ridge areas, Green Swamp Region can be enjoyed by heading north on US 301 from the city to US 98 South, then north on State Road 471.
Meanwhile, The Ridge Scenic Byway meanders through Lake Wales Ridge past sparkling lakes and citrus groves, and through bucolic farming country between the towns of Haines City at its northern gate and Frostproof at the southern end.To get there, follow I-4 East to FL 559 North in Auburndale, then County Road 557A/State Road 557 and US 92 East/Highway 17 North to US Highway 17-92 North in Haines City. The official, state-designated Byway route forms a charming corridor through the communities of Hillcrest Heights, Babson Park, the village of Highland Park, Lake Wales, Lake of the Hills, Dundee and Lake Hamilton.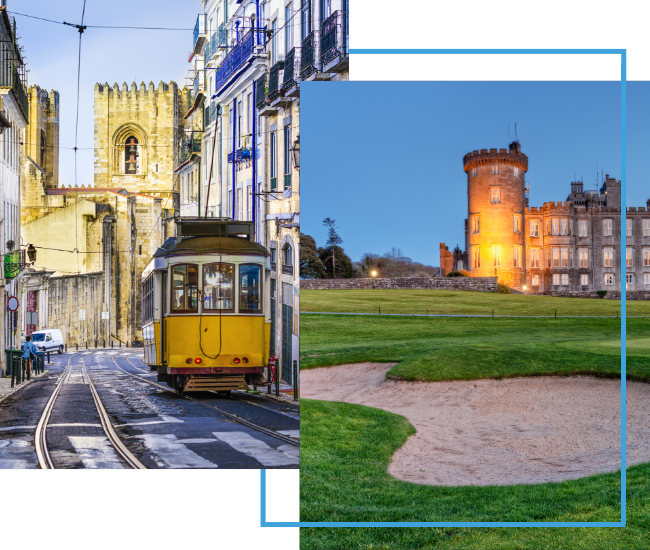 FX Excursions
FX Excursions offers the chance for once-in-a-lifetime experiences in destinations around the world.
Explore Excursions
Pleasant weather, autumn foliage and vibrant flowers are among the many delights awaiting nature lovers at botanical gardens and arboretums across the United States. However, some of these green spaces take on additional color this month and through Halloween when enterprising gardeners, landscape architects, management and other creative minds cast a spell with themed environments running the gamut from spooky to utterly bewitching.
Sponsored Content
The Islands of Tahiti are among the most beautiful and sought-after vacation destinations in the world. The endless images of overwater bungalows with Bora Bora's majestic peak towering over waters of every shade of blue have an intrinsic pull. But with 118 islands and atolls to explore, there is so much more to this spectacular region of the Pacific.
For travelers who love all things autumn, Crystal Springs Resort, New York City's closest destination resort, features special offers and experiences to meet the demands of everyone's fall bucket list. Located only 80 minutes outside New York City in Sussex County, New Jersey, Crystal Springs Resort offers a quick getaway to enjoy fall foliage. Are any of these new offers or experiences on your bucket list?