Tequila, in Mexico's Jalisco State, is known for its production of the famous spirit of the same name. Near Tequila Volcano, on the outskirts of town, fields of blue agave, the liquor's main ingredient, fill the landscape. Travelers can deep-dive into the distillery process and learn more about the history of the spirit at multiple locations.
GETTING THERE & AROUND
With no direct flights to Tequila, Don Miguel Hidalgo y Costilla International Airport in Guadalajara proves the closest and most convenient gateway to the city. Tour operators in Guadalajara offer daytrips to Tequila for those on a shorter vacation who still want to explore the destination. Travelers can also rent a car or take a bus to travel to Tequila. While in the destination, walk or use a rental car.
LODGING
Casa Salles Hotel Boutique
Casa Salles is a luxurious retreat adjacent to a working distillery. This boutique hotel has a cocktail bar, restaurant, spa and pool, promising the perfect stay for travelers who want a taste of everything Tequila has to offer.
Calle la Villa 3, Colonia la Villa, Tequila, Jalisco, Mexico
tel 52 374 688 0388
casasalles.com
Hotel Solar de Las Animas
Set alongside the church of Santiago Apostol (St. James the Apostle), right in the heart of town, Hotel Solar de Las Animas offers the perfect location for travelers to explore all attractions.
Calle Ramón Corona 86, Centro, Tequila, Jalisco, Mexico
tel 52 374 742 6700
hotelsolardelasanimas.com
Matices Hotel de Barricas
Located next to a traditional tequila distillery, Matices Hotel de Barricas promises a unique stay filled with themed rooms, tequila tastings, distillery tours and more.
La Cofradía 1297, La Cofradía, Tequila, Jalisco, Mexico
tel 52 374 742 6800
maticeshotelbarricas.com.mx
DINING
La Antigua Casona
Located in Hotel Solar de Las Animas, La Antigua Casona features a warm environment with typical Mexican dishes. Sip from an extensive menu of cocktails based on wines, tequila and other spirits.
Calle Albino Rojas 14, Centro, Tequila, Jalisco, Mexico
tel 52 374 742 0700 ext. 6801
hotelsolardelasanimas.com
La Cueva de Don Cenobio
The restaurant embraces the traditions of Mexican cuisine while taking them to the next level. The chefs hope diners will enjoy the taste of familiar food but welcome the surprise of new ingredients and flavors.
Calle Luis Navarro 70, La Villa, Tequila, Jalisco, Mexico
tel 52 33 2825 6518
lacuevadedoncenobio.com
Mariscos el Mar Campestre II
Depending on where you sit, the restaurant offers the best views of the canyon molded by the Santiago River, the agave fields or the city of Tequila.
Camino a la Toma 1, Tequila, Jalisco, Mexico
tel 52 374 742 2121
ATTRACTIONS
La Rojeña Distillery
Also known as José Cuervo Distillery, La Rojeña is the oldest active distillery in Latin America as well as the largest producer of tequila in the world. Take a tour and learn how the spirit is made.
José Cuervo 73, Centro, Tequila, Jalisco, Mexico
tel 52 374 742 6717
mundocuervo.com
National Museum of Tequila
Located in the heart of downtown Tequila, National Museum of Tequila features six spaces dedicated to the evolution of tequila and its origins.
José Cuervo 33, Centro, Tequila, Jalisco, Mexico
tel 52 374 742 0012
tequilajalisco.gob.mx
Plaza Principal Tequila
While in town visit the colorful plaza; the parish church, La Parroquia Santiago Apóstol; and Municipio de Tequila, the Town Hall.
Calle Albino Rojas 16, Tequila, Jalisco, Mexico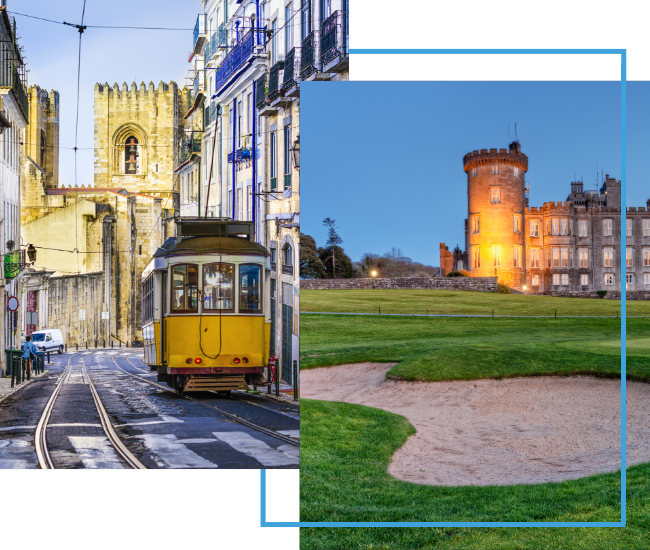 FX Excursions
FX Excursions offers the chance for once-in-a-lifetime experiences in destinations around the world.
Explore Excursions
Red Savannah launched a new series called In the Footsteps of…, which debuts itineraries of well-known figures, the first being Coco Chanel. As Chanel No. 5 celebrates its 102nd anniversary this year, the travel company invites fashion lovers, history enthusiasts and admirers of Coco Chanel to experience the new itinerary, In the Footsteps of Coco Chanel. The experience allows travelers to step into the remarkable life of one of most iconic figures in the fashion world.
Sponsored Content
The Global Business Travel Association (GBTA) believes business travel is a fundamental force for good and brings the industry together to connect, innovate and set new standards. With members from across the globe, GBTA engages the many voices of business travel to build a collective future, providing a platform for buyers and suppliers to come together, connect with peers, grow their network and shape the future of the industry.
Mazatlán, Mexico, has long been an attractive home destination for Canadian and American retirees, but, in recent years, young, digital nomads have also discovered the charms of this coastal city, finding inexpensive accommodations, beautiful weather and plenty of bandwidth for working remotely. The laid-back beach scene definitely eases the transition of relocating to Mexico's West Coast.