EVER SINCE READING the outdoor writer Jon Krakauer's accounts of scaling vertiginous frozen waterfalls and waiting out blizzards in abandoned ice caves, I dreamed of trying my hand at the exotic-sounding sport of ice climbing. But as I peered over the edge of the glacial wall I was about to descend in southeast Iceland, I gulped. Turning around and tugging at my harness and carabiner a final time, I stepped backward into the void.
A wide variety of landforms shaped by epochal forces await travelers undeterred by Iceland's remoteness. Though you can find glaciers all over the country's 40,000 square miles, the premier site for ice hiking is Skaftafell, a conservation area in the island country's far southeastern corner reached via the famous Ring Road. This region used to be its own national park but is now the centerpiece of the newly designated — and massive — Vatnajökull National Park, official in 2008.
Throughout the park, nearly mile-thick glacial ice alternately covers and reveals mountains, valleys and plateaus. Powerful rivers like the Skeiðará, Morsá and Skaftafellsá carry on carving through lowlands and wetlands at the bases of massifs like Hvannadalshnjúkur. Volcanoes like Öræfajökull deposit black ash over the lush vegetation and startling blue ice. Some of the greatest eruptions in history have taken place here.
And nature isn't finished with Vatnajökull, acting out in starkly contrasting manners. Periodic meltwater buildups below glaciers release in spectacular bursts called jökulhlaups that can reconstitute the landscape into a sandy wasteland. One 1996 jökulhlaup lasted days and flowed at nearly 2 million cubic feet per second. The föhn wind causes lower temperatures and prodigious precipitation in the eastern side of the park while warming the western, lee side in a rain shadow effect. Skaftafell itself is an aberration that enjoys more temperate weather — even some sun during summer. One minute you think you're in the Alps, and in the Arctic the next.
To get here from Reykjavík, where you'll land, takes a four-hour drive along Ring Road 1. Always check the weather because in winter the roads can become treacherous, but the park stays open all year, with an information center and free parking. Once inside, you'll have to go on foot, meaning your best bet is to hire a guide and transport service, many of which operate out of the nation's capital, including day tours and longer treks. It is imperative you not attempt to walk on the glaciers without assistance.
Icelandic Mountain Guides, in business since 1994, offers a range of options for visiting Skaftafell accommodating any skill level. Consider a beginner's walk on Svínafellsjökull Glacier Tongue that lasts only two hours, or go for a full-day hike on its ice field. Combining ice climbing and visits to Iceland's other main attractions like the Golden Circle is also possible, though keep in mind summiting a peak like Iceland's highest, the aforementioned Hvannadalshnjúkur, costs quite a bit more.
The same tour companies also offer trips to Iceland's easiest-to-reach glacial tongue, Sólheimajökull. What distinguishes this glacier is the rate at which it is shrinking, about a mile in the last decade. You can already see patches of grass starting to poke out. Glacier Guides offers similar packages, like an 11-hour trip that lets you climb up frozen Skógafoss waterfall, with a pickup at your hotel. The minimum age for this adventure is 10, and for good reason.
Hiking on glaciers can be extremely dangerous and requires special equipment. Must-have items include strong, durable shoes that have ankle support for the many uneven and unsteady surfaces. Most companies provide crampons, and many include hiking boots especially for ice climbing. Strong, waterproof jackets and pants can usually be rented — though not on site — but you'll also want to bring a light wool sweater, synthetic pants, headwear and gloves. More specialized tools like ice axes and safety lines are usually provided.
Pay close attention to your guide's instructions on how to use your gear and how to take precautions on the shifting terrain before you set out. Deep crevasses and sinkholes called moulins are often invisible until you step on them and can even form suddenly. Don't walk under ice bridges and — it bears repeating — certainly never venture off on your own. With some advance planning and a professional guide, you'll be rewarded with a thrilling experience straight out of an adventure story.
INFO TO GO
Keflavík International Airport lies 31 miles southwest of the country's capital, Reykjavík. Transport between the airport and Reykjavík is by road only, with several comfortable shuttle buses, including Flybus and Airport Express, offering economical services to the capital's major hotels and guesthouses. Taxis are also available (though more expensive) outside the terminal, and vehicles can be rented from several companies.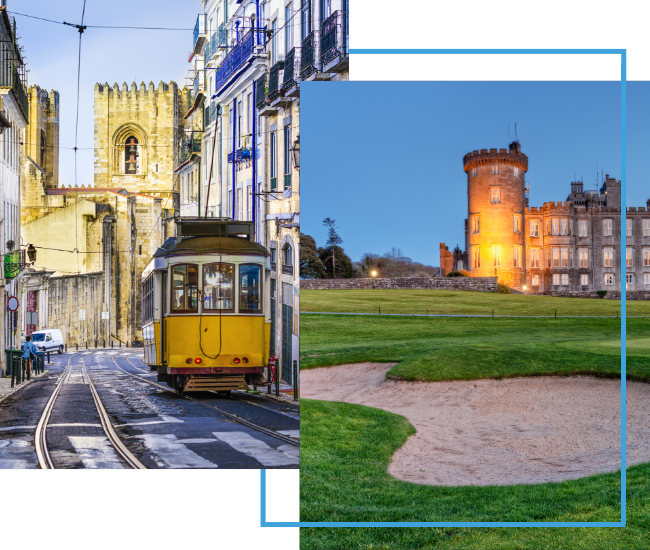 FX Excursions
FX Excursions offers the chance for once-in-a-lifetime experiences in destinations around the world.
Explore Excursions
There is something magical about sipping a glass of local wine while watching the sun slip into the Aegean Sea as the afterglow tinges traditional, white-washed Cycladic houses with glorious shades of rose, purple and gold. Ancient Greeks believed Helios, the Sun God, caused sunsets by driving his fiery chariot into the sea. Standing at water's edge in Mykonos, watching the sky slowly turn from purple to inky black, you almost believe it.
Sponsored Content
Exclusive Sailing with Global Traveler
The prospect of a post-visit treasure hunting session inside the shops of landmark museums such as the Louvre in Paris, the Uffizi Gallery in Florence and The British Museum in London can be irresistible. However, some of Europe's smaller and more unusual museums boast retail spaces with a surprising "wow" factor, often as well-curated as the galleries.