Travel by private plane has never been more popular … and not just among the über rich. According to a new survey by BestPrivateJet.com, an online resource guide for private air travel, 31 percent of all Americans who have ever flown privately did so for the first time during the pandemic. Whether the reason was commercial flight disruptions, COVID-19 safety or to avoid mask mandates, passengers who got a taste of what it's like on a private jet want more. Three in four American first-time private flyers who did so since 2020 say it's "very likely" they'll fly privately again.
"We're increasingly seeing more younger first-time buyers of private jets; in the last five years, the share of our buyers under 45 grew by 20 percent," said Jahid Fazal-Karim, owner and chairman, Jetcraft, which buys, sells and acquires private aircraft. "This age group is also driving the trend for larger aircraft purchases, with an average transaction price of $25 million, around 31 percent more than their 45-plus counterparts."
Of course, owning your own private plane isn't always a viable option. Thankfully, several companies offer private (and semi-private) flights via mobile apps, fractional ownership, memberships and luxury itineraries with private jet transport. In short, we are in the golden age of private air travel, and it's not always as out of reach as you might think. Ready, set, jet!
FLYJETS
To further its goal of increasing accessibility to private charters, this private company recently launched a mobile booking app with real-time aircraft and booking availability and several other innovative features. FLYCalendar allows passengers to search for "in-network empty leg match-ups" and group booking opportunities, while FLYGreen lets flyers who purchase carbon offsets gain additional FLYRewards points toward future flights. FLYJETs is the first-ever charter booking engine that automates charter availability, flights and empty legs globally on a point-to-point basis. Membership is free, with flights on very light jets starting at $3,000 per hour, mid-weights at $5,000–6,000 per hour, and heavy jets starting at $7,500 per hour; empty legs are discounted depending on the nature of the trip.
flyjets.com
FLYING YACHT COMPANY
If you dream of owning your own private jet but just don't have the financial means to spring for that Gulfstream or Cessna, the new Flying Yacht Company offers the somewhat more feasible alternative of purchasing shares in private jets and regional aircraft. Shares start at $79,500 with a minimum of 45 flight days per year, and the company handles all the logistical details like booking a flight crew, scheduling maintenance and management. Other benefits include full occupation days per month and year allocated to each share owner (versus fractional ownership, which only offers allocated hours per year), the ability to keep the jet with the share owner for flexibility in departure times, and personalized instead of generic exterior paint design.
www.flyingyachtcompany.com
FLEXJET
This leader in subscription-based private aviation offers options including charters through sister company FXAIR and a private helicopter division with Sikorsky S-76 helicopters. But it is really known for private jet leasing and fractional ownership. Share sizes range for the latter from 50 to 400 hours, with each level giving an owner a percentage of the 800 available annual flight hours per aircraft; leasing provides similar benefits but requires a monthly lease payment. Those who fly between 25 and 50 hours per year can purchase a debit-like jet card; flyers commit to a certain number of hours at a fixed rate and draw down on the balance as they fly. And the company's newish Red Label by Flexjet division offers a more elevated experience, with the most advanced fleet, dedicated flight crews, a single specific aircraft and customized handcrafted interiors.
flexjet.com
VISTAJET
Billed as the world's first and only global private aviation company, VistaJet boasts it's flown its passengers to more than 1,900 airports in 96 percent of the world's countries on its sleek red and silver fleet. Perks of its membership program include a fixed hourly rate, guaranteed availability, flexible departure, global coverage and private dining with signature seasonal members and Michelin-starred partners; access to a portfolio of travel partners allows members to embark on unique global experiences. A bespoke wine-in-the-sky program includes a curated wine list, wine concierge and access to itineraries and tours to the world's best vineyards and producers. For less frequent flyers, the three-year VJ25 plan includes 25–49 flying hours per year, with a partial rollover option for unused hours.
vistajet.com
JSX
This semi-private carrier, launched in Dallas in 2016, flies out of private terminals on 77 Embraer jets boasting 30 seats with business-class legroom, flexible scheduling and a "hop on and go" model that bypasses long security lines, allowing passengers to arrive 20 minutes before departure. With flights starting at $249 each way, JSX currently serves 43 routes across 22 North American markets; the line recently added Colorado, Florida and Cabo San Lucas, with Martha's Vineyard and Portland, Maine, coming later this year. JSX recently began rolling out Spacex's Starlink, offering "instant on" super-high-speed WiFi in the sky, and is working with the Federal Aviation Administration for approval of onboard video calling. A new concept for long-haul flights of more than 550 miles includes a cocktail hour, meal service, hotel towels, snack basket and farewell mint.
jsx.com
WHEELS UP
A little bit like the Airbnb of private jet travel, Wheels Up matches passengers with relevant flights. Connect Members use the mobile app to enter their location and are immediately paired with private aircraft options with dynamic pricing that can be immediately booked. Users can also connect with other members in the same location heading to the same destination via the community forums to share a plane and reduce the cost. Members pay a one-time initiation fee of $2,995 and annual dues of $2,495 starting in year two, plus the cost of flights. The fleet consists of aircraft like the eight-passenger, shorter-haul Beechcraft King Air 350i; the fast Cessna Citation X, which can travel from New York to Los Angeles in five hours; or large-cabin, long-range jets like the Dassault Falcon 2000. Passengers can earn miles on Delta SkyMiles and access exclusive experiences on the ground through the brand's Wheels Down program.
wheelsup.com
BLACK TOMATO
Not a private plane carrier per se, this luxury travel outfitter pivoted a bit during the pandemic to accommodate the uptick in demand for private air travel. Its Space + Time program helps guests plan customized trip itineraries that include private transport. Geared toward those seeking private air access to hard-to-reach destinations as well as flexibility for families or large groups, Black Tomato works with private jet operators to arrange transfers for an ultra-exclusive experience; for example, its partnership with Surf Air provides private access to remote spots like luxury boutique property Amangiri in Utah. Prices vary greatly depending on destinations and options. The Sunrise to Sunset on the West Coast: Big Sur and Napa experience, for instance, includes horseback riding in Monterey; a food tour through Carmel-by-the-Sea; four nights at Napa's Solage, Auberge Resorts Collection, with wine tastings, a spa experience under the stars and a hot-air balloon ride; plus the option to add six nights in Hawai'i.
blacktomato.com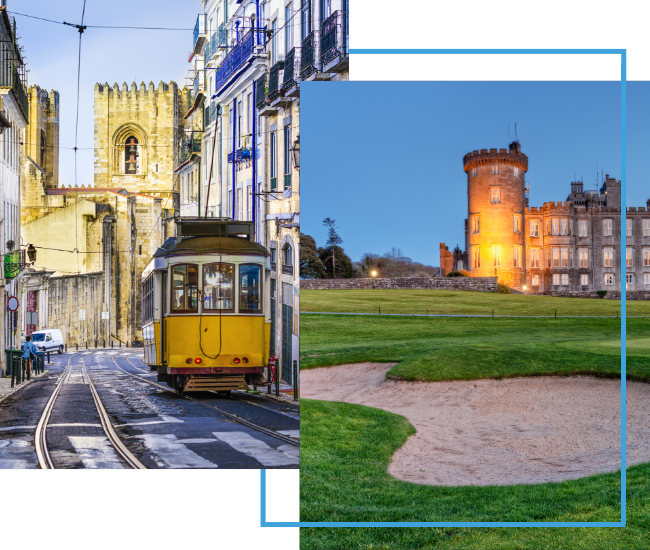 FX Excursions
FX Excursions offers the chance for once-in-a-lifetime experiences in destinations around the world.
Explore Excursions
Pleasant weather, autumn foliage and vibrant flowers are among the many delights awaiting nature lovers at botanical gardens and arboretums across the United States. However, some of these green spaces take on additional color this month and through Halloween when enterprising gardeners, landscape architects, management and other creative minds cast a spell with themed environments running the gamut from spooky to utterly bewitching.
Sponsored Content
Learning more about our readers' travel habits and preferences ensures Global Traveler delivers the content you desire. As the travel industry has adapted and changed over the last few years, it's more important than ever to connect. To best meet your short- and long-term travel content needs, please help us!
For travelers who love all things autumn, Crystal Springs Resort, New York City's closest destination resort, features special offers and experiences to meet the demands of everyone's fall bucket list. Located only 80 minutes outside New York City in Sussex County, New Jersey, Crystal Springs Resort offers a quick getaway to enjoy fall foliage. Are any of these new offers or experiences on your bucket list?