Located in West Ireland, at the edge of the European continent, Galway occupies a unique place in the country's national psyche. Home to many festivals, museums, art galleries and ancient structures, and with pubs offering Celtic music up close and personal, many Irish citizens consider Galway their country's capital of culture.
Ireland's only truly bilingual city, Galway received the European Union's designation as a European Capital of Culture 2020–2021. Yet in terms of population growth, socioeconomic change and industrial make-up, this city of almost 80,000 Galwegians easily serves as a microcosm of the country as a whole. Like many Irish cities, Galway found itself burdened during Ireland's economic recessions but also enjoyed the benefits of the country's recent economic boom, when foreign direct investments from the largest multinational corporations created jobs and prosperity within many of the city's neighborhoods.
Although Galway, like the rest of the world, suffered during the pandemic, construction cranes have reappeared on the city's skyline; new development projects have picked up steam along the city's harbor and in Nuns' Island, the old industrial heartland of the city; and business and leisure travelers are returning.
A number of proposed and ongoing projects will ensure the continued attractiveness of Galway as a destination that welcomes business. One of the biggest infrastructure projects is known as N6 Galway City Ring Road. The almost €1 billion ($1.5 billion) National Development Plan (awaiting final approval) will reduce traffic and air pollution within a large section of Galway while minimizing the new road's impact on the natural environment.
The Galway County Council estimated the road would take about three years to construct and would involve a number of tunnels as well as a viaduct over the River Corrib on lands north of the National University of Ireland's Galway campus. "This is the biggest piece of enabling infrastructure that will allow Galway and the wider western region to grow," said Kenny Deery, CEO, Galway Chamber of Commerce. "It will bring a ring road around the city that will de-congest the city center and allow traffic that doesn't want to be at our roundabouts and junctions [to] not be there."
The Bowling Green project, led by Galway City Innovation District (GCID) and located in the city center, will soon be home to 130 tech innovators and entrepreneurs from across Western Ireland in a restored two-story warehouse on Bowling Green. Plans call for the PorterShed tech innovation hub, currently located behind Galway's historic Ceannt Station, to move there as well. A major overhaul of Irish Rail's Ceannt Station itself is also in the works.
In perhaps the biggest Galway City project ever, developers plan to transform the area behind Ceannt Station into Augustine Hill, a new urban quarter featuring 11 new streets, four large public spaces and 12 contemporary buildings linking Galway Bay to Eyre Square. Developers estimate a cost of about €320 million ($370 million) and a timeframe of six years to build. Plans include 376 modern residential units, a shopping center, 22 restaurants and cafés, a six-screen cinema, offices and a 189-room hotel. As of press time, however, the development remains on hold following a recent appeal of the plan's approval.
During its first five years, GCID supported the creation of more than 720 tech jobs in Galway, and its member firms have provided investments of more than €35 million ($40.6 million). With a mix of individual entrepreneurs, startups and established companies, Galway symbolizes Ireland's vibrant and exciting high-tech environment. In a 2019 study the World Bank remarked Galway was among the best EU cities for starting a business and dealing with construction permits. Some of the larger multinational technology employers in Galway include Apple, IBM, SAP, Oracle, HP, Dell Technologies, Google, Intel, Amazon and Cisco Systems.
In many ways, Galway is like a mini Boston, Massachusetts. The two cities enjoy the same excellent quality of life rating, according to Numbeo, and Galway's rich educational, high-tech and cultural amenities, along with its long history as a fishing port, compare favorably with Boston's. The two cities are linked in other ways as well. In the Boston metropolitan area, 22.8 percent of the population claim Irish descent, the highest percentage of the top 50 most populous U.S. cities.
CHECKING IN WITH ROSE FINN
General Manager, Galway Convention Bureau
What Galway attractions and experiences should international guests not miss?
There are many activities and attractions for our international guests to enjoy. Starting in Galway City, a food tour with Sheena from Galway Food Tours is a must; it helps you find the best eateries, sampling our local delicacies and hearing each supplier's unique story. You can then hop on the Corrib Princess for a boating experience on the republic's largest lake, Lough Corrib. Check out Galway City Museum, or zip around with Galway Bay Boat Tours' fisherman Ciaran Oliver on a lobster safari. When back on dry land, check out the world's smallest claddagh ring in the Claddagh Ring Museum, and try on and possibly buy a traditional Aran sweater in Ó'Maille – The Original House of Style, which made some of the costumes for the famous 1952 movie The Quiet Man with Maureen O'Hara and John Wayne.
A little outside Galway City I recommend the captivating Connemara region for a visit to Kylemore Abbey and its Walled Gardens, Connemara National Park for its walking trails and, if you feel energetic, a trip up Diamond Hill. There are also many white beaches along the coast. For learning more about the Irish culture and landscape, the restored hill village of Cnoc Suain is a must. Go on a daytrip to the Aran Islands and step back in time. The Islands can be reached by ferry or plane from the mainland.
What benefits does the Galway City Innovation District offer startups that move into the district?
The Galway City Innovation District offers startups a distinct place to network and collaborate. The GCID was founded to attract creators and innovators who wish to work in close proximity to others in a supportive and connected environment within Galway's inner city, as well as young tech companies with strong growth potential and even larger Irish companies and multinationals.
Galway was designated as one of only two European Capital of Culture 2020/21 cities. Because the pandemic occurred during this time, how did it affect events and visitors to Galway City?
Many of the Galway Capital of Culture projects had to be reimagined for online delivery. The cultural partners worked with Galway 2020/21 in ensuring we retained the original vision of the events, and many projects were still created in the landscape of the city and the county. The landscape was viewed through the lens of our Irish and international artists and producers; and the online events, films and projects attracted a huge global audience. While our global audiences could not physically travel to Galway, they were able to enjoy the events from the comfort of their homes across the world, and our "year" as a Capital of Culture was actually extended into 2021.
DIVERSIONS
With its medieval past and contemporary culture, Galway City reigns as one of the most colorful and interesting cities in Ireland. Known as the City of the Tribes because of the 14 merchant families who dominated the political, commercial and social life of the city between the mid-13th and late-19th centuries, Galway offers many unique attractions. Visitors enjoy historic Eyre Square with its selection of pubs and restaurants or sitting on the walls of the Spanish Arch watching the activity on the River Corrib. Stroll along the pedestrianized Shop Street and stop in at several of the eclectic retail venues. The vibrant Latin Quarter offers high-end restaurants as well as traditional pubs.
Make time for the lovely Galway City Museum, the Fisheries Watchtower Museum, the Computer and Communications Museum of Ireland and dozens of other cultural attractions, including several medieval castles close to the city. Galway and its surroundings received the title of European Region of Gastronomy from Barcelona-based International Institute of Gastronomy, Culture, Arts and Tourism for exceptional Irish cuisine.
Save several days to explore the beautiful West Ireland countryside. The region around Galway, including the counties of Mayo, Roscommon and Clare, and the Aran Islands in the North Atlantic (access by ferry) offer rural pubs, bakeries, wine bars and restaurants. Most chefs work with local farmers and fishermen to include the best regional products on their menus. Fresh river trout and ocean seafood are always available, and the rich soil and mild maritime climate produce grass that enables a sustainable and strong agricultural sector.
A special feature of pub visits is the opportunity to experience — and often participate in — pub sessions, when local musicians get together for some Irish folk music. Whether the pub lies along the coast in tiny Doolin in County Clare, on a city street in Galway or on one of the three rugged, off-the-beaten-path Aran Islands, pub sessions definitely provide lifetime memories.
LODGING
Ashford Castle
The former home of the Guinness family, this 800-year-old castle sits on 350 acres of landscaped gardens, woodlands and a lake just 26 miles from Galway City. The 83-room, 5-star property offers six restaurants; three bars; and spa with pool, treatment rooms and sauna.
Village of Cong, County Mayo
$$$$$
The Galmont Hotel & Spa
The 275-room Galmont overlooks Galway Bay, just 600 feet from Eyre Square. Amenities include Egyptian cotton sheets, goose feather pillows, sauna, spa treatments and indoor swimming pool. Enjoy the waterfront terrace and all-day menu at Coopers Bar & Lounge.
Lough Atalia Road
$$$
Glenlo Abbey Hotel & Estate
Enjoy views of Lough Corrib and the green landscape of West Ireland at this 1740 estate converted to a 5-star hotel featuring 74 guestrooms, a lakeside golf course and driving range. Dine aboard the Pullman Restaurant's two restored carriages of the Orient- Express.
Glenlo Abbey, Bushypark, County Galway
$$$$$
DINING
Ard Bia at Nimmos
This rustic little place at the harbor offers healthy dishes, a colorful interior and a friendly vibe. Seasonal menus may include Rossaveal pollock cakes, Connemara crab, miso aubergine, chermoula monkfish, Skeaghanore duck and local vegetables. Open daily, times vary.
Spanish Arch, The Long Walk
$$$
Loam
Chef/owner Enda McEvoy employs a nose-to-tail and leaf-to-root culinary philosophy in the award-winning, locally sourced, seven- to nine-course tasting menu. Look for squid, shiitake and egg; sirloin, onion and bone marrow; or cabbage, kelp and oysters. A small menu available Tuesday–Thursday.
Geata na Cathrach, Fairgreen Road
$$$$$
Moran's Oyster Cottage
This attractive thatched-roof pub nestles in the hamlet of Kilcolgan, 12 miles south of Galway, and serves mainly seafood-based dishes and specializes in fresh oysters. The Clarenbridge oyster bed sits on 700 acres of a natural seabed close to Moran's. Closed Mondays.
The Weir, Roymore, Kilcolgan, County Galway
$$$$
INFO TO GO
The closest airports to Galway are Shannon Airport (58 miles, one hour south) and Ireland West Airport Knock (54 miles, one hour north), both with mostly European routes. However, Aer Lingus recently announced the re-introduction of trans- Atlantic flights in summer 2022 to include 14 weekly flights from JFK and BOS to Shannon starting in March. Dublin Airport (133 miles, two hours east) is also a major gateway for flights from North America, Europe and the Middle East. All airports offer express buses to Galway and rental cars (driving is on the left side of the road). Irish Rail traverses a scenic route between Dublin's Heusten Station and Galway's Ceannt Station; take the airport bus to Heusten for the connection (total travel time via bus/train is 3.75 hours).
JUST THE FACTS
Time zone: GMT -1
Phone code: Country code: 353, City code: 091 Currency: Euro
Key industries: Agriculture, information and communications technology, medical technologies, pharmaceutical and chemical, tourism
COMING & GOING
U.S. citizens must have a valid passport to enter Ireland; no visa necessary for tourism or business stays up to 90 days. No minimum passport validity requirement for U.S. citizens. As of October 2021, U.S. citizens arriving in Ireland need valid proof of COVID-19 vaccination or present evidence of a negative RT-PCR test result within 72 hours prior to arrival.
OFFICIAL LANGUAGE
Gaelic (Gaeilge), often called Irish, is recognized by Ireland's Constitution as the first official language of the Republic of Ireland. In Galway City, English is used in hotels, businesses, shops and restaurants, but 50 percent of residents in County Galway can speak Gaelic, more than any other region in Ireland.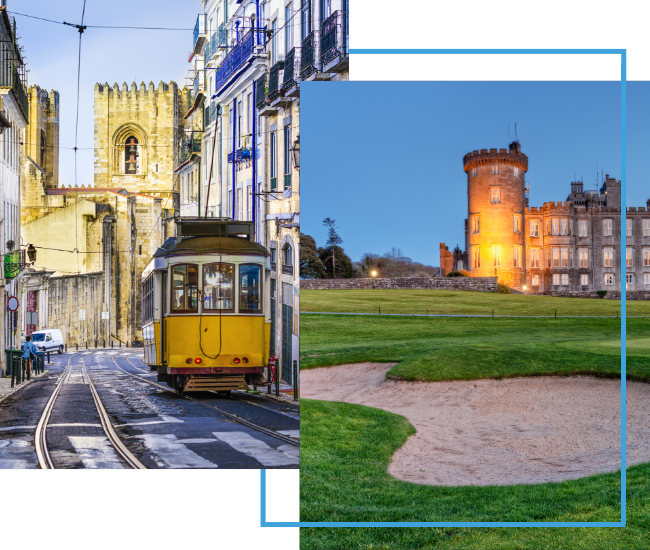 FX Excursions
FX Excursions offers the chance for once-in-a-lifetime experiences in destinations around the world.
Explore Excursions
One thing  surprising about the Prince Edward Island capital is its abundance of shops specializing in affordable, fashion-forward jewelry rendered in sterling silver, vermeil, 14K gold and semi-precious stones. Whether you prefer delicate pieces or bold wearable art, you can be assured the pieces for sale are inspired by the maritime island setting and, therefore, specific to the place where they are created. Here are a few shining, woman-owned examples:
Sponsored Content
In an increasingly digital and interconnected world, the Global Business Travel Association (GBTA) Convention remains an indispensable platform for business travel industry professionals seeking to make the most of the power of face-to-face connections. Taking place August 13–15 in Dallas, the 2023 GBTA Convention provides the unique opportunity for professionals and companies to join visionaries, thought leaders and industry experts for meaningful networking, cutting-edge insights and inspiring innovation.
Norway, a haven for visionary artists, architects and designers, showcases an exceptionally diverse array of cultural attractions. This year, the country commemorates exciting milestones and unveilings captivating enthusiasts of the arts, from iconic scenic routes to new museums to gallery openings. Up Norway features these new offerings in personalized itineraries catered to aesthetes.