Arrival/Check in: I arrived in Mexico City on a sunny late afternoon and zipped through light traffic from Benito Juarez International Airport to the heart of Mexico City, Paseo de la Reforma. Four Seasons Mexico City sits in the middle of the bustling area; but once you arrive in the covered driveway, you are transported into a sense of calm, art and luxury.
Guests entering the black and white marbled lobby are greeted by a giant arrangement of fresh flowers which scents the entire area. Just beyond that, a friendly receptionist welcomed me and checked me in within minutes. As I walked to the elevators, I noticed the lobby held lots of distinct areas, with seating in front of a fire, marbled work spaces and lounge chairs busy with guests — a great place to get some work done or even have a quick meeting.
Guest Quarters: The first thing I noticed upon walking into my fifth-floor executive suite was a feeling of comfort and contemporary class. Warm, pristine white carpeting with red ribbon designs led into a well-lit hallway with dark wood doors and closet space plus a full bar. Beyond, the full room came into view, framed with large windows brimming with natural light and offering a coveted view of the gorgeous courtyard filled with flowers, lush plants and a fountain. The windows opened, and I made a point of keeping them open while in the room to enjoy the sounds and fresh air. The king-sized bed provided a great night's sleep, while a lounge area with a couch and ottoman also included a large desk with plenty of electrical outlets I found handy during my stay.
The large bathroom featured warm, cream-colored marble floors and a large vanity with abundant lighting. The spa tub was large, although the stand-alone glass-enclosed shower proved a bit tight. I appreciated the L'Occitaine products for guests.
Services/Amenities: The property makes a perfect place for business meetings or a special outing with friends, as it offers a bit of everything. Every morning I stopped for a quick bite at Pan Dulce, the coffee shop and bakery. I loved being able to take my coffee to the veranda tables before a day of meetings. Il Becco, an all-day eatery located in the courtyard, is beautifully decorated with colorful tile flooring and warm lighting. I suggest coming for dinner to experience the atmosphere and lovely Italian cuisine. Also be sure to try the well-known and lively Fifty Mils, a gastro bar with signature cocktails like Billy the Kid and Frijolito. With leather couches, plush club chairs and seating spilling out onto the courtyard, it provides the perfect place to end your evenings.
The city hotels don't often have room for outdoor pools, but the Four Seasons boasts a rare rooftop pool and deck for guests to enjoy an afternoon of relaxation. A full gym is available, but I recommend an early-morning jog up and down Reforma if the weather permits for a bit more sightseeing and immersion.
TOP TAKEAWAYS:
◆ The local contemporary and folk art throughout the hotel sets a unique atmosphere for guests.
◆ You must experience dining in the courtyard, either early morning with a coffee to hear the fountain or with a cocktail outside Fifty Mils.
◆ The location in the heart of the city lets you conveniently enjoy dining, museums and business.
FOUR SEASONS MEXICO CITY
Av. Paseo de la Reforma 500 Colonia Juarez, 06600
Mexico City, Mexico
tel 52 55 5230 1818
fourseasons.com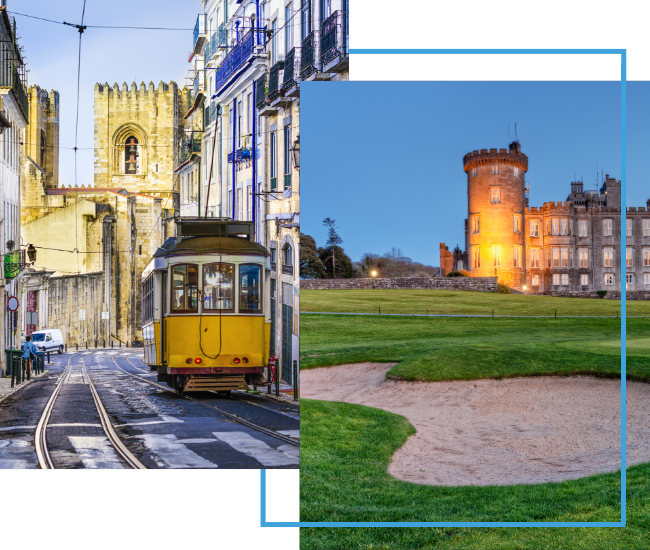 FX Excursions
FX Excursions offers the chance for once-in-a-lifetime experiences in destinations around the world.
Explore Excursions
If fabulous food and beverages are a must-have for any weekend getaway, then look no further than the City of Brotherly Love. Whether your palate has a penchant for vibrant Latin American fare or cozy French cuisine, whether you're an oenophile looking to swirl, sniff and sip your way around the globe or you'd rather sample farm-to-glass cocktails, Philly's got it all this fall. (With the exception of Bolo, which is a short taxi or Uber ride away and definitely worth the trip, the rest of these spots are all within walking distance of each other.)
From Santoríni to Dubai to New York, some hotels just have that "it" factor that draws visitors far and wide. For some hotels it's their proximity to popular landmarks and attractions, for others it's their amenities. But these hotels have something few can claim: a true room with a view.