Arrival/Check-In: In the heart of Atlanta's Midtown district I arrived at the Four Seasons Hotel Atlanta on a humid, overcast afternoon. Upon entering I was instantly greeted by the bellhop before being drawn to the gorgeous chandelier and grand staircase leading to the second level. Check-in went smoothly and only took a few minutes, as there was no line. The gentleman assisting me informed me my room, on the top floor, was ready and showed me to the elevators.
Guest Quarters: I was thrilled to learn I'd be staying in a recently renovated Midtown Deluxe room on the top floor. Exclusive to the 14th–19th floors of the hotel, the special guestrooms offer spectacular views of Midtown, Buckhead or Downtown Atlanta. The sleek room with a contemporary design featured a stylish palette of charcoal and bold accent colors like orange. Luxurious features included custom-curated art and a large walk-in marble shower. The large, double windows offered a light and airy feel next to the round, gray couch and wooden table. As I walked into the room, I noticed a tray of delicious goodies on the table that included a chocolate plate with candies, a blue-iced chocolate cake and a "Welcome to Atlanta" edible adornment — a wonderful touch.
The hotel boasts 244 ultra-spacious guestrooms, including 18 luxury suites on the first 19 floors of the 50-story Midtown hotel and residential tower. The king-sized bed was more than comfortable and made it quite impossible to leave after an excellent night's sleep. I thought the room was quite lovely, with its modern design offering an adequate amount of room to roam.
Services/Amenities: I had time at the hotel, allowing me to take advantage of several amenities at the beautiful property. While I didn't have the opportunity to enjoy a spa treatment due to time constraints, I did make use of the luxurious fitness center, sauna and steam room — a perfect way to relax before a busy week. The fitness studio includes a complete range of free weights and extensive cardiovascular equipment and is stocked throughout the day with water bottles, fruit and fruit water; the gym also includes various phone chargers next to the water station. I walked around the indoor saline lap pool to the sun terrace to relax after my workout, finding comfortable, red-cushioned lounge seats and umbrellas.
The concierge was extremely helpful and friendly, looking up the closest walking distance place where I could grab a smoothie. Park 75 offers guests breakfast and lunch dishes with the freshest seasonal ingredients in specialties like the brioche French toast, red velvet pancakes and egg white frittata. Afternoon tea is also available at the restaurant with advance reservations for parties of 10 or more. Bar Margot is open for lunch, mid-afternoon, dinner and late-night bites.
TOP TAKEAWAYS:
◆ The Four Seasons Hotel Atlanta is situated in the heart of Atlanta's Midtown district, a 15-minute walk from Piedmont Park — home to a true oasis of greenery with more than 180 acres of open space, walking trails, tennis courts and playgrounds.
◆ Looking for a quick bite? Stop by Bar Margot for an afternoon snack — it's the funky lounge you've been searching for. Serving lunch and dinner daily, the menu includes handmade pasta, charcuterie and cheeses, sandwiches, salads and high-quality coffee selections. I enjoyed the beets and greens salad and the lobster roll, both quite delicious.
◆ The hotel offers a premier address for meetings in the city, with indoor and outdoor well-appointed spaces of more than 15,500 square feet. The 15th-floor modern Penthouse Ballroom offers a view sure to wow guests at your next event.
Four Season Hotel Atlanta
75 14th St. N.E.
Atlanta, GA 30309
tel 404 881 9898
fourseasons.com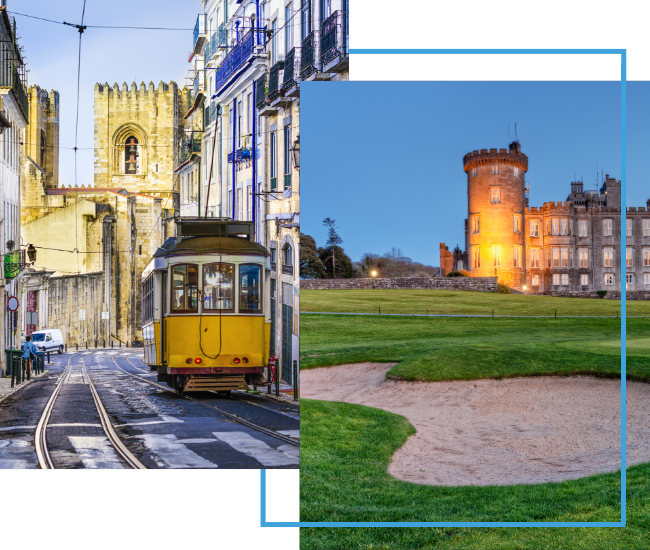 FX Excursions
FX Excursions offers the chance for once-in-a-lifetime experiences in destinations around the world.
Explore Excursions
Ever since opening in 2021, Nobu London Portman Square has served as the focal point for many gatherings, stays and experiences. This fall the hotel's Nobu Bar adds four more reasons to visit with an exciting array of offerings, menus and events.
Sponsored Content
Are you looking to enhance your business trip with a little leisure? Look no further than Portugal, a country renowned for its captivating blend of history, culture and natural beauty. And with TAP Air Portugal, you can effortlessly transform your business trip into an unforgettable bleisure adventure. Discover why Portugal and TAP Air Portugal are the perfect combination for an enriching and rejuvenating experience.
There's no doubt the northern lights are awe-inspiring and spectacular. Unfortunately, they're also fickle and fleeting, and despite your best-laid plans of checking this item off your bucket list, sometimes Mother Nature's luminescent show just doesn't cooperate. But one cruise line has a new fail-safe in place.