IN AN INDUSTRY OF CONSTANT INNOVATION and evolution, LATAM Airlines continues to make strides in advancing its own services. Ranging from seats and arrangement to a revamped culinary service, LATAM Airlines is bringing innovation and excellence to South American travel.
LATAM took its most recent steps into the future in March, when the airline unveiled the fruit of a $400 million investment to make the premier South American airline the best it has ever been. The overhaul is ongoing and will take a few year to complete; however, the first cabins will start operating international routes from LATAM's Lima hub to destinations in South America (including Santiago, Buenos Aires, São Paulo and Guayaquil), North America (Miami, Los Angeles and Mexico City) and Europe (Madrid and Barcelona). By the end of the retrofit, more than 200, or about two-thirds of LATAM's global fleet, will sport the new interiors.
The enhancements are extensive across the entirety of the aircraft, with the most pronounced changes coming to the airline's Boeing 767 businessclass cabin. The airline asked for feedback and opinions from frequent business-class travelers, so every change is one advocated for by customers.
The investment will keep some of LATAM's oldest planes in the sky a little longer, allowing the airline to focus on improving service throughout instead of deciding when, and which, planes to retire.
"We wanted the passenger to be at the heart of every decision in the development of our cabins, so we talked to them and asked them what they wanted," explained Claudia Sender, vice president, customers, LATAM Airlines Group, shortly before the inaugural flight in March.
The most immediately noticeable changes are in business class. The new 1-2-1 configuration gives every single passenger direct access to the aisle. There are no more instances where passengers have to wake seatmates to access the lavatories or stretch in the aisles. Direct-aisle access is a feature that becomes immensely important on long-haul intercontinental flights stretching eight hours and longer.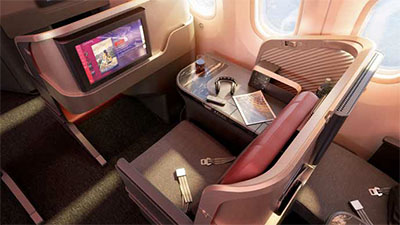 "Our new cabins will enable us to offer an industry-leading onboard experience with more options, flexibility and personalization to better serve each and every passenger," said Sender. "Technology is alive, and we need to stay on top of our game."
That personalization stretches further than simply offering customers aisle access, however. The new seats reflect the aesthetic of South America — from the deserts of Chile to the marble of the Andes mountains — all the natural wonders of the continent are represented.
The new business cabin is already onboard select Boeing 767s. In the coming years, the new accommodations will come to LATAM's entire wide-body fleet, including the Boeing 777s, 787-9s and the Airbus A350- 1000, still to be delivered.
Looking more closely, the custom-designed Thompson seats offer more privacy than business travelers ever enjoyed onboard LATAM. Couples traveling can request to be seated together in the middle two seats. The space features ample room for personal items, as well as an 18-inch screen for entertainment during the flight.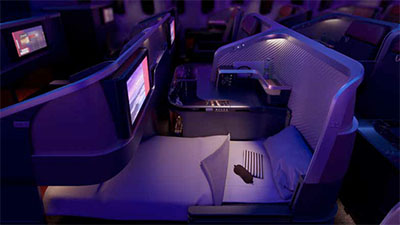 A less physical transformation is coming to the business-class service. While till in development, updates to LATAM's premium service are expected to debut later this year. With so many overnight flights, LATAM recognizes the concern of passengers to arrive well rested and ready to take on the next hurdle. LATAM is actively working to revamp the culinary service to induce more restful sleep while simultaneously creating fewer disturbances for passengers from flight staff. New bedding and mattresses also serve to increase comfort and restfulness during flight.
"Onboard experience has a direct impact on airline choice and passenger satisfaction, and we are confident that our new cabins will help us to consolidate our position as the leading airline group in Latin America, complementing our unrivalled network of destinations in the region with more than 140 destinations across 26 countries and five continents," said Manuel van Oordt, general manager, LATAM Airlines Peru, on the day of the inaugural flight.
The rest of the aircraft is not neglected through these upgrades.
Economy service on the newly refurbished aircraft now offers passengers the option of LATAM+ seats, offering passengers more comfort than a standard economy fare without the cost of a full businessclass upgrade. The new seats offer about four more inches of extra legroom, 40 percent more pitch, an available footrest in certain aircraft models, an exclusive overhead compartment, priority boarding and first deplaning privileges.
The evolution of LATAM's aircraft has been in progress since August 2018, when the airline announced enhancements were on the way. Some of the highest priority changes included giving passengers ample room to work, reducing interruptions from the flight attendants and giving passengers the privacy they desire.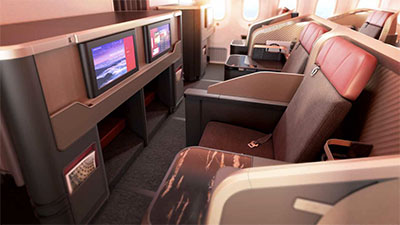 South America is packed with destinations ripe for exploring by way of LATAM's new offerings.
Peru is home to some of the world's most remarkable ruins and history by way of Machu Picchu. A flight into Lima (LIM) followed by some quick regional transfers, trains and hiking sets your whole group up for an excellent sightseeing adventure. When you arrive well-rested from your flight in LATAM's business class, you will feel more than ready to take on the additional travel and hiking to reach the historic ruins.
If you're more of a foodie, Lima proper is the place for you. One of the culinary capitals of South America, Lima is home to many world-class restaurants. Get a meal unlike any other when you visit Gaston y Astrid.
LATAM also flies to Brazil, Argentina, Chilé and a host of other South American countries, each with its own charm and attractions.
Argentina is full of urban history in Buenos Aires, where travelers can visit the grave of Eva Péron and lively street markets. On the border between Brazil and Argentina, guests can once again utilize the rest they got onboard LATAM as they brave the rainforest for a chance to view Iguazu Falls in all its glory. Chilé offers great access to the Easter Islands and spectacular beaches along its coast.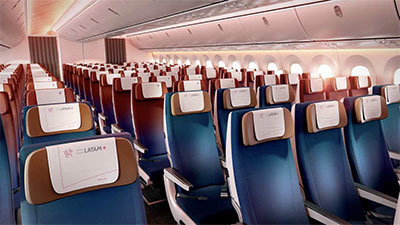 Whether you're traveling to South America for business, leisure or both, there is no better way to get there than by way of LATAM's new business cabin and service.
LATAM flies out of New York City (JFK), Los Angeles (LAX), Miami (MIA), Orlando (MCO), Boston (BOS) and Las Vegas (LAS). When you fly LATAM's business class, you will arrive well-rested, on time and ready for whatever your trip has in store.
FX Excursions
FX Excursions offers the chance for once-in-a-lifetime experiences in destinations around the world.
COMO Hotels and Resorts offers travelers new immersive luxury retreats for 2022. Perfect for couples, small groups or solo travelers, the new COMO Journeys are available to book in Australia, Bhutan, Indonesia and Thailand.
Sponsored Content
There's no better time to plan the vacation you've been missing. Step aboard with your better half, your friends or the whole family and reconnect, reunite and rejoice with 25 percent off cruise fares for all guests. We'll also help everyone get there with 25 percent off airfare from 20 major gateways across the country or $100 savings per person on flights from all other gateways when you book your air travel using Flights by Celebrity.*
Anantara Chiang Mai, the deluxe resort on the banks of Thailand's Mae Ping River, relaunched the city's most famous high tea experience, served on the terrace of the 100-year-old British Consulate that today houses the resort's Service 1921 Restaurant & Bar.