As you fly in to Ninoy Aquino International Airport, you can see a corner of Manila that is forever America. There, on the right-hand side, amid densely packed rusty rooftops, busy highways and a backdrop of gleaming skyscrapers, lies a 152-acre patch of immaculate lawn interspersed with concentric paths and row upon row of white crosses. It is Manila American Cemetery, the largest American overseas military cemetery.
Here the histories of the United States and the Philippines entwine. During the Philippine-American War (1899–1902), this was where the U.S. military established Fort William McKinley, a huge base that would prove crucial in two world wars. After the Philippines gained independence in 1949, the base became Fort Bonifacio, headquarters of the Philippine Army, and in 1993 it was sold to developers. In its place rose a new commercial center, Bonifacio Global City. But the cemetery, with nearly 17,000 graves, remains a haven of tranquility.
Metro Manila — the common name for the capital region as a whole — comprises a conglomeration of 16 cities on the west coast of the island of Luzon, the largest of the 7,641 islands that make up the Philippines. While each of the component cities embodies distinct identities, they all belong to the same urban sprawl, covering an area of 239 square miles between Manila Bay on one side and mountains and a vast lake on the other. One of the first tasks for any visitor is to come to grips with this urban patchwork.
BGC is, in fact, part of the city of Taguig. At its heart you'll find Bonifacio High Street, an outdoor mall shaded by trees and home to international shops and restaurants. The area around it boasts all the hallmarks of a new-build district: everything neatly planned and spotlessly clean. In some respects, it resembles Singapore.
The adjacent city of Makati, similarly high-rise and upscale, has been Manila's financial center since the 1970s. Uneven sidewalks and weathered concrete frontages make it feel a lot more lived-in and, perhaps, more authentically Filipino. Most business travelers choose either BGC or Makati as their base.
The largest of the 16 cities (and also the largest city in the Philippines) is Quezon City (or QC), planned as a new capital but absorbed into Metro Manila. As the center of the Filipino movie and television industry, QC bears the nickname "City of the Stars." The planners envisaged an ordered layout akin to Washington, D.C., though over the decades the original vision has been frayed by the expansion of dense residential areas. QC appears as frenetic and chaotic as the tangled power lines that overhang many of its streets.
The City of Manila, at the mouth of the Pasig River, marks where it all began, with the first human settlers 60,000 years ago, and more formally as a fortified Spanish outpost in the 16th century. It remains the administrative, economic and judicial center of the Philippines (though there are plans to move the Supreme Court permanently to its traditional summer location, the mountain city of Baguio, 162 miles north of Metro Manila).
From this sketched portrait of the various Metro Manila cities, it becomes readily apparent the current urban sprawl resulted from the utopian dreams of planners and politicians hitting the buffers of reality. So many fresh starts have been made, but ultimately Manila itself determines the outcome. Even now, planners are at work. New Clark City, located 68 miles north of Manila and a development for 1.2 million inhabitants, is being built to relieve some of the population pressure on the capital.
Meanwhile, two megaprojects are currently underway in Metro Manila to improve the groaning transport infrastructure. The Metro Manila Subway, the "Project of the Century," will finally provide a mass transit link to unify the main population areas. The first phase, costing at least $7 billion overall, is scheduled for completion in 2025, with full operation by 2028. Upgrades to the bus and Jeepney infrastructure will help provide an integrated public transport system.
On the shore of Manila Bay, New Manila International Airport broke ground in 2020. Designed to handle a capacity of 200 million passengers per year (six times greater than the current airport), the new airport promises to be the centerpiece of a new industrial and residential zone.
When the new airport opens in 2026, arriving travelers will no longer catch a glimpse of Manila American Cemetery as they come in to land, but it will still be there … one of the few constants in a metropolitan area that is forever changing.
CHECKING IN WITH RICHMOND JIMENEZ
Tourism Attaché and Director, U.S. Southwestern States and Latin America, Philippine Department of Tourism
What opportunities does Manila offer American investors? The Philippines recognizes the United States as one of its major investment partners, ranking as the fifth-largest contributor of Foreign Direct Investment into the Philippines after the Netherlands, Singapore, Japan and South Korea.
As the Philippines shows continued recovery from the pandemic, it reveals an improved overall investment climate which attracts more interest in investing in the country. For instance, the signing of the Public Service Act, formerly exclusive to Filipino industries, now allows 100 percent foreign ownership of public services like airports, expressways, railways, telecommunications and shipping.
Big and small investors alike can find opportunities in many industries; it's worth venturing into areas such as tourism, culinary/food, real estate, technology, health and wellness in Manila and across the country. The current business environment in the Philippines is truly ripe and ready for foreign investors. Investing in the Philippines and working with Filipinos forms a perfect match for a wise investment. As former tourism secretary Ramon Jimenez once said, "Solid investment is not about where you invest your money but whom you will work with."
Are there any cultural differences of which American visitors should be aware?
The Philippines is truly a place where the East meets West. Our culture is a unique blend of diverse influences in its history, namely Malay, Chinese, Spanish and American. Thus, the Filipinos have developed the sense of being global citizens that are respectful and highly adaptable to different cultures, earning a reputation of being genuinely hospitable people.
We enjoy entertaining our guests and go out of our way to ensure our visitors are comfortable and feel at home. The population speaks 175 languages and dialects, but the English language has always been one of the official languages. It is the principal medium of instruction in education, law and trade.
What are key developments in and around the city to look for in the future?
You will notice the development of new airports, lifestyle destinations like malls and public parks, and upgrading of infrastructure like tollways, bridges and bypass roads in and around Manila.
Which local attractions in Manila do you recommend?
Manila is the premier city and capital of the Philippines. It has been the seat of government since the Spanish colonized the islands in the 16th century. A tour of the walled city of Intramuros allows a glimpse of Manila's historic past. Manila's dining options are a treat for people who live for good food and innovative cuisine. Visit the world's oldest Chinatown, found in Manila; the National Museum, Makati; and Bonifacio Global City for limitless dining, music and social entertainment options. A business visitor to Manila finds a wide list of experiences from a daytrip to a weekend getaway.
If visitors have time, where else should they visit in the Philippines?
The Philippines is an archipelago of 7,641 islands which offers endless destinations to choose from that can be taken via land or affordable domestic air transportation. The country serves a cocktail of activities whether you are a solo leisure traveler, family, group or business travelers. You can enjoy the Philippines in more ways than one: adventure, cruise, farm and culinary, culture, dive, education, health and wellness, leisure, MICE, and sun and beach.
DIVERSIONS
Getting around Metro Manila can prove an adventure in itself. The most famous mode of local transport is the Jeepney, traditionally a brightly decorated minibus converted from a U.S. Army Jeep. Controversially, they are being phased out, replaced with modern minibuses. Jeepneys drive fixed routes and only depart the terminus when they're full. More flexible are the motorized tricycles, which can also dodge the notorious traffic jams. Passengers sit in a sidecar (be on guard for thieves on foot attempting to snatch any valuables you have with you).
The logical starting point for sightseeing is Old Manila, the original walled Spanish city (officially known as Intramuros — "inside the walls"). Though almost entirely destroyed in World War II, many of the district's old buildings have been rebuilt, including Manila Cathedral, the Governor's Palace and parts of Fort Santiago.
Bambike Ecotours runs guided group tours of Intramuros on bamboo bicycles. The Manila America Cemetery, open daily 9 a.m.–5 p.m., doesn't charge admission, but you will need to provide a valid photo ID. The cemetery's beautifully designed visitor center houses an informative museum.
LODGING
I'M Hotel
Located in the influential Makati district, the property features a glass-bottomed swimming pool eye-catchingly suspended immediately above the hotel entrance.
7862 Makati Ave., Makati
$$$
Okada Manila Resort & Casino
Vegas comes to Manila. Facing Manila Bay, close to the airport, this 993-room resort and entertainment complex offers over-the-top luxury.
New Seaside Drive, Entertainment City, Parañaque
$$$$
Shangri-La The Fort, Manila
The premier address in the BGC district. Occupying a mixed- use skyscraper, this 576-room hotel offers all the comforts and facilities you'd expect of the high-end Shangri-La brand.
30th Street, Corner 5th Avenue,BGC
$$$$
DINING
Friends & Family
At this modern restaurant celebrating Manila's "neighborhood eateries and diners of yesteryear," dishes come in two portion sizes: "friends" and "family."
Bonifacio High Street, BGC
$$
L'Opera Ristorante
This Italian restaurant, a Manila favorite since opening in 1994, offers an ideal venue for business entertaining amid unpretentious sophistication.
26th Street, corner 7th Avenue, BGC
$$$$
Purple Yam Malate
The homey interior belies this restaurant's ambitions: to elevate simple Filipino dishes to gourmet heights.
603 Nakpil, corner Bocobo Street, Malate
$$$$
JUST THE FACTS
Time zone: GMT +8
Phone code: Country code: 63 City code: 2
Currency: Philippine peso
Key industries: Manufacturing, shipbuilding, tourism, retail
COMING AND GOING
All U.S. citizens require a passport valid for at least six months beyond the arrival date, plus an onward air ticket. All arriving passengers must register individually at the Philippines Government eTravel webpage. Proof of registration is required at check-in for your flight. COVID-19 requirements continue to evolve; check before traveling.
OFFICIAL LANGUAGE Filipino and English
INFO TO GO
International flights arrive at Ninoy Aquino International Airport, 4 miles from downtown. Visitors can transfer to the city by bus, rail, Jeepney and taxi. Metro Manila Subway, currently under construction, will include a station at the airport's Terminal 3.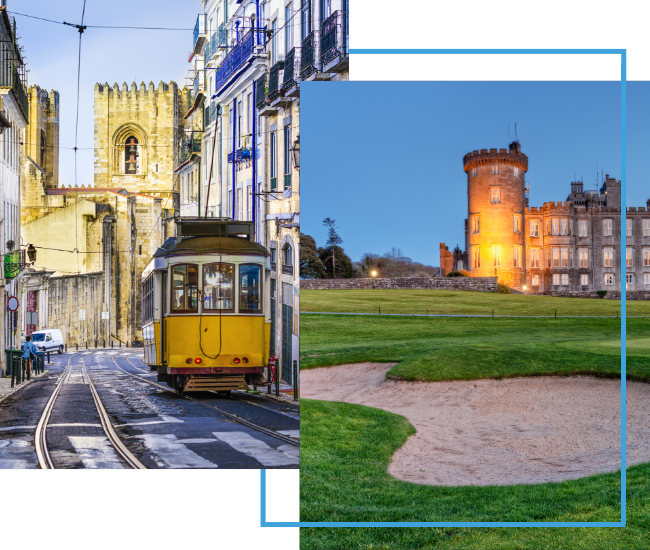 FX Excursions
FX Excursions offers the chance for once-in-a-lifetime experiences in destinations around the world.
Explore Excursions
One thing  surprising about the Prince Edward Island capital is its abundance of shops specializing in affordable, fashion-forward jewelry rendered in sterling silver, vermeil, 14K gold and semi-precious stones. Whether you prefer delicate pieces or bold wearable art, you can be assured the pieces for sale are inspired by the maritime island setting and, therefore, specific to the place where they are created. Here are a few shining, woman-owned examples:
Sponsored Content
Don't risk losing all the money you've spent if you must cancel your trip at the last minute. Allianz Travel Insurance can give you:
Norway, a haven for visionary artists, architects and designers, showcases an exceptionally diverse array of cultural attractions. This year, the country commemorates exciting milestones and unveilings captivating enthusiasts of the arts, from iconic scenic routes to new museums to gallery openings. Up Norway features these new offerings in personalized itineraries catered to aesthetes.