Spread across the dramatic landscape of the Sonoran Desert, the adjoining cities of Phoenix and Scottsdale have grown beyond their reputation as an escape destination for those hoping to avoid harsh winter weather in other parts of the country. Stylish and sophisticated, this busy conurbation is home to a vibrant arts community, world-class dining and resorts, spectacular golf and stunning architecture. There's plenty here to enchant adults and children of all ages — from eclectic museums and archeological digs, to adventure activities and historic sites. And there's always the desert itself, its dramatic and mysterious panorama defined by prickly ocotillos and their crimson blossoms, soaring red-tailed hawks and towering saguaro cactus.
Get a feel for the rich Native American heritage of this region during an afternoon in downtown Phoenix at the Heard Museum (tel 602 252 8848, http://www.heard.org). Here, fine art, jewelry, cultural objects and modern and traditional works by contemporary Native American artists are displayed in permanent and traveling collections, along with interactive exhibits, live performances and demonstrations by guest artists. Every Picture Tells a Story is a permanent, hands-on experience geared toward children and young people. Divided into seven geographic regions, the interactive displays depict the ways in which the wildlife and surrounding land of each region has influenced the development of distinct art forms particular to the Native American peoples dwelling there.
Leap forward a few thousand years, and take a tour of famed architect Frank Lloyd Wright's Arizona home, Taliesin West (tel 480 860 2700, http://www.franklloydwright.org).Regarded as one of Wright's masterworks, the glass, stone and concrete complex in Scottsdale serves as the international headquarters of the Frank Lloyd Wright Foundation, and as one of the campuses of the Frank Lloyd Wright School of Architecture. Showcasing his signature organic design concepts, which meld structural design with the natural surroundings, Taliesin (Welsh for "shining brow") includes pools, terraces, gardens, the Cabaret Theater for film and the Pavilion for performing arts.
It may be hot, but the desert is in full bloom at Desert Botanical Garden (tel 480 941 1225, http://www.dbg.org), located in Phoenix's Papago Park. Follow the paths that wind through 145 acres showcasing Arizona's amazing array of native plants, or enjoy one of the many scheduled events that include flute and percussion performances, cooking demos with celebrity chefs, Kachina carving and other Native American arts, and Native American dance performances.
Rated as one of the country's best zoos for families, the Phoenix Zoo (tel 602 273 1341, http://www.phoenixzoo.org) occupies 125 acres and houses over 1,200 animals. Besides a number of regular programs, special events yearround include evening safaris, kids' camps, lectures and Horse Hands. Designed for children between the ages of 7 and 14, Horse Hands teaches the basics of handling horses, and how to work with them safely. Additional programs for adults include workshops, lectures and opportunities to be a zookeeper for a day.
Who knew chewing gum could be so valuable? Perched atop a hill overlooking Phoenix's Valley of the Sun, Wrigley Mansion (tel 602 955 4079, http://www.wrigleymansionclub.com) was the winter home of chewing gum tycoon William Wrigley, Jr., and his wife Ada. Built by Wrigley as a gift to his wife on their 50th wedding anniversary, the mansion is situated just above the Biltmore Hotel. Due to zoning regulations, it's operated as a private club, and the annual membership dues of $10 are donated to various Arizona charities. Become a member at the door, and then enjoy a meal inside at Geordie's Restaurant & Lounge. Tours of the mansion and grounds are available from September through June.
In downtown Phoenix, the Pueblo Grande Museum and Archaeological Park (tel 602 495 0901, http://phoenix.gov/parks/pueblo.html) allows visitors to explore the ruins of a 1,500-year-old Hohokam Indian village. Covering 102 acres, the site includes an excavated ball court, irrigation canals used by ancient farming cultures and reproductions of prehistoric adobe Hohokam homes. Educational activities include public archaeology programs, workshops, tours and lectures. In addition, off-site Petroglyph Discovery Hikes and Archaeology Van tours are also available.
---
LODGING
ARIZONA BILTMORE RESORT & SPA
Frank Lloyd Wright, working closely with former student Albert Chase McArthur, was the consulting architect for this American desert classic, which opened in 1929. In 2003, a 25,000-square-foot ballroom and 120 new guestrooms were added, bringing the guestroom total to 734. A multi-pool complex, extensive meeting space, fine dining restaurants, luxury spa and two 18-hole golf courses at the adjacent country club (GTee, Global Traveler, May 2007) round out the offerings. The elegant décor includes Mission style furnishings, muted desert tones and touches from the past such as quirky, 1930s-style lamps. 2400 E. Missouri, Phoenix, tel 800 950 0086, http://www.arizonabiltmore.com $$$$
CAMELBACK INN
Spectacularly framed by Camelback Mountain, the adobe-style architecture of this luxury resort blends seamlessly with the surrounding Sonoran Desert. There's a low-key ambience, with friendly staff and a concierge who actually seems happy to help you plan your stay. Enjoy a plethora of golfing options, onsite fullservice fitness center, fine dining restaurants and a spa offering healing treatments that include indigenous plants and Native American traditions. 5402 E. Lincoln Drive, Scottsdale, tel 480 948 1700, http://www.camelbackinn.com $$$$
WESTIN KIERLAND
RESORT & AGAVE SPA
The lushly landscaped interior courtyard garden belies the sweeping vistas of sandy desert beyond the resort grounds, creating a restful oasis that immediately puts you at ease. Three 18-hole combinations are offered on the resort's course, along with a 110-foot waterslide into the pool, a kids-only playground and the newly launched Teen Club for older kids. Luxury accommodations at this smokefree resort include traditional guestrooms with private balconies or terraces, poolside Casita Suites, and deluxe Presidential Suites. 6902 E. Greenway Parkway, Phoenix-Scottsdale, tel 800 354 5892, http://www.kierlandresort.com $$$$
---
DINING
COWBOY CIAO WINE BAR & GRILL
While the relaxed setting is a fanciful blend of cowboy chic, Italian trattoria and Mardi Gras, the creative menu and 1,400-bottle wine list offer serious pleasure. Try the puerco lento, a pork shank slow-cooked with cumin, chipotle, paprika and Mexican oregano. Open daily for lunch and dinner. 7133 E. Stetson Drive,
Scottsdale, tel 480 946 3111, http://www.cowboyciao.com $$$
FARRELLI'S CINEMA SUPER CLUB
Instead of dinner and a movie, it's dinner at the movies. Two matinees are offered on weekends, with nightly screenings of first-run and classic films. Two theater dining rooms offer tiered seating, an art deco décor and menus designed to please diners of all ages. Besides soups, salads, sandwiches and a dedicated children's menu, entrees range from grilled salmon in lime molasses glaze to Cajun rib eye with grilled asparagus. For an appetizer, try the baked brie a l'orange, a creamy brie baked in a light pastry shell with orange marmalade and caramelized pecans. 14202 N. Scottsdale Road, Ste. 114, Scottsdale, tel 480 905 7200, http://www.cinemasupperclub.com $$
Phoenix Sky Harbor International Airport (PHX) serves Phoenix-Scottsdale. It's one of the busiest airports in the Southwestern and Western regions of the country, so plan accordingly. Roads leading to the airport can be congested, especially during winter. The highways of the greater Phoenix-Scottsdale area are heavily traveled in general, so expect traffic that worsens considerably during rush hours. Most resorts offer shuttle transportation to and from Sky Harbor, and if you don't absolutely need to drive, this can be the best option.
---
DAY TRIPS
Interested in witnessing an old-fashioned shoot-out at a saloon — from a safe distance? A half-hour north of Phoenix, the Pioneer Living History Museum (tel 623 465 1052, http://www.pioneer-arizona.com) provides a full day of Old West-style entertainment. The mix of authentic buildings and historic reproductions includes a blacksmith shop, miner's cabins, dance hall, opera house and complete ranch complex. Interpreters dressed as cowboys, lawmen and Victorian-era residents explain what life was like in an 1800s Western town.
Two very different views of the desert are available when you sign up
for a half or full day with Adventures Out West Balloons & Jeeps (tel 800 755 0935, ). For those desiring a more lofty view of the desert landscape, options include sunrise flights followed by continental breakfast with champagne, and sunset launches that conclude with an evening picnic in the desert. If you prefer to stay close to terra firma, guided jeep tours follow rugged paths leading to some of the area's best viewing spots. During the four-hour excursion, you'll learn about the native flora and wildlife, and how ancient indigenous peoples used desert plants for food and healing.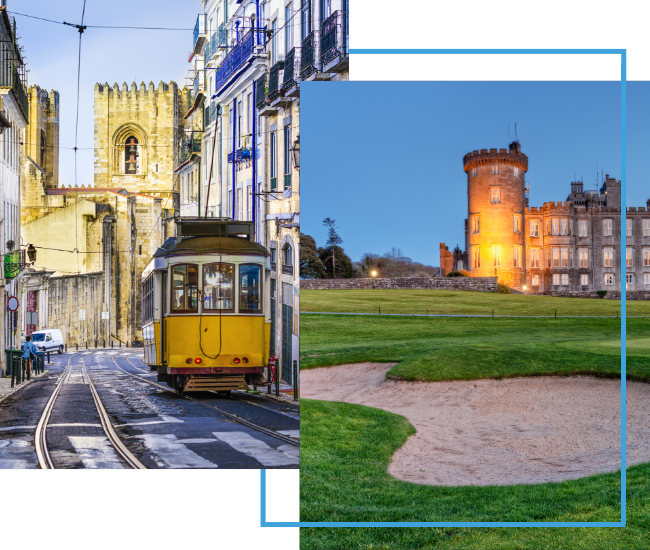 FX Excursions
FX Excursions offers the chance for once-in-a-lifetime experiences in destinations around the world.
Explore Excursions
Did the new film Oppenheimer rouse your interest in the nefarious world of international espionage? You can go straight to the real-life setting for covert actions this November (Nov. 10–12), when La Fonda on the Plaza in Santa Fe hosts a specially themed "Spies, Lies and Nukes" weekend. The hotel actually served as the retreat location for Manhattan Project scientists, who stayed at La Fonda on the Plaza to take a break from the stress of their work. During the weekend, the property's La Fiesta Lounge will make a tasty nod to those days by serving up a special Atomic Martini.
Sponsored Content
Many small- and medium-sized businesses face time and budget constraints when organizing corporate hotel travel for employees. To address this problem, IHG® Business Edge emerged as a cost-free business travel solution for small- to medium-sized enterprises, offering travel managers exclusive access to enticing perks, handpicked educational resources and comprehensive company travel metrics. IHG Business Edge connects our loyal customers to our portfolio of 5,800 hotels and resorts across 18 brands in more than 100 countries.
Ever want handcrafted martinis and freshly shucked oysters delivered straight to your room? The Read House's New Martinis & Pearls service has you covered. Shining in 1920s-themed decor, the historic hotel in the heart of Chattanooga offers a true Gatsby-esque experience, now further elevated with this upscale amenity. Guests can now indulge in their perfectly chilled martini, made to order, and "pearls" (oysters) in the comfort of their room.