Blue skies, gold nuggets, wheat and cattle ranches stretching to the horizon, and Horace Greeley's pioneering mantra, "Go West, young man," lured 19th-century ranchers, miners and adventurers to cross the flat prairie of the heartland and settle in the American West.
By the time the rambling writer Jack Kerouac arrived in the late 1940s, Denver was still a rough-on-the-edges railroad town where freight trains rumbled through the city, their shrill, romantic whistles piercing the thin night air. Ranch hands in wide-brimmed cowboy hats spent their paychecks in the noisy, smoky bars along Larimer Street where bright neon signs blinked names like Ginn Mill and Gold Nugget, promising drinks and women to the customers huddled in overcoats under falling snow. During this period of Denver's history, the silver- and tan-colored grain silos on the farms east of the city were taller than the brick Art Deco office buildings that had sprouted downtown during 1930s WPA projects.
Denver's ''cowboy as hero'' reputation, however, was not to last. The city's World War II defense plants and nearby military bases made Denver a boom town, and the Mile High City has never looked back. Denver's population increased 29 percent in the decade from 1940 to 1950, from 322,000 to 415,000. But even that growth pales by comparison to the 1950s, when in nearby counties — Arapahoe, Adams, Boulder and Jefferson — large empty tracts of Colorado farmland, stretching to the foothills of the Rockies, began filling up with shopping centers, residential neighborhoods, light manufacturing plants, schools and hospitals.
Today, with a metro population close to 4 million, Denver and its edge cities are bustling with high-tech and energy firms, scientific research and design companies, and cultural institutions. During the rapid expansion of the region, local communities have been vigilant about preserving the area's natural beauty. There is an amazing number of biking, hiking and cross-country skiing trails; fishing streams; horse riding trails; and golf courses with breathtaking mountain vistas.
The Brookings Institute rated Denver the 10th-most educated city in the country, with 40 percent of the population having achieved at least a bachelor's degree; and the Gallup-Healthways Well-Being Index listed nearby Boulder as the ''healthiest and happiest'' city in the country.
Tom Noel, a history professor at the University of Colorado at Denver and a Denver Post columnist, says that Denver's mayors have had a huge influence not only in the city but in the state as well, and their personal histories reflect Denver's diversity and acceptance of outsiders.
In the mid-1800s, Richard Sopris left the East Coast to join thousands of other hopeful Americans who moved to Denver during the Colorado Gold Rush. Sopris prospected for gold along the Platte River, became one of Denver's early founders and was elected mayor in 1878.
In the early 1900s, Robert Speer became the first public official to try to convert Denver from a nondescript farm town into a more sophisticated city. In 1905 it may have been a display of chutzpah for the mayor to call Denver ''Paris on the Platte'' for the river that runs through it, but Speer started the Denver Mountain Parks system, a beautiful city zoo expansion and free concerts in the parks. When passengers walked out of Union Station, the first structure they saw was the ornate Welcome Arch, which Speer's administration constructed.
Mayor James ''Quigg'' Newton (1947–1955) helped create the city's Health and Hospitals System, now one of the country's most respected municipal medical institutions. Denver's first Hispanic mayor, Federico Peña (1983–1991), planted more than 30,000 trees along city streets, including several thousand cherry trees, emulating an Indian tradition that started along Denver's lovely Cherry Creek. Peña also brought in the Colorado Rockies baseball team, raising enough revenue to build Coors Field, their downtown stadium. His rule that sets aside money for public art in every large city building established the standard for private structures as well; and today Denver has a 40-foot-tall Blue Bear sculpture peeking into the Convention Center, a 32-foot-tall rearing mustang at Denver International Airport, and a pair of 60-foot-tall fiberglass and steel figures dancing before the Performing Arts Complex.
Denver's current mayor, Michael Hancock, was recently elected to a four-year term and will preside over the completion of several big public development projects, including the $29 million Clyfford Still Museum (2011), the $36 million Denver Police Crime Laboratory (2012), a $111 million History Colorado Center (2012) and the $295 million Carr Colorado Judicial Complex (2013).
Although Metro Denver lost 27 percent of its manufacturing jobs over the past decade, software firms, energy, banking and communications companies have established themselves downtown and in the western suburbs, dominating the city's business scene. Since 1990, downtown Denver has seen over $6 billion in investment, including $2 billion coming from the public sector. The surge in downtown infrastructure has resulted in more than 63,000 residents now living within 1.5 miles of the Central Business District, an increase of 18 percent over last year. The Policom Corporation, an independent economic research company, ranked the Denver/Aurora/Broomfield area as one of the 10 strongest local economies in the United States.
Companies with established corporate headquarters in Denver include Chipotle, Qwest Communications, Dish Network, Western Union, Newmont Mining, HCA-HealthOne, Siemens Energy, Smashburger and dozens of mid-sized alternative energy and high-tech firms. They enjoy a business-friendly climate, a relatively low cost of living and close proximity to some of the best skiing in North America.
---
DIVERSIONS
Red Rocks Park and Amphitheater (18300 W. Alameda Parkway, Morrison, tel 720 865 2494, www.redrocksonline.com), located 15 miles west of Denver, is the city's most popular outdoor entertainment venue. The sandstone peaks of this mountain park, a natural acoustic phenomenon, along with its top musical acts draw thousands of residents and visitors each summer to its 9,450-seat amphitheater. In the mid-2000s, the city invested $29 million to upgrade Red Rocks, including a 30,000-square-foot visitor center and the Ship Rock Grille.
Downtown Denver has blossomed in the past 15 years with new and renovated cultural institutions, including the Museum of Contemporary Art (1485 Delgany St., tel 303 298 7554, www.mcadenver .org), a stunning tinted-glass box designed by British architect David Adjaye. MCA sits on the site of a former rail yard, an area of Denver now gentrified with tastefully designed shops, restaurants and residential lofts.
The Denver Art Museum (100 W. 14th Ave. Parkway, tel 720 865 5000, www.denverartmuseum .org) expanded its gallery space in 2006 with Daniel Libeskind's magnificent Hamilton Building; and the new Clyfford Sill Museum (1250 Bannock St., www.clyffordstillmuseum.org), a strikingly modern building which opens in November, will display the works of one of America's greatest yet perhaps most unknown 20th-century abstract artists.
The Ellie Caulkins Opera House (14th Street and Curtis, tel 303 778 1500, www.operacolorado .org), located at the Denver Performing Arts Complex, is the home of the Colorado Opera. Public tours are available of this venue, opened in 2005 within the restored 1908 Auditorium Theater. The 2012 performance schedule is posted online.
Denver and nearby towns boast many excellent craft beer breweries and annual beer festivals. The Colorado Brewers Guild (www.coloradobeer.org) provides times and contact information for tours and tastings. There are also more than 80 wineries in Colorado and four distinct wine trails. For information on wine venues near Denver, contact the Colorado Wine Industry Development Board (www.coloradowine.com).
Info To Go
Denver International Airport (DEN), opened in 1995 about 25 miles from downtown, is the country's fifth-busiest and largest, covering 53 square miles. Ground transportation options to city center include SkyRide Public Bus (1 hour, $11), Super Shuttle vans (30 minutes; $21), taxis (30 minutes; about $55) and rental cars. The South Terminal Redevelopment Program to be completed in 2015–2016 includes a direct FasTracks light rail service to Union Station, an on-site 500-room Westin hotel and an open-air plaza with a partial glass canopy. For information, visit www.visitdenver.com.
Lodging
FOUR SEASONS DENVER
All 239 deluxe guestrooms feature high-tech amenities and mountain or city views. Enjoy the rooftop pool terrace, large spa and Edge steak restaurant. 1111 14th St., tel 303 389 3000, www.fourseasons.com/denver $$$$
HOTEL MONACO DENVER
The Kimpton luxury boutique recently upgraded all 189 guestrooms; walk to Convention Center, Coors Field, 16th Street Mall and Larimer Square. 1717 Champa St., tel 303 296 1717, www.monaco-denver.com $$$$
HOTEL TEATRO
The 110-room, historic boutique hotel across from the Denver Performing Arts Complex offers free WiFi, deluxe furnishings and the highly rated Restaurant Kevin Taylor. 1100 14th St., tel 303 228 1100, www.hotelteatro.com $$–$$$
Dining
BUCKHORN EXCHANGE
At Denver's oldest restaurant (1893), antique furnishings, artifacts and an Old West menu provide a taste of the city's early days. 1000 Osage St., tel 303 534 9505, www.buckhorn.com $$$–$$$$
RIOJA
Chef Jennifer Jasinski uses Colorado lamb, goat cheese, truffles, fresh fish and locally grown veggies in her Mediterranean-inspired dishes. 1431 Larimer St., tel 303 820 2282, www.riojadenver.com $$$
ROOT DOWN
The concepts of sustainability and "field-to-fork" produce have made this a citywide favorite, with healthy soups, salads, small plates and eclectic entrées.1600 W. 33rd Ave., tel 303 993 4200, www.rootdown denver.com $$–$$$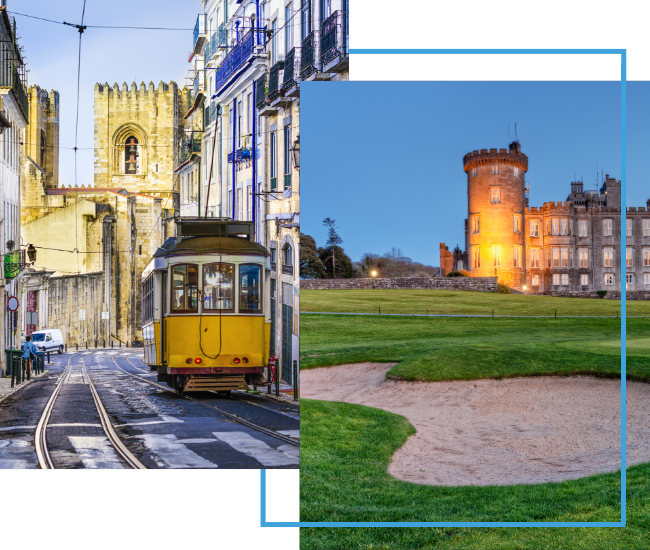 FX Excursions
FX Excursions offers the chance for once-in-a-lifetime experiences in destinations around the world.
Explore Excursions
If fabulous food and beverages are a must-have for any weekend getaway, then look no further than the City of Brotherly Love. Whether your palate has a penchant for vibrant Latin American fare or cozy French cuisine, whether you're an oenophile looking to swirl, sniff and sip your way around the globe or you'd rather sample farm-to-glass cocktails, Philly's got it all this fall. (With the exception of Bolo, which is a short taxi or Uber ride away and definitely worth the trip, the rest of these spots are all within walking distance of each other.)
Sponsored Content
Whether it's the people, the craic (fun) or the coasts, travelers always find something to love about the island of Ireland. What fills your heart?
From Santoríni to Dubai to New York, some hotels just have that "it" factor that draws visitors far and wide. For some hotels it's their proximity to popular landmarks and attractions, for others it's their amenities. But these hotels have something few can claim: a true room with a view.