Name: Danny Hughes
Title: Executive vice president and president, Americas
Company, city: Hilton; McLean, Virginia
First job: I was a chef at my parents' pub, which led to my first job with this great company as a chef at the London Hilton.
Where to next: Latin America. We have some important hotel owners and new properties to see.
A LITLE BIT MORE
What Actor or Actress would play you in a movie of your life?
Tom Hanks, I got to know him through an event Hilton sponsors in Washington, D.C., with Hidden Heroes. Tom and I recognized we share a mutual passion for this organization. He is a great guy, and what you see in the movies is the way he is.
What would you be doing professionally if you weren't in your current industry?
I'd be in politics as a public servant helping the community, or walking up to the 18th green of Augusta playing against Tiger Woods.
What is your favorite book, movie or television show?
I read Be My Guest by Conrad Hilton every few years; it helps ground me in the vision and values critical to Hilton's foundation. It's especially important to return to these principles during trying times. Another favorite is Team of Rivals.
What historical figure, dead or alive, would you love to have dinner with?
Winston Churchill; he rallied a country during its darkest hours.
THE BUSINESS
What is your most recent project, and what was the inspiration behind it?
Hilton CleanStay and Hilton EventReady: We always had clean and safe properties, but we took this to another level once the pandemic hit to ensure guests' peace of mind. The programs were built in consultation with the Mayo Clinic and in partnership with RB, the makers of Lysol and Dettol, and focus on high-touch areas and common spaces in our hotels. EventReady brought CleanStay to our meeting spaces, and we talked to customers to develop programs and processes to make them feel comfortable booking meetings again.
What is your favorite aspect of the job?
Interacting with people. While I'm grateful for what I learned as a chef, I knew I was made for a career outside of the kitchen because I found the job most interesting when I was not cooking and instead interacting with people.
What's the biggest business risk you've ever taken?
Accepting a somewhat lateral job, from running the Caribbean and Latin America to taking on the role of the Americas commercial director. I moved my family from Miami to McLean, a big change but well worth it because I now have the honor of leading the Americas region.
Who is someone you admire professionally in the travel industry?
Chris Nassetta, our chief executive officer. I always admired him, but I really appreciate how he leaned into his values and morals to guide our company through this pandemic and recovery.
AS A TRAVELER
Tell us about a travel nightmare: During 9/11, I was stranded at Caribe Hilton in Puerto Rico. There was an overwhelming feeling of fear and uncertainty. It was difficult being away from my family with no way to get to them, and we had a hotel full of guests sharing the same anxiety. Hilton makes a fundamental promise to give guests a safe and secure place to stay, so we led with our hospitality and ended up not charging them for their rooms.
Share a comical travel experience: Traveling from San José, Costa Rica, the small plane made an unscheduled stop in the middle of nowhere. I had an important call and was not aware this was an extra stop. I got off with no cell service and the plane took off, stranding me in the jungle. I had to walk to a farmhouse to make a call to be rescued.
What is your preferred method of travel — planes, trains, automobiles, cruise ships — and why? I still enjoy flying, the thrill of lift off and the power of jet engines. Makes me feel like a little boy again.
What has been the best example of customer service you've experienced during your travels? It is all about customer service. We had a couple stay at the Conrad Washington, DC during the pandemic as a "replacement" honeymoon for their European vacation. Our general manager, Laura Schofield, and her talented team created a European vacation experience, collecting notes and items from the Hilton hotels in Europe they planned to visit. It meant a great deal to them.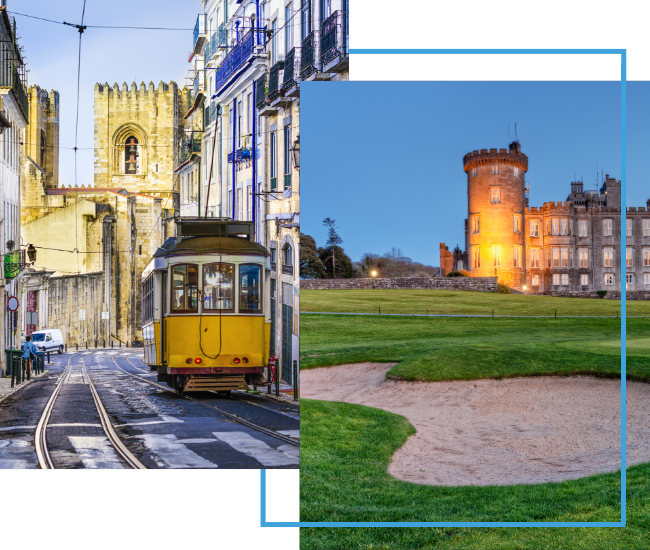 FX Excursions
FX Excursions offers the chance for once-in-a-lifetime experiences in destinations around the world.
Explore Excursions
There's no doubt the northern lights are awe-inspiring and spectacular. Unfortunately, they're also fickle and fleeting, and despite your best-laid plans of checking this item off your bucket list, sometimes Mother Nature's luminescent show just doesn't cooperate. But one cruise line has a new fail-safe in place.
Sponsored Content
Exclusive Sailing with Global Traveler
Think you need a degree in sailing to enjoy a yachting holiday? Dream Yacht Worldwide, a leader in yacht charters, wants you to relax and enjoy the journey. Newly expanded to include the British Virgin Islands, Martinique, Tahiti and the Seychelles, the "Easy Crewed" offered by Dream Yacht Worldwide also include charter options in Greece and Croatia.