Hosting a wine tasting event at a brewery in Bristol, Pennsylvania, may seem like a departure from our usual Wines on the Wing airline wine competition, typically hosted in New York City, but what has 2020 been if not a true test of adaptability?
Like so many events this year, Global Traveler's 17th annual Wines on the Wing airline wine competition was postponed many times. As our team planned and replanned, our event finally took shape at Odd Logic Brewery, owned and operated by Tim Shaw. Mentioning Shaw's name anywhere in the area is sure to be followed with a variation of "I know him; he's a great guy!" And Odd Logic is a great local business and refreshingly laid-back venue.
To participate in the competition, airlines from around the world operating long-haul international first-class service and/or business-class service are invited to submit two white wines, two red wines and one Champagne or sparkling wine featured on their in-flight wine lists. The same rules apply to our smaller North American category, including airlines boasting first-class and/or business-class services beginning and ending in North America.
Once competing airlines submit paperwork, menus and samples — no easy feat even before a global pandemic — all wines are coded and divided into flights, or categories. The submissions are then organized for the blind tasting, in which wines are poured into numbered glasses, the identity never revealed to the judges.
On the day of the event, our judges each sat at their own private table and were presented with coded wine samples. They never saw the actual bottle from which they were tasting. Each judge scored the samples they tasted on a 20-point scale, including notable attributes of appearance, nose and palate.
The judges' individual scores were then totaled and averaged in each category. Individual wines with the highest scores — and the airlines with the highest total scores — win Wines on the Wing awards. Most of this year's competing airlines belong to one of three airline alliances. The alliance whose members collectively earned the highest average score this year is, again, oneworld.
In our most competitive category, Best International Business Class, LATAM Airlines came out the winner, with the highest overall score in the grouping.
"Our commitment to our passengers is to always curate the best wines of the region. Héctor Vergara (the only Master Sommelier in South America), over the last 25 years tasting wines for LATAM, has acquired great expertise on which are the best wines to enjoy at 30,000 feet. Last year, after tasting more than 600 bottles, we selected an outstanding cellar for our premium customer experience. At LATAM we receive with great pride this award by Global Traveler," said Felipe Gutierrez, chef, LATAM Airlines.
LATAM Airlines' wine scored well consistently in both the individual Champagne/sparkling, white and red wine categories — easily claiming the highest average score in the class category but not enough to claim a top spot per wine sample. The first-place award for Champagne/sparkling wine actually went to American Airlines for its standout nonvintage Cattier Brut Icône Champagne. The judges noted the Champagne's light taste, fruity notes and dry but refreshing finish.
LATAM Airlines did find a No. 1 spot in the white wine category of the International Business-Class grouping with its Viña Aquitania Sol de Sol 2017 Sauvignon Blanc from Traiguen, Malleco Valley, Chile. The judges noted the wine's crisp, clean fruit flavors and surprising hint of pepper.
The red wine category showcased a newcomer to the competition's recent years, Icelandair's high-scoring Quinta do Crasto 2015 Superior Syrah from Douro, Portugal. Claiming the category's No. 1 spot, the Syrah presented a strong start and full body with hints of blackberry and dark chocolate aftertaste, according to the judges.
No stranger to the winners' circle, American Airlines took the lead in the Best International First-Class competition, claiming the top spot in the category with the highest overall average in the class grouping.
"Global Traveler's support of the travel and tourism industry is valued by so many. It's an honor to be recognized for our dedicated team of wine experts and their thoughtful partnership with Master Sommelier Bobby Stuckey. We take great pride in offering our customers carefully selected wines that represent the unique regions and flavors our customers enjoy," said Raphael Girardoni, managing director, Onboard Dining & Service, American Airlines.
American Airlines also won first place for individual wines featured in the white- and red-wine categories. Pascal Jolivet 2018 Sancerre Les Caillottes from the Loire Valley and Whitehall Lane's 2016 Cabernet Sauvignon from the Napa Valley each won top spots for white and red wines, respectively.
As for the No. 1 Champagne/sparkling wine in the International First-Class grouping, All Nippon Airways took top honors with its Champagne Billecart-Salmon 2008, a classic and complex vintage noted by the judges as clean, tart and dry.
Nearly sweeping the entire North American category of the competition, Aeromexico claimed the lead with the highest overall score for the group.
"We are very proud and grateful to receive this recognition, which for the Aeromexico team is an incentive and commitment to continue working to provide our customers with the best service on board, allowing them to enjoy an unbeatable travel experience," said Antonio Fernandez, senior vice president, On Board Product, Aeromexico.
Aeromexico dominated the Champagne and white wine categories of the North American competition, with its Jacquart Brut Champagne NV coming in first place, as judges noted the Champagne to be "a winner" offering "great flavor," as well as its Duckhorn 2017 Decoy Chardonnay from Sonoma County taking first place for white wines. This award-winning bottle was found "best of the lot" as well as oaky but not overpowering and with a sweet, clean finish.
Blocking Aeromexico from sweeping the category is American Airlines, winning No. 1 in the red wine category with its Domaine Drouhin 2016 Pinot Noir from the Dundee Hills in Oregon. Judges found this sample surprising and balanced — something we could also say about the overall results of the Wines on the Wing airline wine competition.
Where there's great wine, there's a way, and our competing airlines certainly proved their determination and staying power through one of the most challenging times in our industry. To the winners and all competitors, cheers! This has certainly been a year to remember.
WINNERS' CIRCLE
Best International First-Class Wines on the Wing
American Airlines
Best International First-Class Champagne/Sparkling Wine
All Nippon Airways, Champagne Billecart-Salmon 2008 Champagne
Best International First-Class White Wine
American Airlines, Pascal Jolivet Sancerre Les Caillottes 2018 Loire Valley
Best International First-Class Red Wine
American Airlines, Whitehall Lane Cabernet Sauvignon 2016 Napa Valley
Best International Business-Class Wines on the Wing
LATAM Airlines
Best International Business-Class Champagne/Sparkling Wine
American Airlines, Cattier Brut Icône Champagne, NV, Champagne
Best International Business-Class White Wine
LATAM, Viña Aquitania Sol del Sol Sauvignon Blanc 2017 Traiguen, Malleco Valley, Chile
Best International Business-Class Red Wine
Icelandair, Quinta do Crasto Superior Syrah 2015, Douro Valley
Best North American Wines on the Wing
Aeromexico
Best North American Champagne/Sparkling Wine
Aeromexico, Jacquart Brut Champagne, NV, Champagne
Best North American White Wine
Aeromexico, Duckhorn Wine Company Decoy Chardonnay 2017 Sonoma County
Best North American Red Wine
American Airlines, Domaine Drouhin Pinot Noir 2016 Dundee Hills, Oregon
Best Alliance Wines on the Wing
oneworld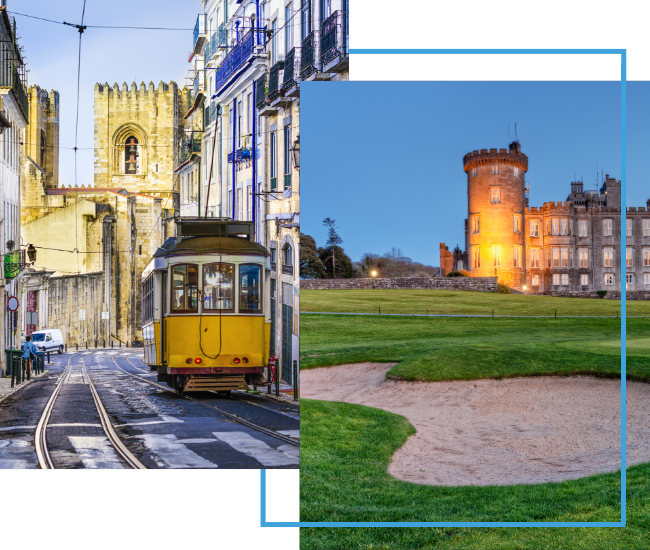 FX Excursions
FX Excursions offers the chance for once-in-a-lifetime experiences in destinations around the world.
Explore Excursions
There may not be snow in Los Angeles this season, but Waldorf Astoria Beverly Hills is certainly full of the holiday spirit, with Christmas, Hanukkah and New Year's events happening in the hotel's gorgeous event spaces.
Sponsored Content
Whether it's the people, the craic (fun) or the coasts, travelers always find something to love about the island of Ireland. What fills your heart?
Looking for fun things to stuff into the toe of a few holiday stockings? Here are some great choices: