THE YEAR 2019 WELCOMES A HOST of new ships, itineraries, themes (multigenerational, active, wellness, soft adventure, cultural, culinary and educational) and initiatives bound to capture the interests of many travelers. The premise: Cruising has never been easier, with all sorts of itineraries and ships appealing to various price points from luxury to value-based. Whether you join a large or small ocean cruise, river cruise or expeditionary cruise, each has its advocates, admirers and repeat customers.
"It's an exciting time for cruising in all regards," says Ralph Grizzle, founder, Avid Cruiser and River Cruise Advisor. "River cruising is seeing more active options like biking, hiking, yoga and wellness on board, and the introduction of wider and more sophisticated vessels." He notes there is a style of cruising for just about everyone.
Like touring Europe? River cruising will be much more enjoyable than coach touring, as you unpack only once for your shipboard room. Are you an explorer? Expeditionary cruises can take you to the world's most remote regions with options for kayaking, snorkeling and exploring in pontoon boats. Or maybe you prefer the glitz and glamour of Las Vegas and Broadway? Big ships deliver oodles of options with their entertainment, casinos, theme park attractions and multiple dining choices, as well as huge sun decks and pools to soak in the sun. And if you just want to have a more intimate experience, enjoy fine dining and some soft adventure, a small ship will fit the bill and feel less crowded.
However, it's important to note the cruising industry itself is responding to continued positive growth not only with the rollout of new ships but also with the addition of new features. Expect to see a lot of crossover, according to Grizzle. "Crystal Cruises, for example, has launched a fleet of river cruise vessels, while Viking River Cruises has launched a series of ocean ships. Scenic, a river cruise operator, is launching an expedition vessel in January of 2019. Not surprisingly, perhaps, all of these companies have done an outstanding job at making the transition from one area of operations to another. The expedition market is experiencing explosive growth."
Other trends, especially in river cruising, include guided bicycle tours and wellness themes and focus on regional cuisine and wines, local craft beer and cocktails inspired by ports of call. Of course, diners can always order from a permanent menu that usually includes steak, chicken and vegetarian options. Another nice trend? Many ships, especially in river and expeditionary cruising, are becoming greener and more sustainable in operations.
THE BIG OCEAN CRUISE LINES (usually 1,000-plus passenger capacity) adding to their fleets include the following 2019 rollouts:
Royal Caribbean's Spectrum of the Seas debuts Jan. 2, 2019, with a passenger capacity of 4,180. Then, on Jan. 5, Norwegian Cruise Line adds a ship for 3,900. On Jan. 6, Costa Smeralda rolls out for Costa Cruises with passenger capacity of 5,176. The next day, Jan. 7, will see Princess Cruises' unnamed cruise ship come on line with accommodations for 3,560 passengers, while Carnival introduces another unnamed ship Jan. 8 for 3,934 cruisers.
Smaller ships (generally less than 1,000 passengers) are making their mark, too. Viking Ocean Cruises successfully entered the ocean cruise business in 2015 with its first ship, Viking Star. Now, the 930-passenger Viking Jupiter will sail in 2019, the sixth oceangoing ship in the successful series. Viking set its goal for a total of 16 ocean ships in its fleet.
Azamara will offer its first-ever sailing to Alaska with two of its 690-passenger ships. "Our 2019 itineraries span the world with new ports and destinations such as Alaska. … We are confident that our growing number of first-time and millennial cruisers, along with repeat customers, will find that the new itineraries offer the type of personalized and unique experiences they seek," says Larry Pimentel, president and CEO, Azamara Club Cruises.
Known for visiting off-the-beatenpath destinations as well as popular ports, Windstar Cruises operates a six-ship fleet with no interior cabins, and half the fleet's ships boast all-suite rooms. Next year brings seven new itineraries and 163 ports of call for Europe alone, with a focus on more carefully curated sailings and custom experiences designed for small ships and travelers open to novel experiences. The Official Cruise Line of the James Beard Foundation, Windstar prides itself in offering cruises "180 degrees from ordinary."
Tauck expects to increase its passenger volume in small-ship cruising by 40 percent with the addition of five new small-ship cruises making their debut. The company is expanding shore excursion choices to offer guided bicycle trips in more destinations.
RIVER CRUISING WILL ALSO SEE NEW LAUNCHES IN 2019. Viking River Cruises was established in 1997 with four ships. Now, more than 20 years later, it is the world's largest small-ship cruise line, with more than 50 ships in the river fleet alone. Seven new Viking ships are on order for 2019, with six being Viking Longships with 190 passengers in 95 staterooms. The other Viking ship to be introduced in 2019 joins three sister ships sailing the Douro River in Portugal, accommodating 106 passengers in 53 staterooms. The Viking Longships, known for their upgrades involving sustainability, include such features as topside organic herb gardens, onboard solar panels and energy-efficient hybrid engines designed to minimize vibrations.
In May 2019 AmaWaterways debuts AmaMagna, its newest and largest ship to date. Designed with multiple dining venues, a sports platform and larger staterooms, AmaMagna is twice the width of the standard river cruise ship.
That should appeal to new cruisers. "Research has shown that many ocean cruisers and active travelers have yet to experience river cruising because they thought the staterooms were too small or the dining options and activities too limited. We are confident that AmaMagna, with the additional space and more diverse onboard programs, will overcome these objections and open up a whole new market for us," says Rudi Schreiner, president and co-owner, AmaWaterways.
AmaMagna will also introduce an exclusive concierge golf program. While sailing the Danube, guests will have a seamless golf experience where all the details are taken care of by the ship, such as arranging tee times at some of Europe's world-class golf courses, along with practice balls and golf carts waiting for you. Transfers are by a Mercedes-Benz, and clubs are cleaned for you, ready for your next game.
Uniworld introduces its newest Super Ship in 2019, S.S. Bon Voyage, sailing in southwestern France, while CroisiEurope River Cruises debuts MS Amalia Rodrigues on the Douro River in Portugal.
EXPEDITIONARY CRUISES COMPRISE one of the fastest-growing segments of the cruise market, though it's questionable how much growth this sector can sustain. In March 2019 Ecoventura launches one of the greenest yachts to sail the Galápagos, MV Theory. The 20-passenger mega-yacht with 10 premium cabins brings 5-star luxury to the wilds.
Poseidon Expeditions introduces a new expedition cruise program departing Edinburgh to the frozen north. From the Highlands to the High Arctic, the ship crosses the Arctic Circle, three seas and the islands of three countries.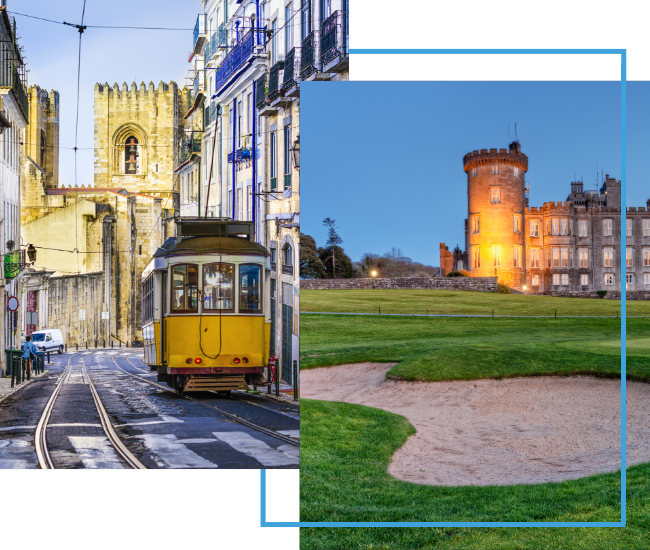 FX Excursions
FX Excursions offers the chance for once-in-a-lifetime experiences in destinations around the world.
Explore Excursions
A new and expanded campus at the Buffalo AKG Art Museum has been completed, reopening this summer and featuring new architecture designed by the architectural office of OMA New York, led by partner Shohei Shigematsu and project architects Lawrence Siu and Paxton Sheldahl, with Cooper Robertson (executive architect). The new expansion includes the Jeffrey E. Gundlach Building and extensive renovations to existing buildings. A $20-million commitment from New York State and Governor Kathy Hochul helped fulfill the expansion's budget and completes the $230 million capital campaign, the largest campaign for a cultural institution in the history of Western New York State.
Sponsored Content
The Islands of Tahiti are among the most beautiful and sought-after vacation destinations in the world. The endless images of overwater bungalows with Bora Bora's majestic peak towering over waters of every shade of blue have an intrinsic pull. But with 118 islands and atolls to explore, there is so much more to this spectacular region of the Pacific.
Ever since opening in 2021, Nobu London Portman Square has served as the focal point for many gatherings, stays and experiences. This fall the hotel's Nobu Bar adds four more reasons to visit with an exciting array of offerings, menus and events.