In mid-2019, Raffles Singapore debuted the results of a two-year restoration. How did the hotel renovate while also paying homage to its iconic history? Recognized as a national treasure among many Singaporeans, Raffles Hotel Singapore offers an unparalleled experience with its perfect blend of ambience, service, charm and heritage. Opened in 1887, Raffles Hotel is one of the few remaining great 19th-century hotels in the world that stood through decades of historical events and the evolution and transformation of the tourism industry in Singapore. A refresh of spaces and experiences at this iconic property was quite timely as the last restoration took place almost 30 years ago.
In order to continue to stay relevant and adapt to the changing needs of our well-traveled guests and Singapore's community, Raffles Hotel Singapore embarked on a careful and sensitive restoration program in early 2017. While the restoration was designed to retain the charm and heritage, this extraordinary undertaking also reimagined the facilities, spaces and experiences within the hotel to delight travelers and the community at large. The hotel has continued to evolve and remain relevant dating as far back to the introduction of an airy ballroom at the front of the hotel in 1920 which took Raffles to a new era, earning the reputation of hosting grand soirees, a tradition maintained until today.
Introducing the concept of a 24-hour Raffles Butler was also a city-first for the hotel, again a nod to the evolving needs of well-traveled globetrotter — a service that offers a seamless experience from arrival to departure and everything in between from planning guests' itinerary to arranging romantic celebrations.
The restoration saw new experiences introduced for our guests and local community. Keeping in line with our overall vision and restoration concept, experiences were created to ensure the hotel continues to remain at the epicenter of Singapore's social and cultural scene while respecting the history and heritage of the hotel.
Some of these new experiences include:
The new Raffles Arcade, housing a meticulously curatedselection ofnew-to-market, bespoke and iconic brands; a History Gallery within the Raffles Boutique to illustrate the heritage of Raffles Hotel Singapore; and a brand-new Raffles Spa, a holistic sanctuary for hotel residents and the community
Fresh and vibrant dining and bar experiences that make our hotel an all-in-one gastronomic journey, providing a beautiful ambience, creativity and surprises
Our unsurpassed butler service continues to please guests with personal elements incorporated to make the guests' stay seamless and even more personalized as well as experiential
New event spaces, such as the 300-guest Jubilee Ballroom, a conversion from our former Victorian-style theater Jubilee Hall; all other event spaces have also been refreshed, with striking lighting elements and audiovisual technology, to be relevant for today's social galas and event
A stay at Raffles is akin to visiting a destination in itself with experiences not just unique to the hotel but to the city. Many stories abound from our guests who share reminiscences of experiences at Raffles from their parents and grandparents and it is now their turn to create new and enduring memories together. With the enhancements put in place with the restoration, Raffles holds more of a multigenerational appeal.
A successful restoration for Raffles Hotel Singapore was a delicate balance between respecting and preserving our heritage and the expectations of the modern traveler.
The main responsibility in undertaking a restoration was to deliver a result that shows the hotel evolved gracefully over time to suit and adapt to today's travelers and the local community, while still maintaining the property's original charm and unique ambience. Much like the previous restoration in 1991, Raffles Singapore was evolving for 21st-century travelers while preserving its core identity that travelers recognize as a distinctly Raffles experience. This also extends to the promise of emotional luxury and well-being to all our guests while enhancing the physical facilities and spaces within the hotel.
There are a few hotels in the world whose names have become virtually synonymous with the cities in which they are located, and none more so than Raffles in Singapore. We saw our reopening as a celebration of Singapore and our focus was to balance the old and the new, preserving the heritage of Singapore, but, at the same time, entering a new era together with the city.
Today's well-heeled travelers are increasingly looking for experiences beyond the aesthetic appeal, ones unique and different from their last escape and where they can immerse in the destination's story and heritage — this is a sentiment that we have been built upon and understand well at Raffles Hotel Singapore.
For our restoration program, we worked closely with our heritage consultants and partners to ensure the process was carefully researched, developed and executed. At the same time, we have made careful considerations to preserve and enhance the unique Raffles experience guests have come to love and expect at our hotel.
The look and feel of the restored Raffles is elegantly sophisticated and chic. Wonderful new furnishings, décor and art sit beautifully within the hotel's historic spaces. The iconic colonial interiors have been further refined and are a stunning backdrop for bespoke furniture, art and objects that speak to today's luxury traveler. The hotel has a freshness and is not burdened by any old-fashioned attitudes toward luxury. The new suites, restaurants, bars and public areas have a vibrancy that will connect with today's sophisticated traveler and local guests alike. The teams placed a lot of emphasis on ensuring modern relevance was balanced with heritage sensitivity — the changes brought forth innately belong in the building and have been a part of its fabric since time immemorial.
The new interiors retained the original charm and heritage and combine with elements of modernity. In this sense, the suites are designed to reminisce the past, while still being contemporary to meet the needs of a savvy traveler in the way they are built and function. For example, we designed the new suites with better soundproofed windows and improved lighting, but preserved the heritage and colonial feel of the space, such as the signature tripartite parlor, sleeping area, bathroom layout in the rooms and charming elements such as the antique light switches. A key and unique feature of our suites are the private and semi-private verandahs, retained post-restoration.
The design of the refreshed spaces is original to Raffles Hotel Singapore: true, honest, comfortable, elegant, particular and, above all, glorious. This is, in turn, reflected in all of our experiences we deliver.
One of our goals for the relaunch of Raffles Hotel Singapore was to create different experiences for international and local guests alike. In line with this, Raffles Arcade has also been newly outfitted with a charming Raffles Boutique and various bespoke retail brands and restaurants. Beyond the Arcade we looked carefully into the culinary partnerships we wanted to introduce to Singapore, making them meaningful and creating a connection between the hotel and community. While it was imperative to build on and retain our own concepts such as Tiffin Room, Writers Bar and Long Bar, we are pleased to have introduced restaurant collaborations with Chef Anne-Sophie Pic, of the three-Michelin star Maison Pic in Valence, France; venerable French Master Chef Alain Ducasse; and Chef Jereme Leung, known for his innovative Chinese cooking.
The concept of each F&B space harks back to a base in storytelling, where the design inspiration comes from understanding the history and culture of the space, particularly relevant for a restaurant like Tiffin Room which is one of the oldest Indian restaurants in Singapore, dating back to 1892. Writers Bar is another key space which tied closely to our literary heritage visited by legendary men of letters such as Rudyard Kipling and Somerset Maugham. This then links to our newly launched Writers-in-Residence program to encourage and support established authors while nurturing a new generation of writers, paired, of course, with the highest level of mixology from our bar team.
The hotel is not only iconic and legendary to the city of Singapore, but its reputation is known throughout the region and the world. A stay at the Raffles Hotel Singapore graces many people's bucket lists.
As we all know, 2020 threw a curveball at the travel industry. How has Raffles Singapore handled the pandemic? Since Raffles Hotel Singapore started accepting reservations post circuit breaker in mid-July 2020, the responses have been healthy and encouraging. The incoming bookings are primarily driven by our curated staycation offers. Besides the enthusiasm of the local community to replace international travel with a staycation, we do believe our uniqueness and recognition as an oasis within the city assisted us to become one of the preferred destinations over the last months. In addition, we believe our restoration created a high level of curiosity.
A highlight are our history tours, offered to guests who stay with us. In July 2020, we had to add extra daily slots in order to cater to the increase in demand. These tours are insightful as we also cover stories not found anywhere else. The National Heritage Board of Singapore assisted us with these tours.
Staycations also opened up our perspective to the preferences of local guests, quite different to our international guests. The local community when residing at the hotel hardly leave the premise and enjoy all our services and facilities. Besides our residents spending a lot of time in their suites and enjoying butler service, we also see them enjoying the expansive gardens and courtyards. Our restaurants and bars also benefited immensely
.
All of these moments are enjoyed with safe distancing in mind, since the hotel adopted the Singapore-initiated SGClean campaign, as well as the ALLSafe regime as our basic hygiene and safety standards.
In addition, at Raffles Hotel Singapore, space has never been a limitation or even concern as the hotel actually occupies an entire city block of five acres. Half this space is dedicated to the 115 suites and our hotel residents. Even at our pool with its mandated capacity limits, we are able to accommodate almost the same number of guests as pre-pandemic. Since the hotel has started accepting reservations, the popular pool has become even more sought after and we have introduced a reservation system that requires guest to book in advance. This is to ensure that measures introduced by local authorities for contact tracing are adhered to and that guests feel safe and are safe when lounging by the pool.
Catering to the local demand and also the hotel's positioning, we introduced various luxurious staycation offerscomplete with a variety of privileges that promise unique experiences for guests to rediscover what makes Raffles Hotel Singapore so special. For more information on available offers and packages at Raffles Hotel Singapore, please click here.
Our award-winning restaurants and bars remained at the forefront of culinary excellence in Singapore. With the reopening of Long Bar, many local guests have taken the opportunity to experience the Singapore Sling at the birthplace of its creation. At Raffles Courtyard, we introduced partnerships with local private dining chefs.
What do you see for the future of hospitality in Singapore as travel begins to rebound? Singapore ranks highly amongst the safest places to live during this pandemic. Having said this, predictions for international travels to hit pre-Covid levels are expected only by 2023 and the key focus for the coming year will be on domestic "travel" and events while remaining agile and ready for the gradual return of international travel.
Given the current situation and restrictions around travel, we understand our guests are looking for more than just a stay, but are also seeking new experiences and opportunities to create memories.
In Singapore, vaccinations are fully underway in the local community and Raffles Hotel Singapore already has more than 75 percent of our colleagues vaccinated. Focus continues to remain on how international travel can resume safely and what digital vaccination passport program will move forward and how that will influence perceptions of travel. We do expect that given the anticipated complications of travel and a gradual return of international arrivals in Singapore, the minimum length of stay for travelers will increase and we are therefore creating offers that will enhance guests' overall experience as we continue to engage and entertain.
From the onset of the pandemic the hotel has and will remain its continuous, regular and transparent communication to all stakeholders, colleagues, clients and partners, using all traditional and new communication channels, including live videos. The hotel also benefits from its unique positioning and positive public perception post-restoration as both the domestic and international markets celebrated the reopening in 2019 lavishly. Interest from the international community has continued to remain healthy over the last few months.
The hotel remains ready to actualize and sustain this healthy interest when travel resumes as we see Singapore benefiting from any rebound in travel.
With most international guests not being able to visit the hotel physically at the moment, we identified and nurtured the importance of developing virtual business tools including virtual site inspections, 360-degree panoramic visuals of hotel spaces and facilities, as well as content to highlight measures put in place to cope with effects of the pandemic. These materials go a long way in ensuring our clients and partners continue to "visit" us anytime.
Which local attractions and activities do you recommend for travelers to Singapore? Here at Raffles, we've endeavored to work with some of our local partners to launch specially curated heritage experiences that guests may book as part of their staycations with us, such as private museum tours to understand the intricacies of the Peranakan culture at The Intan or a bicycle tour through the civic district. A stay at Raffles is akin to visiting a destination in itself with experiences not just unique to the hotel but to the city. We believe travelers and locals alike appreciate the opportunity to immerse in heritage experiences.
Apart from these, Gardens by the Bay remains the premier national garden and premier horticultural attraction in Singapore. Another key attraction is Singapore Botanic Gardens, the first and only tropical botanic garden on UNESCO's World Heritage List.
Visitors could also choose to spend a day on Sentosa Island, home to exciting events, themed attractions, award-winning spas, lush rainforests and golden sandy beaches.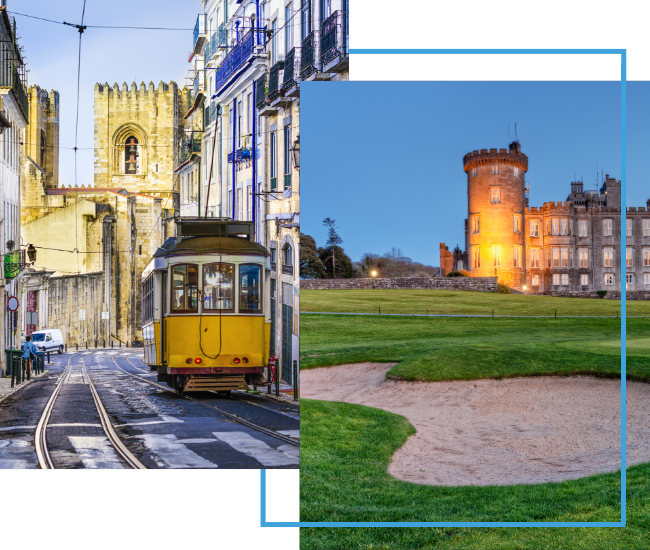 FX Excursions
FX Excursions offers the chance for once-in-a-lifetime experiences in destinations around the world.
Explore Excursions
There may not be snow in Los Angeles this season, but Waldorf Astoria Beverly Hills is certainly full of the holiday spirit, with Christmas, Hanukkah and New Year's events happening in the hotel's gorgeous event spaces.
Sponsored Content
Embracing a life well lived often means embracing a life well-traveled. Every journey becomes a canvas for experiences that shape our lives and at the heart of every adventure lies the indispensable companion: quality luggage.
Looking for fun things to stuff into the toe of a few holiday stockings? Here are some great choices: