Name: Charles E. "Chilly" Ewing, Sr.
Title: Director of concessions
Company, city: Hartsfield-Jackson Atlanta International Airport; Atlanta, Georgia
Number of employees: 63,000 employees overall; 6,000 in concessions
Recent project: Completing request for proposals for new concession vendors, and our Global Runway event
First job: As a youngster, I worked at a newsstand. Then I spent 27 years in the Air Force and served in Vietnam and Desert Storm.
Little-known fact about you: I love to ride motorcycles and I love to golf.
Your Business
What innovations/initiatives do you foresee in the industry over the next years? Airports are still playing catch-up with technology. I predict airports will follow the trends on the street when it comes to concessions: self-checkouts, seamless payments, increased speed of service.
Best career advice you've received: When I was in the military, I received a rolled-up scroll with 10 two-letter words to live by, attributed to anonymous: "If it is to be, it is up to me."
What advice would you give someone starting out in the field? Be patient. Know what you want. Find the right opportunity and be willing to relocate. For someone starting at the airport, I'd say take a little time to get to know it. Things change constantly here.
Charles E. "Chilly" Ewing, Sr. as a Traveler
Favorite travel memory or story: Mostly during my 27 years with the United States Air Force, I've flown almost all but eight aeronautical hours around the world.
One travel tip you cannot live without: Always have screenshots of your travel documents. There are always phone issues, and this means you won't have to move out of line.
Best advice for business travelers: Pack light. Most people don't like to check bags, but I say get rid of the carry-on and check as much as possible.
About Hartsfield-Jackson Atlanta International Airport
In your opinion, what are the highlights of dining at ATL? The varied food choices are a highlight. I'm proud to say we boast quite a selection. Our dining options reflect on the city; we've brought in local restaurants. The airport serves as an introduction to Atlanta through its food choices. With 70 percent of our traffic connecting, the airport is our chance to highlight Atlanta and Georgia. This month, we host our fourth annual Taste of Hartsfield-Jackson, which really brings our food and beverage outlets together to benefit charity.
Tell us about Hartsfield-Jackson's Global Runway. Global Runway is a fashion presentation and retail pop-up experience that allows us to spotlight our fashion and retail concessionaires, and we offer everything from the extravagant to the thrifty. Passengers, retailers and airport staff really enjoy the event. It also includes a silent auction that benefits Bert's Big Adventure, a nonprofit providing trips to Walt Disney World for children with chronic or terminal illnesses and their family.
What can travelers expect from ATL in 2019? We'll replace the food and beverage outlets in international Concourse E. Also, 88 retail stores could be changed, with leases expiring. There are no first rights for incumbents; our goal is to refresh the options with what's new and exciting today for our passengers.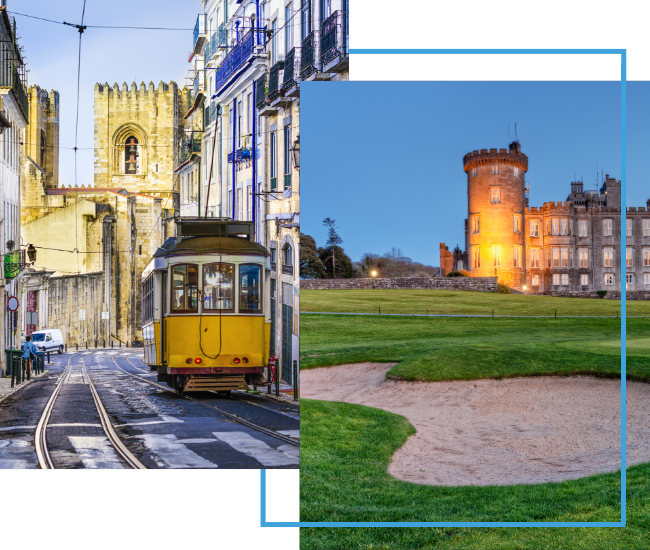 FX Excursions
FX Excursions offers the chance for once-in-a-lifetime experiences in destinations around the world.
Explore Excursions
Less than five years ago the world's first hybrid cruise ship, Hurtigruten Expeditions' MS Roald Amundsen, set sail for Antarctica in November 2019 with 450 passengers. The battery-hybrid-powered ship, named for the first man to cross the continent and reach the South Pole, was built specifically for voyages in polar waters. Its battery-hybrid power reduces the ship's consumption and CO2 emissions by 20 percent compared to equally sized ships.
Sponsored Content
United Airlines is in the midst of a major initiative to modernize its fleet over the next several years. After first announcing the plan in 2021, planes fitted with United's signature interior are finally beginning to appear across the airline's narrowbody fleet of Boeing and Airbus planes. United flyers are sure to notice these enhancements from the moment they step on board: Each new or updated plane sports remodeled seats, seatback entertainment screens for everyone, Bluetooth connectivity and more, all adding up to a better experience on every journey.
A few months ago, I flew Polaris business class on a United flight from Dulles (IAD) to Paris (CDG). It was only when I got to my hotel in Paris I realized that I didn't have my iPad or its bag or accessories. Since I had been working on it in the restaurant in the Polaris lounge and then went directly to the gate, I knew I either left it propped up on my table when I packed up or in my business-class seat. But what was the best method to alert the airline about my careless mishap and (hopefully) retrieve it? With spotty data and WiFi, searching for information on my phone was frustrating and slow. Here's what I learned from the anxiety-inducing experience (and unexpected ending) about what to do if you leave something behind on your flight: