From its Premium Business cabin to the economy experience, LATAM Airlines Group delivers a comfortable, entertaining flight. Learn more about the onboard experience on South America's premier airline.
LATAM Premium Business
It's guaranteed to be a comfortable experience onboard LATAM's Premium Business, boasting lie-flat seats that convert to a bed up to 23 inches wide and up to 76.5 inches long. Additionally, the distance between seats was increased to 74 inches, well above other airlines. More than just sleep, the entire cabin was specifically designed for a truly restful experience.
With the state-of-the art entertainment system, enjoy a wide variety of movie, TV and game options. Each seat boasts a 15.4-inch, high-resolution display, paired with the provided noise-reducing headphones and an audiovisual system. A USB connection and outlet at each seat offers the option to recharge.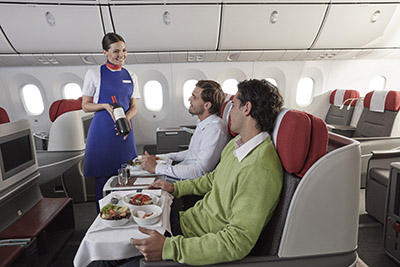 A quality of service few airlines can deliver, that's LATAM's promise, and its specially prepared menus help the airline fulfill it. Natural ingredients from South America pair with regional wines selected by the only Master Sommelier in Latin America.
Premium Economy
LATAM's premium-economy cabin offers extra space for your comfort on regional routes. With room for 12 passengers, it also offers an exclusive experience — the middle seat is blocked and transformed into a table for additional space and added comfort. Some aircraft offer a universal, in-seat connection for charging computer batteries and other devices.
This class of service also offers some premium perks, including access to VIP lounges, priority check-in and boarding, Premium Business onboard service, LATAM Pass miles earned at 125 percent and an enhanced baggage allowance. The seats feature large in-flight entertainment screens; a wide selection of magazines and newspapers are available.
Economy Class
LATAM's economy class features updated upholstery, more entertainment options and friendly service. The ergonomic, reclining seats with an adjustable headrest are designed for maximum comfort.
Time and distance disappear onboard LATAM's economy cabin, thanks to individual entertainment systems with more than 150 movies on offer, as well as TV shows and games updated monthly. Great food complements the entire experience.
What are you waiting for? Book your flight to discover South America with LATAM today at latam.com.
FX Excursions
FX Excursions offers the chance for once-in-a-lifetime experiences in destinations around the world.
Bahia Principe Hotels & Resorts invites travelers to celebrate the holidays at any of its properties in Riviera Maya, Mexico. There is no time like the present for you to experience a stay at one of these luxury resorts.
Sponsored Content
ISN'T IT TIME? It's time to treat yourself to the vacation you deserve, and Celebrity Cruises® offers the perfect escapes. With an award-winning fleet of ships that sail to more than 300 destinations around the world, Celebrity will take you almost anywhere you want to go in style. Enjoy stunning staterooms and suites, culinary experiences imagined by Michelin-starred chefs and intuitive service. Celebrity makes sure your vacation is effortless from the start, which is why drinks, WiFi and tips are Always IncludedSM on every sailing.
After a two-year hiatus from in-person sporting and outdoor recreation events, the seaside, car-free town of Las Catalinas in Guanacaste, Costa Rica, recently announced the return of the annual Tri Las Catalinas, an off-road, multisport triathlon, Feb. 15–18.