From its Premium Business cabin to the economy experience, LATAM Airlines Group delivers a comfortable, entertaining flight. Learn more about the onboard experience on South America's premier airline.
LATAM Premium Business
It's guaranteed to be a comfortable experience onboard LATAM's Premium Business, boasting lie-flat seats that convert to a bed up to 23 inches wide and up to 76.5 inches long. Additionally, the distance between seats was increased to 74 inches, well above other airlines. More than just sleep, the entire cabin was specifically designed for a truly restful experience.
With the state-of-the art entertainment system, enjoy a wide variety of movie, TV and game options. Each seat boasts a 15.4-inch, high-resolution display, paired with the provided noise-reducing headphones and an audiovisual system. A USB connection and outlet at each seat offers the option to recharge.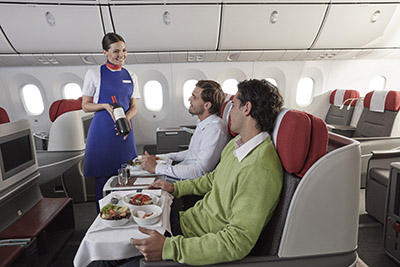 A quality of service few airlines can deliver, that's LATAM's promise, and its specially prepared menus help the airline fulfill it. Natural ingredients from South America pair with regional wines selected by the only Master Sommelier in Latin America.
Premium Economy
LATAM's premium-economy cabin offers extra space for your comfort on regional routes. With room for 12 passengers, it also offers an exclusive experience — the middle seat is blocked and transformed into a table for additional space and added comfort. Some aircraft offer a universal, in-seat connection for charging computer batteries and other devices.
This class of service also offers some premium perks, including access to VIP lounges, priority check-in and boarding, Premium Business onboard service, LATAM Pass miles earned at 125 percent and an enhanced baggage allowance. The seats feature large in-flight entertainment screens; a wide selection of magazines and newspapers are available.
Economy Class
LATAM's economy class features updated upholstery, more entertainment options and friendly service. The ergonomic, reclining seats with an adjustable headrest are designed for maximum comfort.
Time and distance disappear onboard LATAM's economy cabin, thanks to individual entertainment systems with more than 150 movies on offer, as well as TV shows and games updated monthly. Great food complements the entire experience.
What are you waiting for? Book your flight to discover South America with LATAM today at latam.com.
FX Excursions
FX Excursions offers the chance for once-in-a-lifetime experiences in destinations around the world.
Airplane travel evokes a lot of emotions these days: excitement, anticipation, uncertainty and nervousness, just to name a few. But when you do take to the skies again, the giddiness of getting pampered at 35,000 feet can most certainly wash away the surrealness of the past year and a half — at least for the duration of a long- haul flight — as you sip Champagne and slip your feet into plush slippers. While some global airlines have paused or pushed back plans for upgrades and refreshes to their premium cabins, others have introduced exciting changes that await in your pod or lie-flat bed in first and business classes. What's more, amenities like privacy screens, sliding suite doors and space to spread out all serve a dual purpose as methods to luxuriate in the air while keeping social distance. Here are some nice- ties to expect now and in the near future, from retrofitted seat configurations to updated décor to Michelin-starred meals:
Sponsored Content
Without a doubt, the pandemic changed the role of airports in the travel industry. Hamad International Airport's role evolved in many ways since the pandemic hit. Now, more than ever, airports are responsible for creating a secure passenger experience. As the gateway to Qatar and the world, the safety and wellbeing of staff and passengers has always been at the core of Hamad International Airport's strategy.
United Airlines is making international travel more accessible. United announced the largest trans-Atlantic expansion in its history, including 10 new flights and five new destinations including Amman (AMM), Jordan; Bergen (BGO), Norway; Azores (PDL), Portugal; Palma de Mallorca (PMI), Spain; and Tenerife (TFS) in the Spanish Canary Islands. All new routes, set to begin in spring 2022, are not served by any other North American carrier.