"I USUALLY BOOK A HOTEL WHEN I LAND. You never know what's going to happen. I could change a flight, so when I land I usually use Priceline," says Dan Herman, IT practice senior advisor, The Chartis Group. "I look at the area where I want to stay and look at the star level, then grab one and go." His approach defines the cutting edge of this style of travel, but lots of business and leisure travelers now choose to make reservations close to the time they plan to leave. The definition of last-minute travel varies, with some travelers saying it's the day or a few days before, while others consider it up to 10 days or more in advance.
"Overall, we see that last-minute travel is becoming the norm. Half of U.S. domestic hotel bookings are now made within three days of arrival, and half of E.U. bookings are within seven days of arrival, according to Sojern," reports Jared Simon, COO and cofounder, HotelTonight. "With millennial business travelers surpassing their GenX counterparts as the top business travelers, business travel is also shifting and becoming more last-minute."
Many of today's travelers routinely book flights, hotels and even travel packages on their mobile phones or tablets. Websites and apps of companies such as Priceline, Expedia, Travelzoo, Hotels.com, CheapOAir, Hopper, Airbnb and HotelTonight make booking easy. Just a few clicks and you have a reservation. Waiting until just before leaving town may result in great discounts.
A survey of travel companies with mobile apps and websites reveals some current trends. "In 2016 alone, Expedia saw over 2.9 million unique visitors to the United Statesspecific last-minute deals page. While there doesn't seem to be one destination in particular that is overwhelmingly the most popular, according to our data, beach destinations seem to rise to the top overall," says Nisreene Atassi, public relations director, Expedia. "We've seen trends with last-minute bookings increase over the years, and we know travelers are becoming more and more accustomed to booking last minute from their mobile phones."
CheapOair's Thomas Spagnola, senior vice president, supplier relations, says, "So far in 2017, 31 percent — the largest percentage group of our passengers — booked their travel within 10 days of departure." That statistic remained constant for the last few years. The company's Last Minute Travel page focuses on flights that depart as early as the next day or as far out as six days, but the site also lists vacations, cruises and hotel rooms.
One advantage of last-minute travel is you may be able to find a great deal. A hotel room is better filled at a discounted price than empty. Travel companies with partially filled trips may need more guests to make a profit and might offer deals close to departure dates. Keep the websites and mobile phone apps that focus on last-minute travel on your phone, tablet and computer so you can access them quickly. Don't forget to include links to the last-minute deals page on major travel websites.
Flexibility is key. Dave Boehl, CEO, GoLastMinute.com, says, "It takes flexibility to save money on last-minute travel. You may have to be fairly open on your dates of travel and even your destination. Simply waiting until the last minute to book a trip won't save you any money. You have to be prepared to do some deal hunting with just a general idea of what you want in mind."
Jetsetter.com's Today's Deals page lists deeply discounted properties. Kelsey Blodget, executive senior editor, says, "I think places like all-inclusive resorts are well-suited for last-minute trips versus trips that include a lot of complexity. You see people doing things that are within driving or train distance. You can't be set on a specific thing unless you are willing to pay a lot."
According to Blodget, many viewers start with the site's Wanderlist section for ideas, then drill down to specific hotels or resorts.
HotelTonight's Simon agrees a growing number of last-minute travelers are staying close to home. "Local travel continues to be on the rise — more than 40 percent o f HotelTonight bookings are within 50–150 miles of the booker's residence."
Membership — and especially top-level status — at certain websites and airlines may give you access to better deals and perks. Atassi suggests signing up for an Expedia account because when you log in, you can access an extra 10 percent or more off on select hotels. Jack Herman, operations manager, imagery/ mapping collection, Uber, has gold status at Hotels.com. He spends about 25 nights a month in hotels in the United States and abroad and usually books within about 24 hours of a stay. "I use it mainly because the prices might be a dollar or two off from Expedia, but I buy 10 nights and get one free." He adds that with his status, "I always get a real human being within the first three or four rings and even email support."
Choose an airline that allows flexibility. Iris Solomon, vice president, HearthSong Wholesale, a catalog for children's indoor and outdoor toys, says, "I go to Southwest first. If I can't get a flight at the time I want or the right airport, I go to Expedia, Orbitz or Kayak and look for other airlines." She normally books at least 10 days out. "Sometimes I'll already have booked something and another meeting comes up, so I have to change things on the road. Southwest Airlines will do this any time without a change fee."
Watch airline and hotel Twitter and Facebook pages and blogs for instant deals that might last just for a few hours and have limited availability. JetBlue has a special Twitter page — JetBlue Cheeps — dedicated to deals. Other Twitter pages, such as Exit- Fares, offer deals that disappear quickly. Sign up for alerts about fares from your airport at AirfareWatchdog.com.
Visit the websites for resorts or cities and look for deals pages. Even resorts with high-end properties, such as Aspen, Snowmass and Vail, all in Colorado, offer last-minute deals. VailonSale.com has a Featured Offers section that lists available rooms and condos for a few weeks out from the day you are checking.
During the holidays, the Winter X Games and many weekends, lodging occupancy in Colorado's Aspen and Snowmass runs about 90 percent. Bill Tomcich, president, Stay Aspen Snowmass, says, "There are some holes between the peaks even during the winter where it's relatively easy to find last-minute bookings at affordable rates. For those who are flexible and willing to plan their stays midweek, bargains can be found for those planning last-minute visits, especially those who arrive on Sunday or Monday and depart on Thursday or Friday."
Visit GoLastMinute.com, a website that alerts users to deals from top booking sites but is not itself a booking site. You must visit the site mentioned to book the deal. "We see a lot of last-minute bargains for Las Vegas trips. It's a great last-minute destination, as you can find luxury accommodations for next to nothing," says Boehl, the company's CEO. "Orlando, too, is a bargain-hunter's dream, at least in terms of low rates. We find many deeply discounted Caribbean cruises throughout the year, as well."
Business travelers who need to book flights and lodging at the last minute, and leisure travelers who simply want to snag a fast few days away or get a great vacation deal, now have many outlets to find them. Thanks to the growing trend of booking via mobile phones, reservation confirmations are just a few clicks away.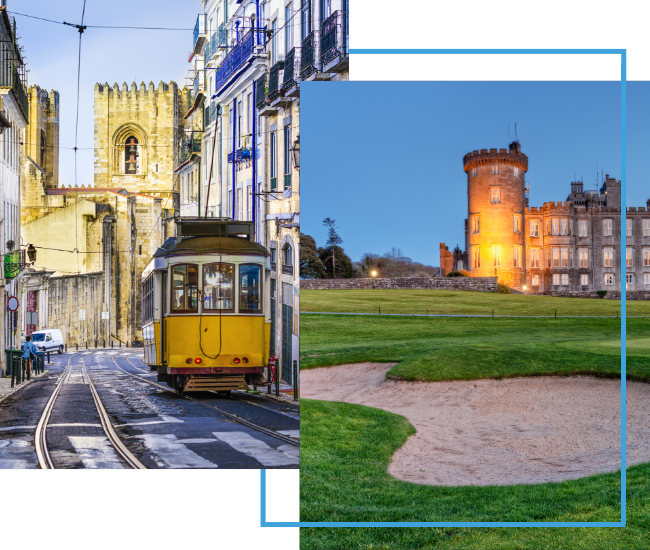 FX Excursions
FX Excursions offers the chance for once-in-a-lifetime experiences in destinations around the world.
Explore Excursions
One thing  surprising about the Prince Edward Island capital is its abundance of shops specializing in affordable, fashion-forward jewelry rendered in sterling silver, vermeil, 14K gold and semi-precious stones. Whether you prefer delicate pieces or bold wearable art, you can be assured the pieces for sale are inspired by the maritime island setting and, therefore, specific to the place where they are created. Here are a few shining, woman-owned examples:
Sponsored Content
Are you looking to enhance your business trip with a little leisure? Look no further than Portugal, a country renowned for its captivating blend of history, culture and natural beauty. And with TAP Air Portugal, you can effortlessly transform your business trip into an unforgettable bleisure adventure. Discover why Portugal and TAP Air Portugal are the perfect combination for an enriching and rejuvenating experience.
Norway, a haven for visionary artists, architects and designers, showcases an exceptionally diverse array of cultural attractions. This year, the country commemorates exciting milestones and unveilings captivating enthusiasts of the arts, from iconic scenic routes to new museums to gallery openings. Up Norway features these new offerings in personalized itineraries catered to aesthetes.