Name: Bob Stuart
Title: Executive vice president, global sales and marketing
Company, city: Hertz; Naples, Fla.
Number of employees: 44,000
Recent project: The Dollar Thrifty integration and a major rebranding initiative
First job: I was a busboy at Ponderosa Steak House.
Little-known fact about you: My family changed our last name in 1952, from Cicone to Stuart.
Your Business
Essential business philosophy: Know your strengths and weaknesses; leverage your strengths and seek help for your weaknesses. Focus on hiring the best people.
Best way to keep a competitive edge: Constantly innovate your business, upgrade your people and test new approaches to the business. Find the right way to attract talent, and always read and learn to stay on the cutting edge.
Yardstick of success: Externally: our market share and increase in profits. Internally: the people working for us being promoted or recognized for a job well done.
Bob Stuart as a Traveler
What is the most important item you take when traveling? My iPhone, iPad, chargers and my music!
How do you spend your time on board? Working and catching up on emails. It's also an opportunity to read a favorite book without distraction.
What is your favorite restaurant in the world? The best meal I've ever had was at Guy Savoy's in Paris. I met him; he's an amazing chef, and he prepared an equally amazing meal.
What is your favorite destination in the world? Las Vegas
About Hertz
Tell our readers about the Hertz 24/7 and Hertz Dream Cars initiatives.
With Hertz 24/7, travelers are in total control, picking up cars at self-service access points in the neighborhood, at the airport or near offices, any time of day. A patented touchpad on the driver's side of the windshield allows easy access. Hertz 24/7 hourly, daily or weekly rentals include Bluetooth, concierge services, fuel and insurance.
Hertz Dream Cars resulted from extensive research and customer feedback. We started with a few high-end, ultra-luxurious vehicles and will double the fleet this year to include BMWs and Jaguars. At select locations across the country, people can now drive around in their dream automobile — Porsche, Mercedes, Tesla, Aston Martin and others. When you book a Hertz Dream Car, you receive White Glove service, including pick-up or delivery and a walk-through of the car's features.
What Hertz amenities make business travel easier?
Beyond GPS, our exclusive Hertz Neverlost system has online trip planning. Hertz was the first to introduce this technology. Plan your entire business trip in advance, send your itinerary to the car and hit the ground running, or save to a USB stick, all directions programmed ahead of time. At your destination, information about popular local events appears on the screen. An events calendar and city guides make navigation simple.
Hertz texts or emails Gold members a "carfirmation" once their plane lands. Customers can swap or upgrade cars from their mobile device and receive email receipts at the end of the rental.
Major airport locations, including Los Angeles, San Diego and Newark, now feature "Road Trip by Hertz" stores where customers can purchase drinks, snacks and apparel and use FedEx services or charge their electronics. We plan to offer these stores at our top 60 airports around the world.
What benefits does the Hertz Gold Plus Rewards program offer?
Gold Plus Rewards provides excellent value to our most loyal customers. Members earn one point for each qualifying dollar spent with Hertz. Points don't expire; and there are no blackouts, as our AnyDay Rewards option lets members use rewards during peak periods.
Members can redeem points for a wide range of cars in a wide range of destinations, from convertibles to luxury cars to our Green Traveler Collection fuel-efficient hybrids. North American customers can also redeem rewards in Europe, Australia, New Zealand and Brazil, with more destinations coming soon.
Membership includes great service benefits. Skip the counter, receive expedited service or our most preferred services — Gold Choice, Mobile Gold Alerts and eReturn. Recently we reduced the number of rentals needed to reach elite status.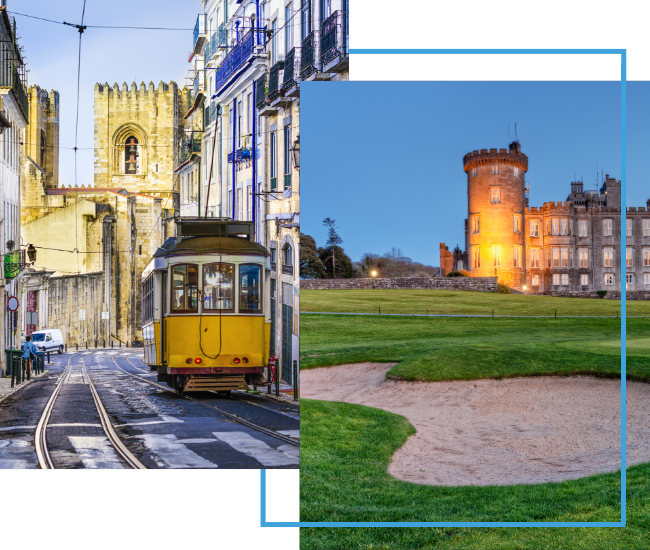 FX Excursions
FX Excursions offers the chance for once-in-a-lifetime experiences in destinations around the world.
Explore Excursions
Less than five years ago the world's first hybrid cruise ship, Hurtigruten Expeditions' MS Roald Amundsen, set sail for Antarctica in November 2019 with 450 passengers. The battery-hybrid-powered ship, named for the first man to cross the continent and reach the South Pole, was built specifically for voyages in polar waters. Its battery-hybrid power reduces the ship's consumption and CO2 emissions by 20 percent compared to equally sized ships.
Sponsored Content
Whether it's the people, the craic (fun) or the coasts, travelers always find something to love about the island of Ireland. What fills your heart?
A few months ago, I flew Polaris business class on a United flight from Dulles (IAD) to Paris (CDG). It was only when I got to my hotel in Paris I realized that I didn't have my iPad or its bag or accessories. Since I had been working on it in the restaurant in the Polaris lounge and then went directly to the gate, I knew I either left it propped up on my table when I packed up or in my business-class seat. But what was the best method to alert the airline about my careless mishap and (hopefully) retrieve it? With spotty data and WiFi, searching for information on my phone was frustrating and slow. Here's what I learned from the anxiety-inducing experience (and unexpected ending) about what to do if you leave something behind on your flight: