When deciding on a hotel for my recent New York trip, the location and reputation of The Ritz-Carlton New York, NoMad made it a great choice. After my four-night stay, those two factors were joined by several others to make a wonderful experience.
The Ritz-Carlton New York, NoMad is located in the NoMad district, about six blocks southeast of Madison Square Garden. NoMad is derived from the area's location, north and west of Madison Square Park, site of the original MSG (hence its name).
Every day on my way to the Javits Center, I passed through the flower district, an area which inspired many elements at The Ritz-Carlton New York, NoMad. Immediately upon entering the hotel, seasonal flowers create a unique and fragrant welcome. Floral expressions can also be seen in natural elements and textures throughout the property. I especially liked the overhead light fixture in my room.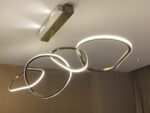 The property houses 219 guestrooms, 31 suites and 16 penthouse residences, all of which have an amazing southern view. The entire skyline, including the Empire State Building and Statue of Liberty, was visible from my 32nd-floor room. I would never tire of waking to that view.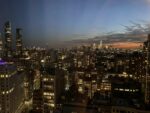 My room featured a luxurious king-sized bed and a comfortable wrap-around sofa in the main room. A well-placed, huge flatscreen allowed viewing from either spot. A full terrazzo marble bathroom included a walk-in shower and a soaking tub, which I happily utilized after long days of walking. The shower offered an overhead for soothing water flow and a wand for excellent massaging pressure.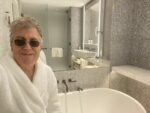 Michelin-starred chef José Andrés created the menu at Zaytinya, with a mezze menu inspired by Turkish, Greek and Lebanese cuisines. Sleek, modern, casual and surprisingly quiet, it fit perfectly with the feel of the hotel. My meal started with a basket of airy bread pockets and a pomegranate sauce. Bantijian Bil Laban (crispy eggplant, garlic yogurt, turmeric apricots, roasted almonds and mint) was a light accompaniment to my main course of Octopus Santoríni. Lightly grilled Mediterranean octopus sat in a yellow pea purée. For dessert, Greek yogurt with apricots took a simple concept and made multiple layers of flavor and texture.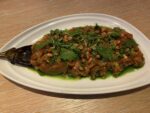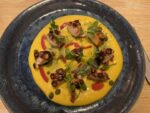 A seating area and bar on the other side of the main level of The Ritz-Carlton New York, NoMad was a cozy, relaxing area by day and a hopping, lively spot at night. An outside area adjacent to the hotel gave similar day and night vibes.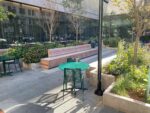 I also must mention the hotel staff. From check-in to hailing my departure cab, everyone was extremely helpful, welcoming and friendly. All were attentive without being obtrusive.
I thoroughly enjoyed my stay at The Ritz-Carlton New York, NoMad. Look for my full review in a future issue of Global Traveler.
— John Wroblewski, online writer
FX Excursions
FX Excursions offers the chance for once-in-a-lifetime experiences in destinations around the world.
FXExpress Traveler of the Year Contest 2023
Sponsored Content
Exclusive Sailing with Global Traveler
Envisioned as one of Asia's most sustainable skyscrapers, a proposed 63-story, mixed-use downtown development project in Singapore takes cues from bamboo forests to create an indoor-outdoor vertical community with public spaces, offices, retail, a hotel, event spaces and luxury residences.