On Jan. 29 I had the pleasure of attending the closing dinner of Amelia Island's well-known Restaurant Week. The week celebrated cuisine from the island's popular dining destinations and in which different restaurants and companies showcased different ingredients and dishes to locals and visitors.
For the closing dinner, The Ritz-Carlton, Amelia Island worked with Farmer Lee Jones, owner, The Chef's Garden, and partner of The Ritz-Carlton, Amelia Island for more than 20 years, to create a stunning, five-course dining experience highlighting his produce and ingredients from Amelia Island and Jacksonville.
The closing meal began with a lovely, intimate reception at Tidewater Grill, in which little teasers of what was to come circled the space, from fresh mozzarella and grilled pineapple on skewers dipped in tiny garden pots of fresh pesto to breadsticks wrapped in prosciutto. Three varieties of cocktails were available, all incorporating different vegetables and fruits to further connect Farmer Lee Jones' produce to different aspects of the evening. One was called Beekeeper, a concoction of Vida mezcal, lime juice, local honey and pineapple, and ginger beer, finished off with a bee pollen rim. While I didn't try any of the cocktails, every light bite amazed me. The mozzarella, pineapple and pesto struck me as an unusual combination at first, but biting into all three together created a medley of fresh and crisp flavors of which I found myself wanting more.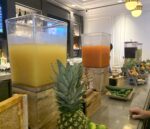 The Ritz-Carlton, Amelia Island and Farmer Lee Jones share a passion for quality produce. After the reception, the property's chef and Farmer Lee Jones spoke about their work and the importance of local and seasonal ingredients. Farmer Lee Jones touched everyone in the audience as he described the origins of his family's Ohio-based farm. He delved into the importance of consuming produce grown in good soil and under good conditions, stressing how most produce consumed today contains fewer nutrients than they once did about a century ago. His passion for providing people with good and healthy food was clear; he spoke with such fervor and heart, and this passion would continue throughout the evening as he checked on every table to speak about the different vegetables and fruits featured in each dish.
After the reception we headed to Coast, where the main dinner was held. Each table was categorized by a vegetable, and I was assigned Beets Table. There, a family-style meal awaited, with rustic elements and lit candles adding to the intimate and warm atmosphere.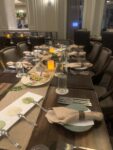 The first course already sat at the table, featuring a large plate of simple but fresh vegetables and crackers. Cucumbers, mushrooms, tomatoes and more were arranged in an informal manner, inviting guests to immediately dig in and pair them with three sauce options sitting beside the plate. Crème fraîche peppercorn ranch, lima bean hummus, and lemon verbena and sage pesto comprised the sauces. My favorites were the hummus and pesto, as I love a good hummus, and this one perfectly incorporated lima beans with the expected texture of hummus. The pesto was light and slightly acidic, balanced out by sage.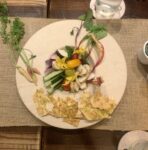 The second course was an elevated version of a BLT: pork belly, braised leeks, heirloom tomato jam, Johnny Appleseed Jelly, pickled shallot and brioche. This was the perfect introduction into the rest of the hot dishes, and the jelly really brought the dish to a new level. The tomato jam also accentuated the roasted flavor of the pork belly, and I finished it way too fast, wanting more!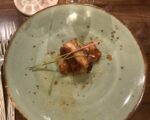 Heading into the third course, I was somewhat curious as to what I would taste. Described only as using local fish, the dish featured Congaree and Pen Jupiter rice grits, roasted corn maque choux and cast-iron seared okra. We soon discovered the fish was sheepshead fish, not one commonly included or expected in the realm of fish dishes, but when cooked right, delicious. This delicate, white fish was complemented by hearty grits. While I have not eaten a lot of grits in my lifetime, this was a game changer, and pairing it with the roasted corn base (one of my favorites of the entire dinner) and fish created an explosion of flavor.
The fourth and final savory course featured root beer-braised short rib, Yukon potato pavé, roasted baby root vegetables and crispy parsnip. This plate was completely cleared within 10 minutes as I couldn't get enough of it. The roasted vegetables, particularly the parsnips, were so flavorful and fresh, needing only the simplest of seasonings to bring out Farmer Lee Jones' quality produce. The potato dish saw thin layers of potato filled with parmesan cheese and breadcrumbs for a richer flavor and texture. I was already quite full after this dish, but was excited to see what was in store for dessert.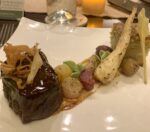 You can't go far in Florida without experiencing something citrus, and the final dish of a citrus ricotta cheesecake by the sous chef blew everyone away. Light, airy and tangy with the right amount of acidity, this cheesecake tops some of the best-tasting cheesecakes I have ever tasted. Garnished with some fresh raspberries, blackberries and blueberries, as well as some Congaree and Penn marmalade, this dessert rounded out the amazing dining experience.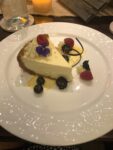 While I only attended the closing dinner of Amelia Island's restaurant week, just experiencing this meal alone to taste some of the best of the region proves just how dedicated these restaurants and hotels are to providing the best of the best to customers. Those planning a visit to North Florida or South Georgia must stop at Amelia Island to try any of its amazing restaurants, both in the city center and at The Ritz-Carlton, Amelia Island.
— Aoife O'Riordan, associate editor
FX Excursions
FX Excursions offers the chance for once-in-a-lifetime experiences in destinations around the world.
Turkish Airlines recently opened a new lounge in Terminal 1 of New York's John F. Kennedy International Airport. The airline operates three flights per day from the airport and now premium passengers have luxurious, comfortable and hospitable lounge amenities to enjoy in a renovated, rebranded space.
Sponsored Content
FXExpress Traveler of the Year Contest 2023
It's time to start dreaming of your next trip. Here's some destination inspiration for you. Take a visual journey through these unique museums in Europe with us.