Last week I shared our dining experiences on Princess' Discovery Princess in the main dining rooms, available to all passengers every evening. The meals were very nice and the service was excellent, but we also were treated to some fabulous meals in some of the ship's specialty restaurants, which require a cover charge for the elevated experience.
Sabatini's Italian Trattoria has been the signature Italian restaurant on Princess ships for decades, and it has an easy vibe with views of the water through large windows. Inspired by Tuscan cuisine, the menu offers diners a choice of a soup or salad, one antipasti item, one pasta dish and one entrée from the "Secondi" list. Our meal began with an offered "appetizer of the house": prosciutto served with Tuscan zonzele, a fried dough filled with a roasted tomato and bell pepper passata (a thick sauce).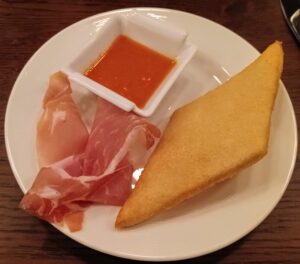 Harry then opted for the soup, the Grana Padano Cheese Fondue sprinkled with foraged mushrooms and toasted hazelnuts — rich and creamy, not surprisingly. Trying to keep things in balance, I enjoyed an escarole and celery salad with orange zest and pear . . . very fresh and light. For my antipasti option I had fried zucchini and yellow squash and scamorza cheese on a house-made crostini. I liked the light batter on the veggies, while the cheese added a nice depth of flavor.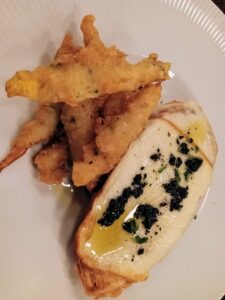 We enjoyed the way Harry's deep-fried calamari with lemon garlic aioli was served: very clever.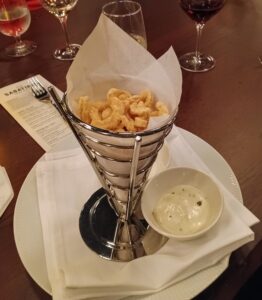 Calamari can be hit or miss, often overcooked and rubbery, but this was crisp on the outside and tender within.
We had several fresh pasta dishes to choose from. Adjoining the restaurant is glass-walled Sabatini's Pasta Room, where you can watch all shapes and manner of pasta being handmade. I knew Harry would order the spaghetti pomodoro with house-made beef and pork meatballs, and (since he let me sample the sauce and meatballs) he made an excellent choice.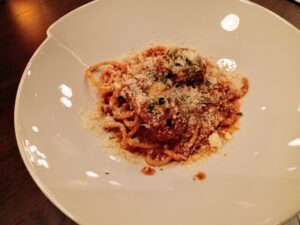 I really liked my dish, though, roasted lamb tortellini complemented by fresh mint and a peppery pecorino crosta nera cheese sauce.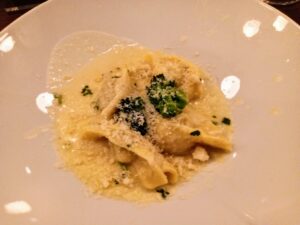 After all that wonderful food and wanting to save room for dessert (a wise decision), we opted to share our Secondi course, veal marsala, stuffed veal slices served with mushrooms and a perfect wine sauce. We also shared one deliciously decadent dessert whose name escapes me now, but suffice it to say it was chocolate perfection.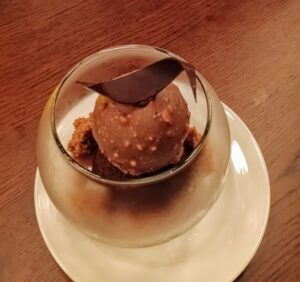 The next night we were in for more grand dining as we joined a group of travel journalists at the Crown Grill, the ship's premium seafood and chop house. We were seated in a private alcove, surrounded by an impressive sampling of the wine available on board.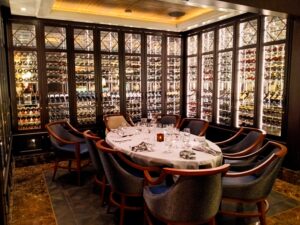 One of our party, a gentleman who writes almost exclusively about cruising and has sailed, I am sure, dozens of times, proclaimed the Crown Grill the best steakhouse at sea. I don't have his breadth of experience, but I can attest to the quality of every dish we tried. My husband and I each went for a seafood appetizer, with Harry getting the Mediterranean-style spiny lobster cake with grilled asparagus and tarragon foam,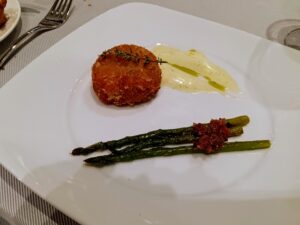 and I chose the seared jumbo sea scallops in a herbed beurre blanc sauce.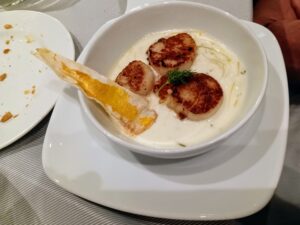 I then ordered the Grill Salad, with mesclun greens, avocado and roasted bell peppers and a grape-balsamic dressing: light and crisp. Harry, a huge fan of French onion soup, decided to try the Grill's Black and Blue Onion Soup, incorporating fresh thyme and Jack Daniels (!) and boasting a Roquefort crust. He proclaimed it one of the best soups he'd ever had, so full of flavor.
The Crown Grill's variety of entrées is admirable, with (that evening, at least) four seafood options, four different chops and four cuts of steak, plus a "Surf and Turf" filet mignon paired with a Maine lobster tail. I chose the New Zealand double lamb chops — cooked to perfection and featuring a hint of rosemary.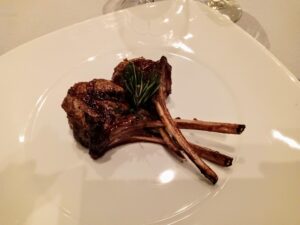 Harry enjoyed his Kansas City strip, a bone-in sirloin, and the table shared several of the traditional steakhouse sides offered: sautéed wild mushrooms, baked and mashed potatoes, grilled asparagus, and garlic and herb French fries. We also shared several bottles of wine and delightful conversation. We made sure to sample some of the beautifully presented desserts, as rich and tasty as they were lovely to behold. My Triple Chocolate Treasure featured layers of dark chocolate mousse, orange crémeux, hazelnut filling and a blonde brownie crust, all topped with golden chocolate macaroons.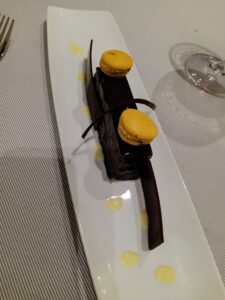 Harry's warm chocolate mousse trifle was perfection in a glass, with the mousse layered with cinnamon sponge cake, spiced cream, cookie crumbles and vanilla gelato.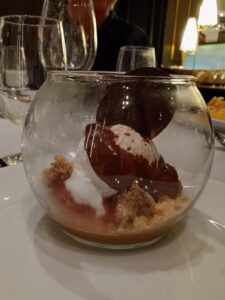 This was a seriously hedonistic evening!
More explorations of Discovery Princess's specialty dining in my next installment . . .
— Patty Vanikiotis, associate editor/copy editor
FX Excursions
FX Excursions offers the chance for once-in-a-lifetime experiences in destinations around the world.
It's never too early to plan that next big trip. Look ahead to 2023 with travel inspiration from these international destinations.
Sponsored Content
Experience the beauty of Alaska and save 60 percent off cruise fares on your second and fourth guests. Plus, drinks, WiFi and tips are all included.
Tickets are now available for the 10th annual South Beach Seafood Festival, taking place this fall, Oct. 19–22. The region's best seafood and South Florida's top chefs and restaurants will be the focal point.