We were really fortunate on the Discovery Princess to be able to sample several of her fine-dining specialty restaurants (for which guests pay a cover charge) while also sampling dinner in her main dining rooms on three different evenings. Meals there are included in the cruise fare, as is the food at the World Fresh Marketplace, the buffet-style casual dining establishment open all day and night. There one can find cuisine from around the world — as well as the most delectable treats in the Pastry Shop — one could get overwhelmed with all the choices! I'll just share a few pictures of those marvelous pastries I snapped on the afternoon we embarked.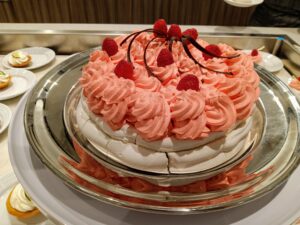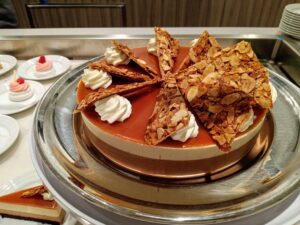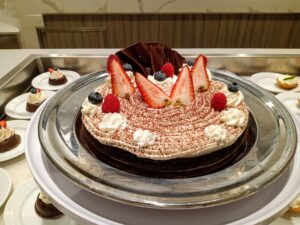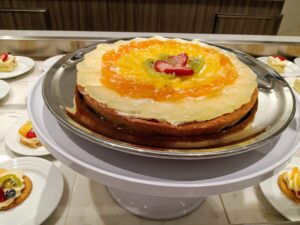 This was the only time I saw the full works on display; but throughout the cruise there were small plates with a swoon-worthy variety of temptations.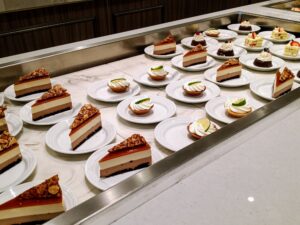 We made reservations each evening that we ate in one of three main dining rooms on board, (Ketchikan, Juneau and Skagway) which is highly recommended. The first night aboard was a bit chaotic: Even with our reservation we had to wait in quite a line to get into the Skagway dining room, and we were seated late. The pacing between courses was also quite slow, with long pauses; but by the second night, when we ate in the Ketchikan, everything appeared to be running smoothly. Considering this was the inaugural cruise for this brand-new ship, we were more than willing to give the staff the benefit of the doubt.
The multicourse menu in the dining rooms changes each evening, although there is a list of "Princess Favorites," standard items always available. Fresh-daily, housemade bread (a variety of breads and rolls) is brought to the table, and one then chooses from three hot and cold starters, three soups and salads, a couple of pasta dishes (made fresh daily and in full view of the public in Sabatini's Pasta Room) and six main entrée options. One can be sure there will always be vegetarian options, and other dietary restrictions can be accommodated. Glasses or bottles may be ordered from a nicely balanced and reasonable wine list, along with cocktails and spirits (not included in the fare). For those who don't want to have to think too hard about it, one red and one white "featured" wine is listed on the menu for pairing with the evening's options.
That first night we leaned into the seafood options and pared them with a bottle of a very nice 2018 Chalk Hill estate Sauvignon Blanc from the Sonoma Valley. We started with perfectly seared garlic prawns with a citrus mojo,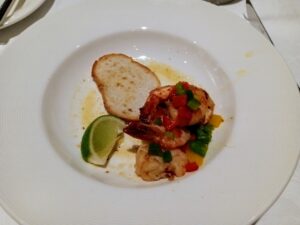 and Harry followed that with the French onion soup from the "Favorites" list.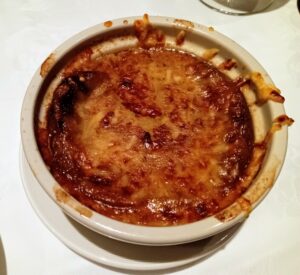 He also chose the seared salmon in a lemon-dill butter sauce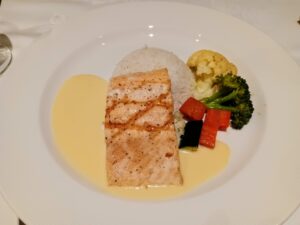 from that list (other items include a classic Caesar salad, roasted chicken breast and a shrimp cocktail), while I chose the seared mahi mahi with a pineapple-mango salsa (a perfect accompaniment).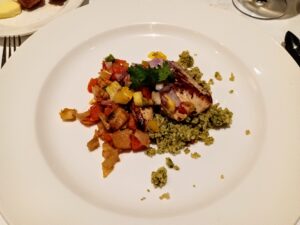 Never one to pass on dessert, I chose the chocolate-hazelnut soufflé,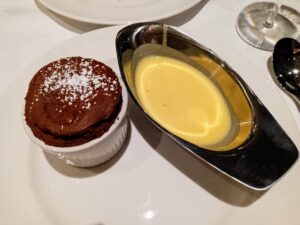 and Harry shared a bite of his Princess Love Boat Dream chocolate mousse.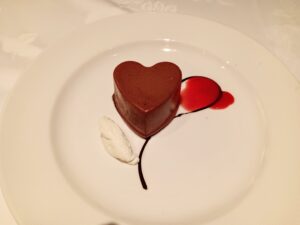 Everything was delicious, and I appreciated that the portions were not too large, so that we weren't uncomfortably full afterwards.
The next night we dined in the Ketchikan and chose a lovely 2016 Belle Glos Pinot Noir from Monterey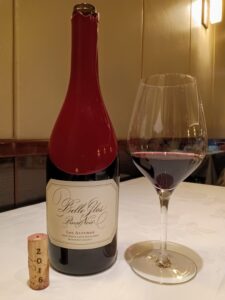 to pair with our more meat-centric selections. We shared the duck liver paté with a sour cherry compote and port wine reduction sauce — they  were perfect foils to the rich paté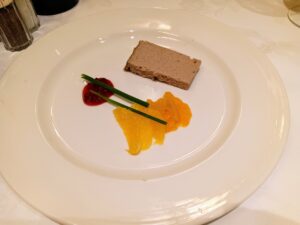 — and a delicious crab and Monterey Jack cheese soufflé with a charred red pepper salsa.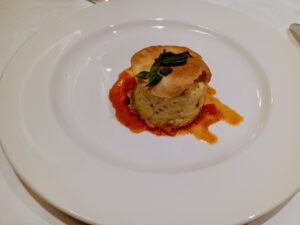 I loved my duck à l'orange served with a layered herb-potato cake and Grand Marnier sauce,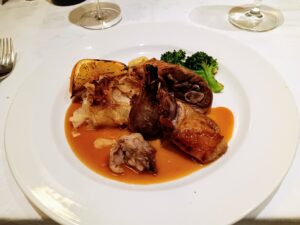 while Harry enjoyed his medallions of beef tenderloin with a cognac and peppercorn demi-glace and a light and flavorful Parmesan-potato beignet.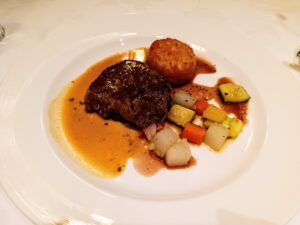 I don't recall exactly the name or specific ingredients in my artistic chocolatey dessert, but I'll let the picture say it all for me.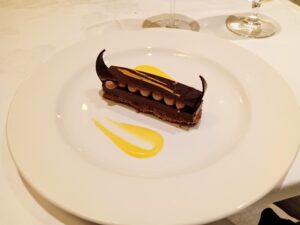 We returned to the Skagway dining room later in the week, and we again were impressed with yet a different menu offering several hard-to-choose-between items. Harry started with a unique and flavorful carrot, ginger and coconut chilled soup,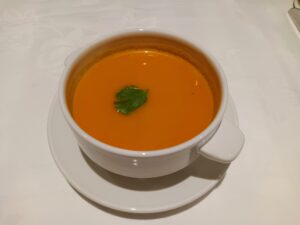 and I couldn't resist the twice-baked goat cheese soufflé with garlic cream . . . light but decadent.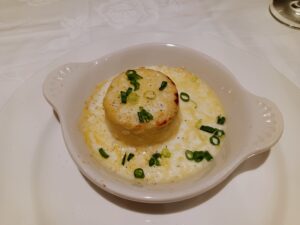 Harry went for the surf with a rich, savory bouillabaisse crammed with shrimp, scallops, snapper and clams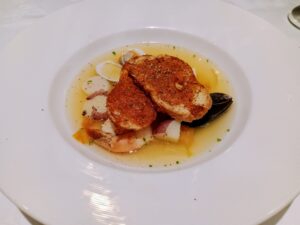 while I chose turf with carved beef tenderloin and an earthy mushroom-barley pilaf and butter-grilled vegetables.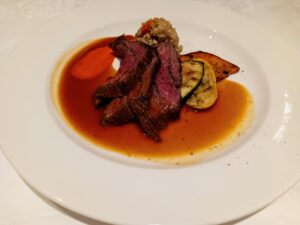 We saved room for dessert (never a disappointment), sharing the crème brûlée with madeleines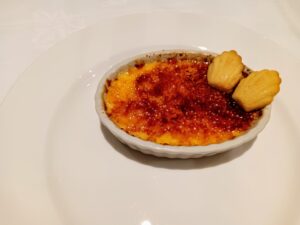 and a chocolate and salted caramel tart.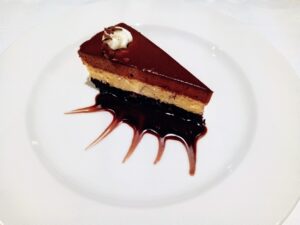 It's a good thing I do so much walking when I'm on a cruise, or I would come home with more than just a few souvenirs! Every evening found us more than satisfied with our meals, and the service was always polished but friendly.
— Patty Vanikiotis, associate editor/copy editor
FX Excursions
FX Excursions offers the chance for once-in-a-lifetime experiences in destinations around the world.
It's never too early to plan that next big trip. Look ahead to 2023 with travel inspiration from these international destinations.
Sponsored Content
There's no better time to plan the vacation you've been missing. Step aboard with your better half, your friends or the whole family and reconnect, reunite and rejoice with 25 percent off cruise fares for all guests. We'll also help everyone get there with 25 percent off airfare from 20 major gateways across the country or $100 savings per person on flights from all other gateways when you book your air travel using Flights by Celebrity.*
Tickets are now available for the 10th annual South Beach Seafood Festival, taking place this fall, Oct. 19–22. The region's best seafood and South Florida's top chefs and restaurants will be the focal point.