During our recent trip to Central Oregon, we blocked out a portion of one day to visit the nearby town of Sisters. Nestled in the pine and fir forest on the eastern slope of the Cascade Mountains, Sisters began in the 1880s as a logging and sawmill town, named for the Three Sisters peaks rising to the west.
Today, it's a charming town of just under 3,000 residents, popular with tourists and outdoor enthusiasts who appreciate its proximity to fishing, skiing, hiking and biking routes. It boasts a rodeo
and outdoor quilt show
in the summer and a folk music festival in the fall, and the city's streets are lined with unique shops and several galleries. Accommodations range from nearby campgrounds to B&Bs and lodges, both rustic and refined.
And if you're hungry or thirsty, a range of cuisines and an assortment of breweries, "saloons" and coffeehouses can meet your needs.
Our first stop was Sisters Bakery, renowned for an impressive array of breads and a host of pastries and cookies and pies. The line out front of the small, old-fashioned storefront confirmed all we'd heard about how great their baked goods were. (For future reference, we learned you can call in your order in advance and pick it up at the back door, avoiding a wait.) Our daughter and son-in-law had recently visited the area and clued us in to the sourdough bread (still warm from the oven) as well as their savory scones (spinach and feta and bacon cheddar) and foccacia. We also picked out some goodies for the next morning (maple bars, an enormous apple fritter) and an assortment of generously sized cookies.
We took our booty back to the car, parked next to the city park, thick with tall evergreens and boasting a great playground (complete with a small climbing wall). Here my husband and son-in-law watched over our granddaughter as my daughter and I went to prowl the bolts of cloth at the Stitchin' Post, Sisters' well-known quilt shop and host of the decades-old aforementioned Quilt Show. It's a beautiful, bright, colorful space with dozens of quilts on display all around the two-story-tall space. In addition to hundreds (if not thousands) of bolts of cloth, they also sell a mind-boggling and eye-pleasing assortment of yarns. After drinking in the rainbow of colors and letting my fingers luxuriate in all the textures of yarn and cloth . . . and buying some fabric, of course . . . we strolled back to the park, ready for lunch.
It had been rather smoky (due to wildfires still raging to the west) and windy earlier, and we thought we'd have to find some indoor dining, but now the skies were clearing, so we headed to Sisters Meat and Smokehouse,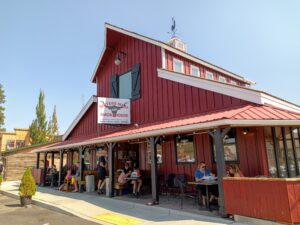 where we snagged one of several picnic-style tables outside on the covered porch and looked over the laminated menu cards. All sandwiches are made to order with house-smoked and cured meats and local breads and come with chips and a cookie. My husband ordered (as usual) the Reuben and ranked it in the top five of his all-time favorites. Both my daughter and son-in-law ordered the tri-tip (with onions, provolone and barbecue sauce) and I got the smoked turkey with provolone. They also offer PB&J or grilled cheese for kids, which suited our granddaughter just fine. All were delicious and big (I took half of mine home for the next day), and we were able to order sodas, brewed iced tea, local beers or wine to wash it all down.
I had gotten a peek at some of the incredible variety of fresh meats, charcuterie, deli and processed meats when I placed our order, and after lunch I went back inside to take a closer look. The fresh case was loaded with the most beautiful cuts of beef,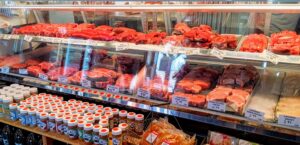 along with pork and chicken. Packages of sliced turkey, beef, pastrami and ham filled another case, along with house Cotto salami and bologna.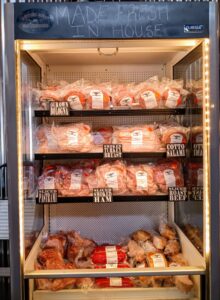 Next to that stretched a long case offering all manner of sausages, brats, links and chorizo;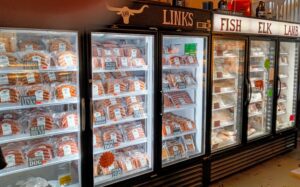 oh, and you could pick up lamb and elk here, too. It is a meat-lover's paradise, but salmon and other fish are available as well. Next time we're in the area, we'd like to pick up some of these options to grill up at home.
As I mentioned, you can get a beer (draft or otherwise) here or choose from an assortment of wines to drink on site, but you can also fill a growler or buy a bottle to take home. Also for sale are house-labeled jars of pickled beets, garlic and asparagus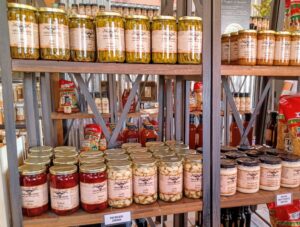 as well as various sauces and other accompaniments to the stars of this self-styled artisanal butchery. They also sell merch featuring their amusing slogan: "You can't beat our meat!"
As we rolled out of town with our full tummies, pretty fabrics and a bunch of baked goods to look forward to, we knew we'd be visiting Sisters again the very next time we were in the area.
— Patty Vanikiotis, associate editor/copy editor
FX Excursions
FX Excursions offers the chance for once-in-a-lifetime experiences in destinations around the world.
Anantara Uluwatu Bali Resort's acclaimed Anantara Spa incorporates indigenous practices from world traditions, offering signature experiences individually personalized. And now, two renowned healers, experts in holistic, natural approaches to healing mind, body and spirit, join the celebrated Ibu Jero, High Priestess of Balinese Healers, at the spa.
Sponsored Content
Without a doubt, the pandemic changed the role of airports in the travel industry. Hamad International Airport's role evolved in many ways since the pandemic hit. Now, more than ever, airports are responsible for creating a secure passenger experience. As the gateway to Qatar and the world, the safety and wellbeing of staff and passengers has always been at the core of Hamad International Airport's strategy.
It's time to start dreaming of your next trip. Here's some destination inspiration for you. Take a visual journey through Tulum with us.