This past Wednesday neither my husband nor I was up for cooking dinner. We'd spent a good chunk of the day doing yard work with our N95 masks on. No, not because of COVID (though cases have skyrocketed in our under-vaccinated county and the hospitals are beyond capacity) but because of another respiratory scourge: wildfire smoke. It was hot and uncomfortable work, and neither of us wanted to spend any time in the kitchen.
It was the perfect opportunity to try out a food truck in our area we'd just read a review about in our local paper that sounded intriguing. Sid's Gourmet Smoke-N-Grill sounded like more than just a cut above your standard food truck. The menu, which began with ice pops made from locally grown fruits when they first opening in August of 2020, now includes a range of sandwiches bursting with house-smoked meats (pork, brisket, chicken); mac-n-cheese and Japanese fried rice (both of which can be supplemented with smoked pork belly, pork, brisket or chicken); and standard sides one often sees served with barbecued and grilled foods: coleslaw, potato salad, slow-cooked beans.
What we learned makes Sid's food stand out (and earns it that "gourmet" label) are the West African spices and influences that find their way into nearly every dish and provide a unique twist on those ordinary barbecue staples. Sid was born in Côte d'Ivoire and raised in New York City. He and his wife, Laura, made their way to Medford, Oregon, and began building their dream of opening a restaurant or food truck. Committed to developing strong partnerships with local food purveyors and serving up healthy food made from fresh ingredients, Sid and Laura look ahead with hopes to expand further while encouraging a lively, supportive, fun-loving community.
For only being up and running a year, these folks have their act together. In addition to social media, they've got a classy website and online ordering (very efficient). With a dedicated space (no need to try to figure out where to find them on any given day) and generous, regular hours (weekdays noon–10 p.m. and Saturdays 2–10 p.m.), you can satisfy your craving for good food very easily.
We placed our order online (which allowed us to add special requests for sauces and meats and designate a pick-up time) and Harry headed out to get our food. He had just a bit of a hunt for the site but quickly found the shiny chrome, Airstream-like trailer and a very friendly, accommodating Sid and Laura. At home, we attacked our order, sharing bites with each other amidst enthusiastic "Mmmmmms" and finger licking. I ordered the smoked chicken hoagie with carmelized onions, Sid's creamy sauce and coleslaw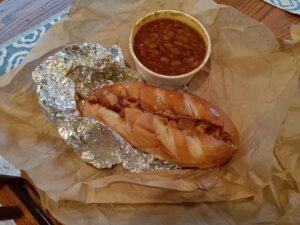 and a side of the beans. The chicken was so moist and flavorful, and the beans benefited from the inclusion of house-smoked meats and slow-cooked onions, carrots and potatoes — a rich and complex blend of flavors unlike any beans I'd ever had. Harry had the Japanese fried rice with the smoked brisket and barbecue sauce.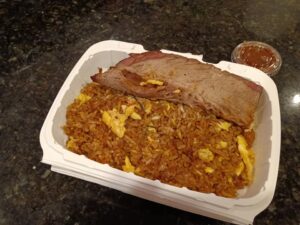 Again, the meat was moist and extremely tasty, while the rice was much more complex and satisfying than your standard fried rice.
Our one disappointment was that the mac-n-cheese we'd ordered hadn't made it into our bag. Harry called and spoke with Laura, who apologized profusely and immediately credited the amount back to our credit card. Harry assured her he understood and told her we'd order it the next time we came in. A few minutes later, Sid called us back, offering to drive the side dish to us right then and there. We were impressed by his offer (it would have meant at least 30 minutes and several miles out of his evening) and assured him it was appreciated but not necessary. It certainly showed how dedicated the couple are to their customers and their business.
I also ordered one of the homemade juices Sid offers in a handy pouch.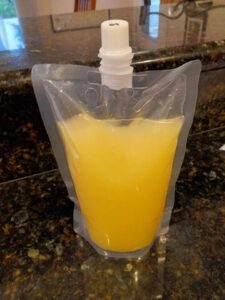 The OMGinger consisting of ginger, pineapple and lime will wake up your tastebuds and cleanse your palate — very tangy and refreshing. I'm looking forward to trying the Jamaican-influenced hibiscus drink next time, as well as at least one (or more) of those frozen pops for dessert.
I'm so glad we've found this great dining option, and we've decided we need to more actively seek out other food trucks in our area. Sid's may have spoiled us, though, and set up unreasonable expectations for future finds. That's okay, though; we can always just go back to Sid's!
— Patty Vanikiotis, associate editor/copy editor
FX Excursions
FX Excursions offers the chance for once-in-a-lifetime experiences in destinations around the world.
Anantara Uluwatu Bali Resort's acclaimed Anantara Spa incorporates indigenous practices from world traditions, offering signature experiences individually personalized. And now, two renowned healers, experts in holistic, natural approaches to healing mind, body and spirit, join the celebrated Ibu Jero, High Priestess of Balinese Healers, at the spa.
Sponsored Content
Since its prestige for attracting the world elite grew in the 1960s, Greece remains the go-to destination for glittering holidays. Each step of the journey is enrobed in luxury, from culinary traditions with the highest standard of execution and name-brand, high-end shopping to first-rate wellness locales and elite accommodations, like 5-star hotels, private villas and yachts.
It's time to start dreaming of your next trip. Here's some destination inspiration for you. Take a visual journey through Tulum with us.