Travel is an exciting word. As a verb, it means to go from one place to another, typically over a distance of some length. As a noun, it is defined as a journey, especially to a distant or unfamiliar place. I decided this summer to lean into the noun by embarking on a journey to get more familiar with the city of Virginia Beach. Never mind it has been my resident zip code since 2017, when my family and I moved here from Washington — the pandemic made me realize I hadn't really traveled to this area.
For the longest time, travel, for me, involved packing a suitcase, getting a visa and flying to some distant land. The pandemic made me revisit that line of thinking so much that I decided to travel to Virginia Beach this summer. It was like the movie Into the Wild where Penn, a son of two wealthy parents, graduates as a top student and athlete but chooses to go a different direction by throwing away a prestigious and profitable career, giving his savings to charity, ridding himself of all possessions and going on a journey to the Alaskan wilderness to challenge the status quo.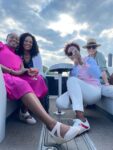 Like Penn, this year, instead of going long distances, my family and I chose to challenge the status quo and make this year a journey within our very own city. That being said, I have to give a nod to the city of Virginia Beach. It was surprisingly just as enjoyable as being out of town.
A few of the ladies from work and I went on a boat cruise with Jolie Cruise. I had an amazing time! We were revived with refreshments, bubbly, music, great conversation and relaxation; I was literally in good company (just like the show I host on Cox's TV channel called Yurview). We sailed to Chick's Restaurant and had our fill of crab cakes, scallops and all things fresh seafood. Its pull-up bar is delightful. I was nothing short of pleased. We got an up-close view of the homes of the rich and famous along Lynnhaven Inlet, where we relaxed and soaked up the sun and, every once in a while, dipped our toes in the water. It was great to see the smiling faces and watch people enjoying themselves and their families.
During my "trip," I was able to refresh myself alongside a few of my family members with a massage and facial. It was fire! This massage was from one of the most-recommended spas in the area, Flowering Almond Spa at Founders Inn Tapestry Collection by Hilton.
I was also able to squeeze in a massage for my soul by taking time to rest and recharge on the beach at the Oceanfront, walking 3 miles each morning in Old Beach before sunrise and finishing just in time to see the beautiful sunrise.
This journey was more than I expected and gave me great relief. Cheers to Virginia Beach!
I can't wait to share my trip to California next. Stay tuned!
— Nneka Chiazor, Globility Board member
FX Excursions
FX Excursions offers the chance for once-in-a-lifetime experiences in destinations around the world.
Grand Hyatt Vail offers travelers an exciting lineup of experiences for winter 2022/2023. The property celebrates its 40th anniversary in conjunction with Vail Mountain's 60th anniversary this December.
Sponsored Content
There's no better time to plan the vacation you've been missing. Step aboard with your better half, your friends or the whole family and reconnect, reunite and rejoice with 25 percent off cruise fares for all guests. We'll also help everyone get there with 25 percent off airfare from 20 major gateways across the country or $100 savings per person on flights from all other gateways when you book your air travel using Flights by Celebrity.*
From Costa Mesa and Newport Beach to Corona Del Mar, Dana Point and Laguna Beach, there are no shortages of lavish hotels and full-service day spas spanning Orange County. Spa enthusiasts are spoiled for choice, with so many different flavors of high-end interiors, signature treatments, elaborate services, retail areas and, often, swanky snacks served in cafés and solariums.