Sometimes you want a vacation that is packed with lots of physical activity and challenges, and other times you're just looking for doing not much more than sitting on a beach or by a pool and watching the world go by. Our recent 10-day trip to Eagle Crest Resort in Central Oregon provided both. Last week I wrote about some hiking we did in the area, providing both lovely views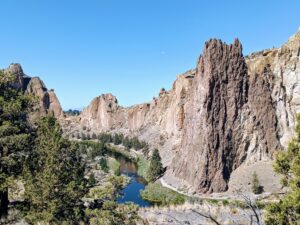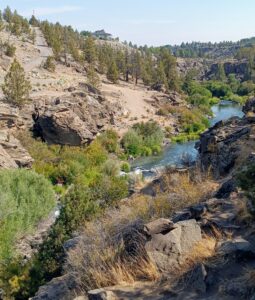 and a good workout.
We interspersed that kind of activity with true relaxation, however. We stayed in a three-bedroom "chalet," a stand-alone home with a deck that stretched the width of the house. There we relaxed with cool drinks and books, sometimes opting to soak in our private hot tub in the evenings, and watched as deer grazed nearby.
The resort also offers three separate pool and sports center facilities, including one indoor pool for use in the snowy winter months. The resort all-told features hundreds of rental units, but we never found the pools too crowded. There were always plenty of lounge chairs for sunning, and the pools always had space for the grandkids to splash and play. I was impressed with how clean and well-kept these areas always were. There seemed to be an endless supply of pool towels, and I appreciated the fact that there were grass lawns as well as concrete pool decks on which to relax. The staff in the sports centers who checked us in were always welcoming and very helpful while ensuring health and safety protocols were being observed.
Eagle Crest is perhaps best known for golf, boasting three 18-hole courses. No one in our party is a regular golfer, but we made sure to make time to play the 18-hole putting course,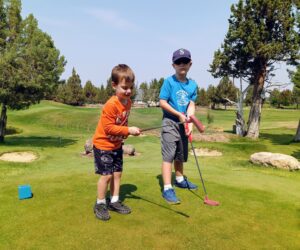 which provided lots of fun and challenges the afternoon we tackled it. Our 7-year-old grandson decided he's "a really good golfer" after he "won" several holes. (We decided rather than counting shots we would just designate the winner as the one who sunk their ball in the hole first. Even so, Sean did very well.) The course is meticulously maintained and includes traps, rough and several natural hazards like trees and ponds.
Our 4-year-old grandson ended up being far more interested in these and abandoned his partner (his mom) after about eight holes. I would suggest that kids under 6 probably won't have the attention span to endure the entire course (ages 5 and under are free), but they will still like the outing. All in all, we enjoyed the low-key competition and the hour or two together on the course, as well as our entire stay at this resort that provided something for everyone.
— Patty Vanikiotis, associate editor/copy editor
FX Excursions
FX Excursions offers the chance for once-in-a-lifetime experiences in destinations around the world.
Galataport Istanbul, a new cruise and lifestyle destination on the Bosphorus in Istanbul, welcomed its first ship, SeaDream II, on Oct. 1. Approximately 150 passengers and crew from Bulgaria Varna arrived at 10 a.m. for a two-day homeport operation before continuing to Bulgaria Burgaz.
Sponsored Content
The Global Business Travel Association's (GBTA) Convention 2021 will be unlike any other convention before it, as we come together in person for the first time since the business travel industry drastically changed and look forward to rebuilding and reshaping the future. GBTA Convention 2021 will bring all of us together to learn from experts and each other, in-person at Orange County Convention Center in Orlando, Florida, Nov. 17–19. The safety of our attendees is our top priority. View health and safety protocols.
The countdown to Halloween weekend is on! Are you are still unsure about plans? Do you go to a house party? Stay in to hand out candy? Try something different this year and join Philadelphia's  The Mütter Museum at its 6th annual Mischief at The Mütter.