As someone who likes to go for a lot of walks and enjoys a solo car ride, listening to great podcasts has become a staple of my daily routine. I first came across podcasts three years ago when I worked in Dublin, Ireland, as I had a 50-minute bus ride into the city center every day and found myself tired of listening to the same music playlists over and over again. My friend recommended a podcast on Spotify called Crime Junkies, and I thought, "Why not?"
Since listening to the first few episodes of Crime Junkie, I have become hooked. I listened to the podcast weekly as new episodes were released and found myself wanting to hear even more stories from similar podcasts. Three years later, and I have my favorite podcasts that are integral to my life and not only give me something to listen to during my day but also allow me to reflect on my own life and learn life lessons.
Here is a list of my favorite podcasts that I recommend for anyone interested in crime and interesting stories. Whether driving to work or going on a road trip, these podcasts are perfect for all. All can be found on Spotify or whatever podcast app you prefer.
Crime Junkie
The podcast that opened up the world of podcasting to me, Crime Junkie covers both high-profile cases as well as cases no one has heard of. In bringing awareness to both solved and unsolved cases, hosts Ashley and Brit share stories each Monday. I really like this podcast because they don't spend much time chatting and instead get straight into each case. Crime Junkie does a great job covering cases on victims often overlooked due to prejudices, and I love how they ensure the victims get their deserved attention.
Criminal
While the title of this podcast might seem like another crime podcast covering some of the darkest forms of crime, Criminal covers some interesting stories that technically fall under the realm of crime but not in the way we think. For example, one episode follows a forensic diver who recounts the time he had to dive into the infamous La Brea Tar Pits for evidence on a case. He described all of the preparation and how he managed to survive upon actually finding the evidence at the bottom of the pit. With host Phoebe Judge leading the podcast, each episode is 15–35 minutes long and is one of my favorites because of how unique each story is.
Park Predators
I wouldn't recommend this podcast to avid campers in state and national parks who frighten easily, as this podcast covers crimes that occurred in state and national parks throughout the United States. That being said, you can't help but be curious about the types of crimes that happen in our parks. Host Delia covers cases ranging from a husband who wants to make his wife's death appear like an accident to a completely random attack. This podcast earned a spot on my list of favorites because Delia tells each story well with acoustics of running streams, chirping birds and waterfalls to put the listener into the park setting.
— Aoife O'Riordan, associate editor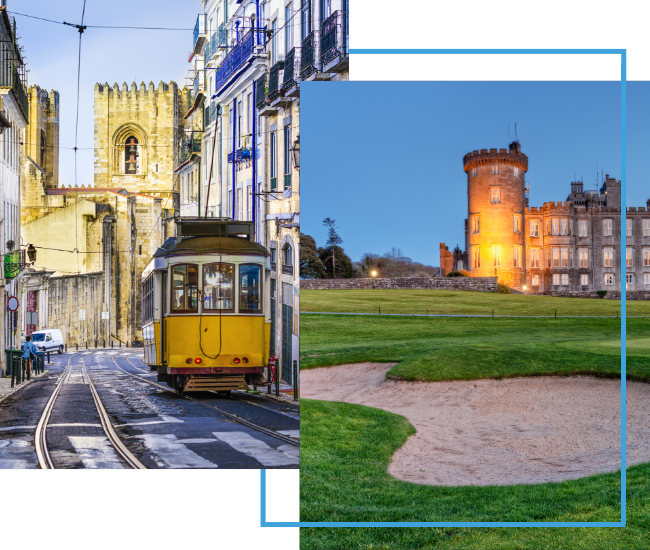 FX Excursions
FX Excursions offers the chance for once-in-a-lifetime experiences in destinations around the world.
Explore Excursions
Red Savannah launched a new series called In the Footsteps of…, which debuts itineraries of well-known figures, the first being Coco Chanel. As Chanel No. 5 celebrates its 102nd anniversary this year, the travel company invites fashion lovers, history enthusiasts and admirers of Coco Chanel to experience the new itinerary, In the Footsteps of Coco Chanel. The experience allows travelers to step into the remarkable life of one of most iconic figures in the fashion world.
Sponsored Content
The Saronic or Argo Saronic Islands of Greece call travelers to explore its seven small islands and islets brimming with history, natural sites and more. With most easily accessible by boat, the islands' proximity to ports of Athens make the Saronic Islands an ideal destination for those preferring shorter boat rides. In fact, trips from Athens ports to the islands take only between 10 minutes and two hours, depending on the island you choose, making them perfect for day or weekend trips. From Piraeus port, you can access Hydra, Spetses, Aegina and Poros directly. Come explore these stunning islands with us and find the inspiration to plan your next trip to these islands. Hydra Hydra town curves around a slope overlooking the Argosaronic Gulf like an amphitheater and is considered one of the most romantic destinations in Greece. Most unique to the island is its lack of vehicles. People on the island get around on mules and donkeys as well as water taxis, making for a peaceful and laid-back day. Hydra lies a two-hour ferry ride from Piraeus port in Athens.
Mazatlán, Mexico, has long been an attractive home destination for Canadian and American retirees, but, in recent years, young, digital nomads have also discovered the charms of this coastal city, finding inexpensive accommodations, beautiful weather and plenty of bandwidth for working remotely. The laid-back beach scene definitely eases the transition of relocating to Mexico's West Coast.