We had a wonderful time at our first dining experience at Marcello Ristorante in Sarasota.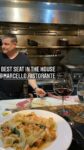 Every meal is prepared by Marcello, the restaurant's chef and sole cook. "Nothing has been cooked in the kitchen except by me," said Marcello. With only nine tables and a wine room seating 12, the restaurant is intimate.
We had a great time sitting at Marcello's table, watching him cook along with his antics with his servers. It appeared to me they have a server per table! I enjoyed the flattened veal chop on the bone served with homemade pasta and arugula.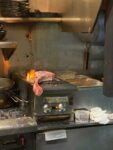 Make sure you make a reservation. Tables are booked many weeks in advance. I called three times leaving messages that I would take any available day, and after the third call Marcello called back and said, "You wanna sit with me?" which meant sitting at the bar edging the kitchen to watch him cook and to talk. This area sits three comfortably and four squished.
Enjoy! Call ahead!
Marcello Ristorante Italiano
4155 S. Tamiami Trail
Sarasota, FL 34231
— Francis X. Gallagher, CEO, Publisher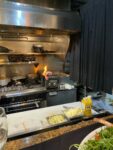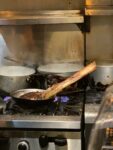 FX Excursions
FX Excursions offers the chance for once-in-a-lifetime experiences in destinations around the world.
This winter season sees a major milestone in the history of Grand Hotel des Bains Kempinski in St. Moritz as the hotel celebrates its 20th birthday. To celebrate those two decades, the hotel invites international guests and locals in St Moritz to experience its freshly renovated lobby as well as a brand-new lobby bar redesigned in a contemporary style.
Sponsored Content
Nashville's once-modest skyline continues to evolve as its luxury market grows. Lavish hotel properties are added to the landscape while acclaimed chefs stake claim in the robust culinary scene and premier cultural offerings round out the city's repertoire.
© DNDAVIS | DREAMSTIME.COM