We had a wonderful time at our first dining experience at Marcello Ristorante in Sarasota.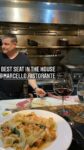 Every meal is prepared by Marcello, the restaurant's chef and sole cook. "Nothing has been cooked in the kitchen except by me," said Marcello. With only nine tables and a wine room seating 12, the restaurant is intimate.
We had a great time sitting at Marcello's table, watching him cook along with his antics with his servers. It appeared to me they have a server per table! I enjoyed the flattened veal chop on the bone served with homemade pasta and arugula.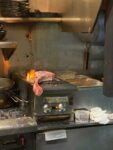 Make sure you make a reservation. Tables are booked many weeks in advance. I called three times leaving messages that I would take any available day, and after the third call Marcello called back and said, "You wanna sit with me?" which meant sitting at the bar edging the kitchen to watch him cook and to talk. This area sits three comfortably and four squished.
Enjoy! Call ahead!
Marcello Ristorante Italiano
4155 S. Tamiami Trail
Sarasota, FL 34231
— Francis X. Gallagher, CEO, Publisher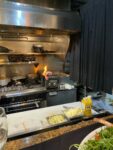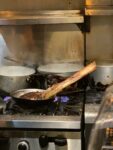 FX Excursions
FX Excursions offers the chance for once-in-a-lifetime experiences in destinations around the world.
The ultimate vacation indulgence involves a bathtub, solitude and amenities to enhance the bathtub experience. Bathtubs come in all shapes and sizes, from clawfoot to wooden ones, each offering unique experiences. These hotels across the world boast some of the finest bathtubs for those looking for the most luxurious bath experience ever.
Sponsored Content
Whether you prefer a villa on the beach or an ultra-luxe suite downtown, you'll find everything you're looking for in Los Cabos.
Ravens, casks, walled-up ex-friends … grab a glass of sherry (perhaps avoid Amontillado) and celebrate all things Edgar Allan Poe during the fifth-annual International Edgar Allan Poe Festival and Awards (or, in shorthand, Poe Fest International). It's all happening in Baltimore Oct. 8 and 9, with a mix of in-person and virtual events. To commemorate the 173rd anniversary of Poe's death, this year's festival includes music, theater, vendors and tours.