Last week I left off with us checking out of the first hotel and heading to our final destination in Cabos San Lucas.
We requested a cab after check-out, and a short uphill drive later, we arrived at the star of the trip: Corazón Cabo Resort & Spa. We were immediately greeted by attentive staff and made to feel like we were expected. Upon entry, the imperfectly perfect geometry of the building catches your eye, and the delicate, contemporary yet classic décor keeps you admiring every corner.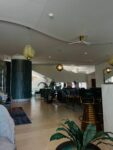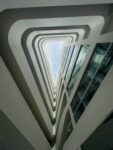 Renata and I simultaneously commented on how clean it looked and felt; if there's one thing we have in common, it's definitely how neat, picky and peculiar we are about cleanliness. If I'm being honest, this was the moment I dropped my shoulders and felt like I was about to enjoy some well-deserved time off. Just one of the many things that make travel anxiety a thing for me, ha!
Formerly known as Cabo Villas, Corazón Cabo is one of the newest luxury hotels perfectly located next to one of the only swimmable areas of Medano Beach. As with every trip, I did my fair share of research and dives on social media, so I had an idea what to expect. However, I'd be lying if I didn't admit how impressed I was with the view from our room. We stayed in one of the 187 rooms in the Corazón Tower, which features 17 luxury suites and, again, the most stunning views of Los Cabos. One of the many things I appreciated was how simple, crispy-clean yet vast the hallways felt. Almost empty, but it made sense once you entered the room.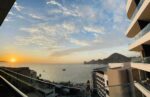 Our Infinity Suite had a lovely private balcony and two comfortable, queen-sized beds. The double-sided mirror in the bathroom and room was interesting but really cool when we had the floor-to-ceiling sliding glass doors open, as we could see the ocean and the mountains from the sink.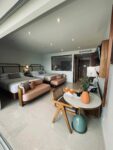 A delicious spread of aesthetically pleasing guacamole, corn tortilla chips, vibrant pico de gallo and fresh fruit mocktails waited for us in our room. After quickly situating our luggage, we enjoyed the drinks on the balcony before we headed down the vast marble staircases to Aleta for some lunch.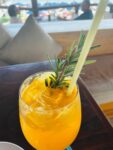 Slightly full from the snack, we opted for no appetizers and ordered our entrées; however, the chef had other plans in mind and sent some complimentary chips and guacamole which, of course, we couldn't resist. We also received another thirst-quenching mocktail consisting of ginger, cucumber, passion fruit, rosemary and some bright citrus with our meal. Another delicious drink! This spoke to the resort's attention to detail, as I had noted Renata is pregnant when I confirmed our reservations.
For lunch, I ordered the green salad with grilled shrimp, and Renata went for the tacos. My salad was light yet flavorful and satisfying. To top it all off, we also received a complimentary dessert — none other than churros and ice cream. You know, writing this is a bit hard, as I could cry at the thought of the taste of the strawberry ice cream, for, alas, I am not in Mexico.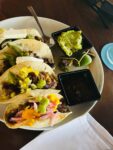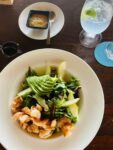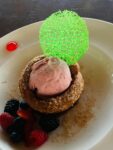 After lunch, we explored the property a bit and then headed back to the room for some rest before some drinks and apps at the rooftop. Day One isn't over just yet; it actually got better.
Until next time … .
— Yasser Ogando, advertising & production manager
FX Excursions
FX Excursions offers the chance for once-in-a-lifetime experiences in destinations around the world.
Sponsored Content
Whether you prefer a villa on the beach or an ultra-luxe suite downtown, you'll find everything you're looking for in Los Cabos.
National Rum Day is right around the corner on Aug.16, meaning it's time to start planning your celebration. Sandals Resorts, the all-inclusive Caribbean resort company, shares recipes from mixologists, allowing rum fans to celebrate as if they are staying on property.