I finally got to see Haley Reinhart again. Her show last week at Piazza in Aurora was a big celebration of returning to touring and a birthday party for the Chicago-area native.
Reinhart rose to fame after placing third on American Idol in 2011. Since then, she has performed solo and as part of Scott Bradlee's Postmodern Jukebox. Her cover of an Elvis Presley song was used in a gum commercial.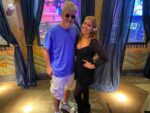 The evening started with a sound check, followed by an intimate meet-and-greet. I recognized several folks from previous shows. Reinhart spent several minutes with each of us. We also chatted with Haley's father, Harry, a musician who also performs with Skip Towne and the Greyhounds.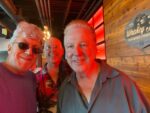 Neo soul and R&B singer Brandon James kicked off the night of music. Also a Chicago native, James warmed up the crowd for 30 minutes, with a cover version of "Yesterday" my favorite.
When Reinhart hit the stage, the crowd exploded. For two hours, Reinhart belted out songs from her new EP Off the Ground, mixed with old favorites.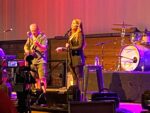 Coming from a musical family, her father Harry supplied incredible guitar work. He also presented his daughter with a birthday surprise as the audience broke into a round of "Happy Birthday."
After several teases, Reinhart sang her cover hit "Creep" as part of her encore. By then everyone was on their feet. She ended with hand slaps to dozens of folks, almost as if she wanted to extend the night.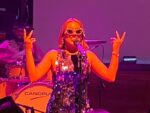 After three canceled tours due to the pandemic, Reinhart had even more energy than usual. She seems to have more fun on stage than any performer I have seen. Someday I need to see her outside of this area to see if it is a hometown effect, but I think that's just her.
The Piazza is a fantastic 35,000-square-foot venue, with multiple levels ensuring good sight lines from all seats. The digital video wall boasts two 36-foot screens and six 11.5-foot side screens. The Piazza has slot machines, pool tables, shuffleboard, darts, sand volleyball and more. It also serves great food, as I learned from a delicious turkey burger with avocado.
It was three years since I last saw her, but it won't be that long until next time. I see her again in a week.
— John Wroblewski, online writer
FX Excursions
FX Excursions offers the chance for once-in-a-lifetime experiences in destinations around the world.
FXExpress Traveler of the Year Contest 2023
Sponsored Content
Copa Airlines is celebrating its 75th anniversary by showcasing a Boeing 737-800 NG in an aircraft livery that harkened back to the airline's look in the 1990s. During that time, Copa Airlines launched an expansion of their network to become the Hub of the Americas®, changing the way to travel to and connect in our Continent.
Envisioned as one of Asia's most sustainable skyscrapers, a proposed 63-story, mixed-use downtown development project in Singapore takes cues from bamboo forests to create an indoor-outdoor vertical community with public spaces, offices, retail, a hotel, event spaces and luxury residences.