After a very busy and stressful early fall, my husband and I had even more reason to look forward to our annual trek to Walla Walla, Washington, for its Fall Release weekend the first weekend of November. We left a very soggy Portland behind on a Thursday morning to drive up the Columbia Gorge, the skies brightening and the clouds dissipating the further east we went. Some four hours later as we neared our final destination, the temperature hovered around 60 and the lowering sun and few remaining clouds made for a beautiful afternoon.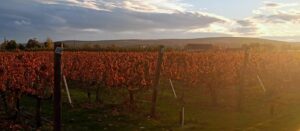 We started our weekend with a visit to Los Rocosos Winery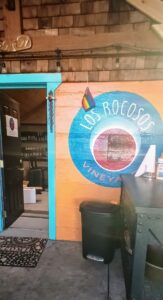 in Milton-Freewater, Oregon,  just south of the Washington border and the town of Walla Walla, Washington. This part of the Walla Walla Valley is home to The Rocks District, an AVA famous for its unique terroir and recognized as one of the world's premiere wine-growing regions for Rhône wine grape varieties. Our visit to Los Rocosos and its owner-vintner, Roger Lemstrom, was spurred by an encounter my husband, Harry, had with Roger at this past summer's Oregon Wine Experience in Jacksonville, Oregon, near our home. Harry was serving as a volunteer on the final evening at the premier wine competition and charity fundraiser and met Roger then. The three wines Roger had submitted to the competition had won a double gold medal and two golds, and on a previous evening Harry had poured the wine for guests (but not sampled them himself). Roger invited Harry to contact him to set up a visit at his winery when we were next up his way, and here we were.
The small, rustic tasting room sits amid the vines; an outdoor space under an open pavilion made for an inviting space for warm weather.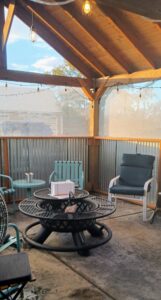 It was just the two of us and Roger as we sat in comfortable armchairs, surrounded by his wines and artwork, tasting several vintages and listening to his story and learning about his wines.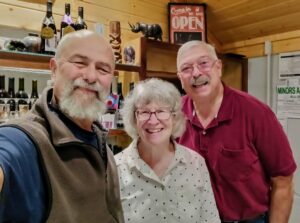 Grower of grapes and vintner is his third career, following work for state and federal entities as an occupational therapist and then a building contractor (in Southern Oregon) before enrolling in Umpqua Community College's Viticulture and Enology program. He then found his current acreage in Milton-Freewater, nursing back to health with sustainable practices the vineyards there.
We tasted his estate Sangiovese Rosé and a lovely, crisp Sauvignon Blanc, followed by a series of reds: a 2020 estate Red Blend (Grenache and Sangiovese, one of the OWE gold medal winners); the 2020 estate Grenache which also won a gold medal (fruit and spice); and a 2019 estate Sangiovese and a 2021 Sangiovese, made from grapes that endured the infamous heat dome of that year when temperatures reached 116 degrees . . . and made amazing wine. Roger also kindly poured his double-gold winner, a 2017 reserve Merlot; we had already decided to buy a bottle, but when Roger learned we had not had the chance to try it at the wine competition, he opened a new bottle. Let me just say that the accolades were well-deserved, and you can pay a lot more for a red wine in this area that is far inferior to this lovely Merlot.
Another feature I appreciate about Los Rocosos wines is the label art. I got the impression that Roger knows a number of artists who work in a variety of media, and he will often barter (wine for art) for a piece, so every bottling features a unique work. The tasting room also features some of Roger's work: wooden carvings, pottery and paintings.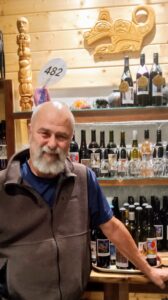 He really is quite a Renaissance man as well as a charming and entertaining host. Before we left, we also asked him for a few dinner recommendations, as we hadn't made any prior plans for that evening.
We were eager to try one of those suggestions, Yamas Greek Eatery, in downtown Walla Walla. We had not been aware there was a Greek restaurant there and, given Harry's heritage, were eager to see how they measured up to his family recipes. The menu offers most of the standard Greek starters, sides and entrées you would expect, with an interesting twist of presenting each of the entrées in four different formats: as a wrap, salad, rice bowl or plate. We started with a shared bowl of avgolemono soup, Harry opted for the beef and lamb gyro plate, and I chose the grilled rosemary lamb ribs. Harry's grandmother made a to-die-for avgolemono soup, so our standards were pretty high, but we found the soup very tasty and offering generous chunks of chicken. Harry found the gyro meat tender and tasty though wished the pita bread served with it hadn't been cut into such small wedges. I was delighted to find the well-grilled lamb was yet tender and not too dry and subtly, pleasantly spiced. The tsatziki served with both dishes had just the right amount of garlic and complemented the lamb beautifully. We look forward to dining here again, hopefully with a group of friends with whom we could share several of the meze plates for a good cross-section of the menu.
After so many trips to one of our favorite wine regions, we were pleased to make two new discoveries, on both the wine and the dining fronts, on this visit. Our weekend was off to an excellent start!
— Patty Vanikiotis, associate editor/copy editor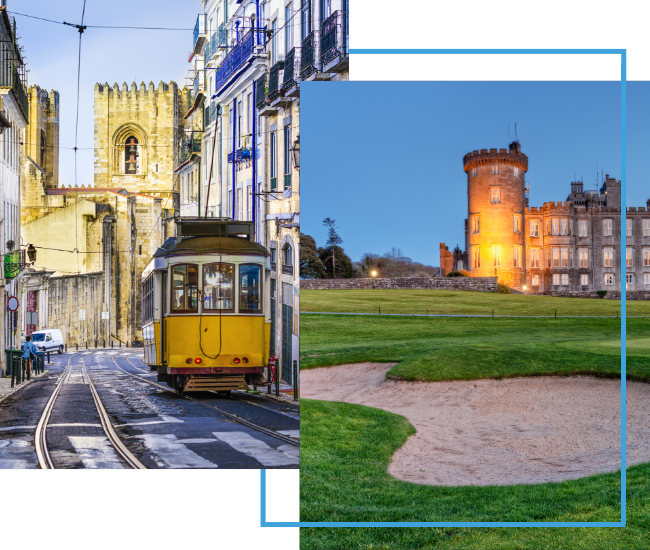 FX Excursions
FX Excursions offers the chance for once-in-a-lifetime experiences in destinations around the world.
Explore Excursions
It's time to start dreaming of your next trip. Here's some destination inspiration for you. Take a visual journey through these U.S. Christmas markets with us.
Sponsored Content
Experience the life-changing destination of Greece by exploring its island gems in the Ionian Sea. Scattered off the western coastline of Central Greece, to the south of Peloponnese, the Ionian Islands are an island group comprising large and small islands.
Everyone loves a good Christmas tree, but these iconic hotels around the world take it one step further with designer-styled trees illuminating lobbies and public spaces, wowing all who enter. From Lela Rose to Louis Vuitton, don't miss these ultra-luxury trees redefining tree decorating as we know it.