My husband and I celebrated New Year's in Las Vegas last weekend with a group of friends with whom we've been celebrating the holiday for the past several years. Some years we meet at the Oregon coast, and other years we've gotten together at one of our homes, but this was only the second time we've met in Vegas. Sue and Colburn were our hosts at their lovely home west of downtown, and before you start imagining a wild New Year's Eve on the Strip, let me stop you right there. Our New Year's celebrations are generally low-key affairs, allowing us to kick back and spend some quality time with good friends after the rush and bustle of the holidays. Each couple prepares one dinner (with wine, of course) and one breakfast, and throughout each day we nosh on snacks, watch football, construct jigsaw puzzles, go for walks and visit. It might not float everyone's boat, but it suits our group to a "T."
We did venture out occasionally, including on our last full day in Vegas, Monday. Two of the gentlemen headed off for a round of golf, and the rest of us headed to the Strip. Our specific destination was Eataly, located in the Park MGM complex. After getting reports from our daughter and son-in-law, who had visited Vegas for an Adele concert just before Christmas, we were eager to check it out, and I'm very glad we did.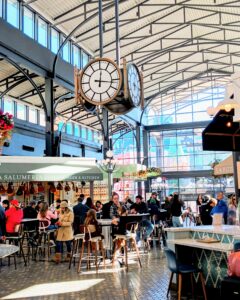 This large indoor Italian marketplace resides in an airy, light-filled food hall on two levels, with "shops" and specialty dining spaces placed primarily around the perimeter and high-top tables and stools clustered in the center for diners. The concept originated in Alba, Italy, in 2010, and there are now outlets throughout Italy and around the world, with nine located in North America. The focus is on high-quality food and drink of Italian origin, and one can dine and drink on site, purchase the raw materials to create a feast at home, or enjoy the convenience of delivery or pick-up.
Our group of six first made a circuit of the place, wanting to get an overview of the offerings . . . and there were plenty! On the main upper level we were dazzled by the ranks of bottles of wine at Gran Caffè Milano, where one could buy a bottle or a glass, along with beer and a host of cocktails.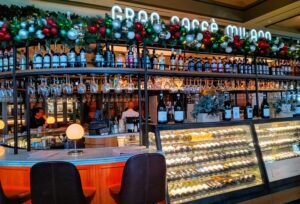 At least three other spots offered aperitifs, wine and cocktails as well, and on the lower level we discovered a bottle shop with helpful attendants to guide you to a selection or lead a wine tasting. Elsewhere, gleaming cases tempted with freshly baked loaves of bread and rolls,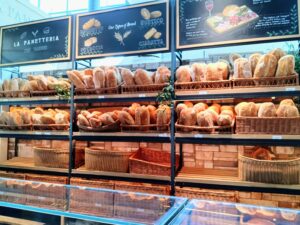 fresh fish and cuts of meat, a range of cheeses and charcuterie, and house-made pastas and pizza.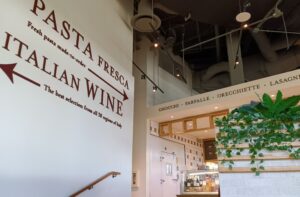 A long line of patrons lined up at the Italian Street Food shop at lunchtime, seeking paninis, sandwiches and fried offerings of seafood and vegetables. There was plenty to entice my sweet tooth, as well, with purveyors of gelato and sorbetto,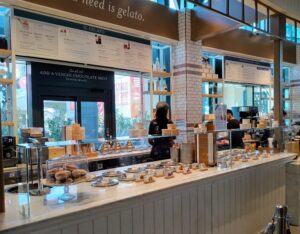 crêpes, pastries, and fine chocolates and sweets.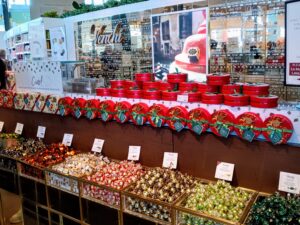 Of course, one could also sip on an assortment of Italian coffee drinks, and market shelves offered packaged dry pasta and a wide assortment of olive oils, vinegars, herbs and spices and other staples.
After we'd taken it all in, we each headed off to make our selections for a quick lunch. I ordered a spinach and ricotta crêpe, and when I learned it would take about 20 minutes to complete, I stepped next door and ordered a cup of peach and raspberry sorbetto to consume while I waited. (Life is short; eat dessert first!) Harry ordered a prosciutto and cheese panini, and several others chose flatbreads or pizza. Gathered together to enjoy our meal at one of the tables at the center of the hall,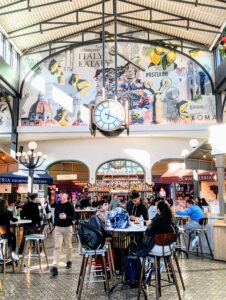 we agreed this was a fabulous concept and wished one would open in a city near us soon!
— Patty Vanikiotis, associate editor/copy editor
FX Excursions
FX Excursions offers the chance for once-in-a-lifetime experiences in destinations around the world.
Recaro's new CL6720 business-class seat with doors took off recently on Iberia's Airbus A350 cabin, flying Madrid (MAD) to Buenos Aires (EZE), with a total of 31 of the seats in the aircraft's business-class cabin. The premium-economy and economy cabins also feature Recaro seats.
Sponsored Content
FXExpress Traveler of the Year Contest 2023
In a city where new hotels, restaurants and experiences emerge seemingly every day, it's expected to feel overwhelmed when deciding where to dine. London consistently sees delicious and top-notch restaurants appear, but how can one possibly keep track of all the new and updated restaurants?