Just as we had in Porto, we chose to take a guided walking tour of Lisbon on our first full day in the city. This time we opted to sign up for a Culinary Backstreets tour. Though more expensive than a typical city walking tour, this one included everything we would eat and drink on a five-and-a-half-hour tour and promised to provide in-depth and locally focused insights into the food culture of Lisbon. Our tour, Lisbon Awakens: A Culinary Crossroads, Reborn, would begin in the Jardim do Estrela and lead us throughout the neighborhood of Campo de Ourique to nearly a dozen different stops. More than just a foodie tour, it would turn out also to be part history lesson, part geography lesson and a cultural eye-opener. An added bonus: We enjoyed learning a little about modern life in Lisbon and how the city has changed in just the past 10 years through the eyes of our guide while also sharing travel stories with fellow world travelers in our small group of seven.
Just getting to the start of the tour involved an iconic Lisbon experience as we boarded the No. 28 tram from the Chiado neighborhood, home of our beautiful two-bedroom apartment. These genuine antiques rattle along narrow streets, laboring up steep hills and descending with nails-on-chalkboard screeches of what sounds like a metal-on-metal braking system. Efficient as well as charmingly anachronistic, from morning to night they are crowded with tourists and locals alike as they circle the city. Just steps off the tram we met Angela, our guide (a Brazilian native who has lived in Lisbon for over 10 years and speaks excellent English), inside the Estrela Gardens, where she steered us to tables outside a coffee stand, ordered up drinks for us all and offered us a sampling of local pastries she'd purchased from a nearby bakery.
She began by asking for a volunteer to sketch a rough map of the world as we sipped and chewed, and figuring my work experience made me as qualified as anyone, I did so. From this, Angela began a brief tour of the globe, following the explorations and voyages of Portuguese navigators. She linked these travels to the lands they touched and the commodities from each which made their way back to Portugal and into the national cuisine. Throughout the rest of the day, each stop would introduce us to another aspect of that food and another link in the chain connecting the past to the present, far-flung lands to tiny family-run restaurants in city neighborhoods.
One of our first stops was at a tiny corner market whose octogenarian owner carried on a business started by his family.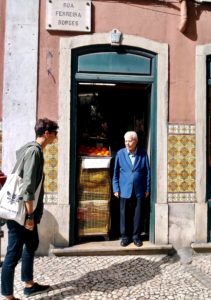 Here we sampled ginjinha, a Portuguese sour-cherry liqueur served with a cherry in the bottom of the glass. From there we visited one of the city's best food markets, the Mercado de Campo de Ourique. Quieter and not as famous at the Time Out Mercado da Ribeira, it nevertheless features vendors offering everything from fresh seafood,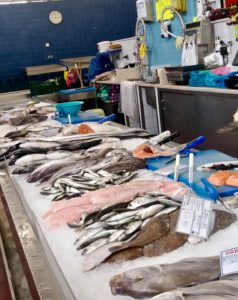 sardines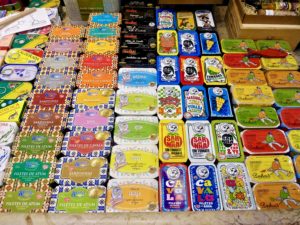 and produce to fine wines and chocolate.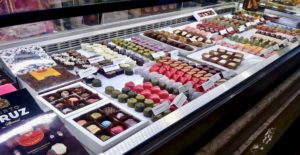 My only complaint is that we really didn't have a lot of time to shop.
A family-owned restaurant provided us a family-style lunch which included several traditional Portuguese dishes featuring legumes, octopus, chickpeas and, of course, bacalhau (salted cod). We also stopped at the site of an old co-op bakery, Padaria do Povo,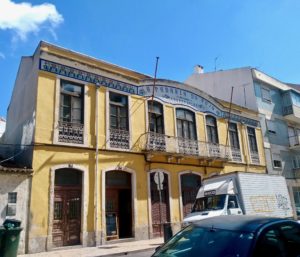 which had been at the center of anti-government resistance during the dictatorship and now houses a bar and restaurant specializing in Indian food (think the connection with Goa, a Portuguese colony in India), where we enjoyed samosas and vindalho (Goan vindaloo) on its grape-trellised patio.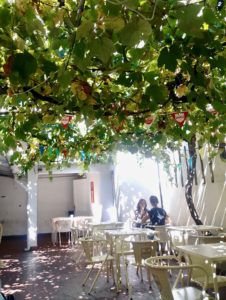 Of course, the day wouldn't have been complete without a stop at a shop (Pastelaria Aloma) producing the ubiquitous pastéis de nata. All along the way we enjoyed street views and admired the variety of those beautiful tiles.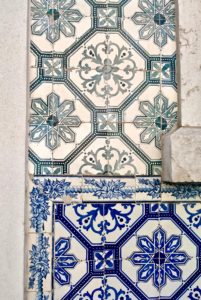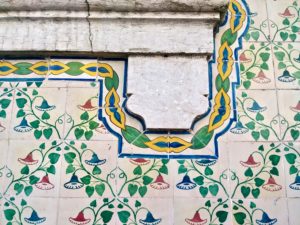 Our tour began at 10 a.m. and didn't really wrap up until well after 3:30 that afternoon (and Angela actually offered to escort a few members of our group to a nearby spot she had recommended to them). We learned so much beyond the origins of Portuguese cuisine and really benefitted from Angela's knowledge of a range of subjects from street art to anthropology and history. I would definitely recommend a Culinary Backstreets tour (offered in at least 14 cities across four continents) as a wonderful way to open up a city to either first-time visitors or those returning there.
— Patricia Vanikiotis, associate editor/copy editor
FX Excursions
FX Excursions offers the chance for once-in-a-lifetime experiences in destinations around the world.
Turkish Airlines recently opened a new lounge in Terminal 1 of New York's John F. Kennedy International Airport. The airline operates three flights per day from the airport and now premium passengers have luxurious, comfortable and hospitable lounge amenities to enjoy in a renovated, rebranded space.
Sponsored Content
Exclusive Sailing with Global Traveler
It's time to start dreaming of your next trip. Here's some destination inspiration for you. Take a visual journey through these unique museums in Europe with us.