In a previous blog I wrote about AJ Mendez and her battle against the stigma of mental disorders and treatment. In her book Crazy Is My Superpower, Mendez revealed her struggles with her bipolar diagnosis and the societal pressures of being a young girl who never felt she fit in. Now Mendez has a new writing project in a much different form but with similar goals.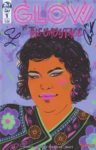 The best-selling author and former wrestling star teamed with Dexter and Lucifer star Aimee Garcia to co-write a four-part comic book series, GLOW vs. The Babyface. The comic book miniseries is based on the popular Netflix series GLOW. The ladies of GLOW take on a news anchor determined to convince all that wrestling is corrupting youth. While taking in a runaway teen, the ladies continue their mission to break stereotypes and serve as role models for young girls.
I met and talked to Mendez and Garcia before a public appearance at Challengers Comic and Conversation. Both women were excited about the project. They were both happy to see much of the crowd was women under the age of 30.
Mendez stated, "As huge fans of the Netflix series, my unicorn of a writing partner (Garcia) and I are dedicated to writing strong, hilarious, diverse female characters, and we are so happy to get our hands on the ladies of GLOW. Aimee's experience in acting and my experience in pro wrestling make us a formidable tag team with a unique perspective to truly channel the voices of these hilarious heroines. Our mission as writing partners is to represent diverse, complex and unbreakable female characters, which is why GLOW feels like the perfect fit."
There is no better fit for this mission than Mendez, who broke barriers on her way to a short but highly successful career in the ring. Refusing to bend to stereotypes, sticking with her t-shirts and high-top sneakers, Mendez rose to the top. In and out of character, she often spoke out about young women staying true to themselves and striving for more than cookie-cutter beauty. That position sometimes made her a polarizing figure, but it didn't stop her. Mendez kept gaining more popularity, especially among young girls. Even after retiring, her popularity continued to grow. Through her book and now the comic series, her voice is even stronger.
Echoing Mendez's thoughts, Garcia said, "I'm a HUGE fan of GLOW. I grew up reading comics and never saw myself represented in them, so I'm excited to explore these trailblazing characters and create the change for the next generation. AJ and I are basically writing for our younger selves."
Native Chicagoan Garcia and transplanted Chicagoan Mendez received a hero's welcome from the crowd that filled the store and stretched around the block. When asked about the appearance, both ladies expressed joy at seeing all the young ladies in the crowd. I heard both tell many young girls they were already much cooler than they had been at that age.
Both ladies thanked Global Traveler for spreading their message and keeping print alive. Mendez added, "And comic book shops are magical lands every person should discover and support."
— John Wroblewski, online writer
FX Excursions
FX Excursions offers the chance for once-in-a-lifetime experiences in destinations around the world.
Raffles Hotel Singapore delights guests with curated, immersive experiences. Coming off a restoration in 2019, the iconic property welcomes back international guests with unique offerings.
Sponsored Content
Without a doubt, the pandemic changed the role of airports in the travel industry. Hamad International Airport's role evolved in many ways since the pandemic hit. Now, more than ever, airports are responsible for creating a secure passenger experience. As the gateway to Qatar and the world, the safety and wellbeing of staff and passengers has always been at the core of Hamad International Airport's strategy.
The holidays are right around the corner and it's time to start thinking about gifts for your wine-loving friends. If you or someone you know is planning an upcoming trip to a wine region, check out Argaux. The all-women-operated and -owned online wine shop and educational platform offers a series of tasting sets to celebrate and introduce some of the best wine destinations. The Gaux-To Tasting Sets are perfect for travelers to experience the wine before they travel — or without having to travel.