The National Alliance on Mental Illness is an organization dedicated to helping those affected by mental illness. Based in Skokie, Illinois, NAMI Cook County North Suburban is an affiliate started in the early 1990s. Through classes, meetings, support groups and more, NAMI CCNS helps hundreds of families dealing with mental illness.
Last Saturday I attended the NAMI CCNS gala, Children's Mental Health−Voices Found: Tales of Discovery and Recovery. In its 12th year, the gala has raised more than $1.2 million to support NAMI CCNS's work in the north suburban Chicago area. This year the gala focused on children.
Children suicide rates are on the rise. The statistics are staggering and saddening. Nearly 50 percent of all mental illnesses begin by age 14, and 50 percent of those affected do not receive treatment. Of high schoolers, 17 percent have attempted or considered suicide, including AJ Mendez, the evening's keynote speaker.
Mendez was raised in a family struggling with poverty, mental illness and drug addiction. A misdiagnosis of depression was followed by a suicide attempt before Mendez was properly diagnosed with bipolar disorder at the age of 20.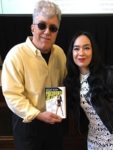 An ambassador for NAMI and the author of Crazy Is My Superpower, a New York Times best seller, Mendez spoke from the heart about her troubles. As a girl who read comic books, loved horror movies, watched wrestling and wore Chuck Taylor sneakers, she never felt she fit in. Fortunately and courageously, Mendez never caved in to societal pressures and remained true to herself, even as she entered the entertainment business.
Mendez urged anyone in need to seek help. She advised everyone to be aware of signs of struggling from loved ones and to act swiftly to get them help. She railed against the stigma of mental disorders and treatment. Mental issues are not weaknesses that should cause shame and need to be hidden. Changing society's perception is one of Mendez's goals.
It was a wonderful and moving evening. There was delicious food, fantastic auction items and great conversation, all for the important cause of the mental health of children.
— John Wroblewski, online writer
FX Excursions
FX Excursions offers the chance for once-in-a-lifetime experiences in destinations around the world.
Sponsored Content
There's no better time to plan the vacation you've been missing. Step aboard with your better half, your friends or the whole family and reconnect, reunite and rejoice with 25 percent off cruise fares for all guests. We'll also help everyone get there with 25 percent off airfare from 20 major gateways across the country or $100 savings per person on flights from all other gateways when you book your air travel using Flights by Celebrity.*