This August my husband and I celebrated our 40th wedding anniversary. The date fell during our vacation in Central Oregon, and we knew immediately where we wanted to dine on that special evening. Several years ago we attended my niece's wedding in the area, and a bunch of family members had dinner one evening together at Zydeco in Bend. The restaurant serves up hearty, Cajun-influenced American/Northwestern fare in a relaxed atmosphere in one of the old brick buildings in downtown. Our daughter and her husband had dined there earlier this year and confirmed that the food was just as good as we remembered, so Harry booked us a table as soon as we got into town.
Bend started out as a logging and mill town in the late 1800s but has become a regional hub and a small city in the heart of an outdoor recreation mecca. Over the last two decades it has seen substantial growth and attracted a number of startups and tech companies and is also well-known as a hot spot for microbreweries and foodies. The downtown core's charming older buildings overflow with restaurants, brew pubs, boutiques and galleries which attract locals and visitors alike year-round.
We found it a bit of a challenge to find a parking spot even on a weekday evening, as many of the restaurants in the area expanded their outdoor seating into the street to make up for reduced indoor seating due to COVID restrictions. Business seemed to be booming, however, at every dining establishment we passed on our way to Zydeco. They, too, had expanded their seating out beyond the sidewalk, but I was thankful we had an indoor table, as a brisk breeze had picked up on this cool, late-summer night.
The dining room boasted sleeker, more modern décor than I recalled from my earlier visit, but the staff was just as welcoming and the vibe as relaxed as before. Our server was very professional and quickly brought appropriate glasses and expertly opened the bottle of wine we'd brought to toast the evening, a 2008 Corliss Columbia Valley Cabernet Sauvignon.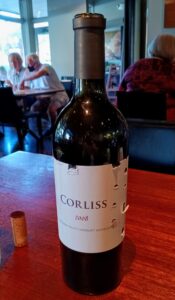 Even so, Harry always likes to check the wine list, and Zydeco has a generous list of mostly California and Northwest wines by the bottle and glass, as well as beer, ciders, nonalcoholic beverages and some fun-sounding cocktails.
Between the evening's specials and the regular menu items, we struggled to settle on our choices but finally picked some shared dishes and our entrées. We started with mussels and clams served in a rich, savory broth (garlic, saffron, white wine and ???), with delicious, crusty, grilled bread to soak up that wonderful broth.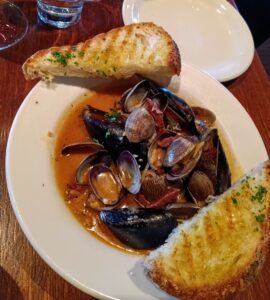 We also split an arugula and lettuce salad generously topped with fresh peaches, hazelnuts and goat cheese and drizzled in a light, refreshing Champagne vinaigrette.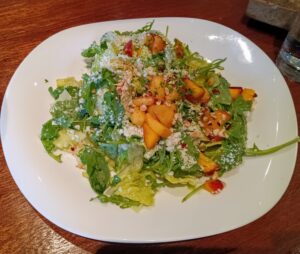 Just before our entrées arrived, a heaping bowl of roasted Brussels sprouts appeared, glazed, I think, in maple syrup.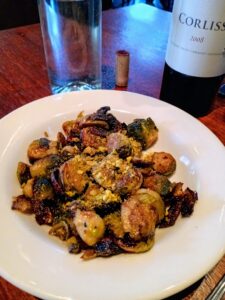 Hard to believe something so good for you could seem so decadent!
Harry ordered the jambalaya with basmati rice, quite spicy and packed with shrimp, andouille sausage and crawfish.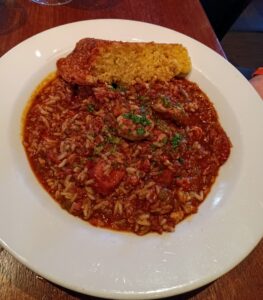 It also came with a generous slab of the house-made cornbread — a very satisfying dish. I opted for a milder but nevertheless tasty dish of jumbo prawns on a bed of rich risotto and accompanied by tender spears of asparagus.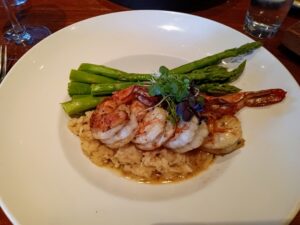 There is nothing worse than overcooked, rubbery prawns, but these were cooked to perfection and beautifully seasoned.
We were just too full to be able to contemplate dessert right then, but our daughter had told us the carrot cake was to die for, so we ordered a piece to take with us for later. We thoroughly enjoyed every bit of our meal, and we found our rich, full-bodied wine paired well with the complex flavors of the dishes we chose. And we got a lovely surprise when our server told us our daughter and son-in-law had arranged to gift us our meal as an anniversary present. What a wonderful end to a perfect evening!
— Patty Vanikiotis, associate editor/copy editor
FX Excursions
FX Excursions offers the chance for once-in-a-lifetime experiences in destinations around the world.
Galataport Istanbul, a new cruise and lifestyle destination on the Bosphorus in Istanbul, welcomed its first ship, SeaDream II, on Oct. 1. Approximately 150 passengers and crew from Bulgaria Varna arrived at 10 a.m. for a two-day homeport operation before continuing to Bulgaria Burgaz.
Sponsored Content
Since its prestige for attracting the world elite grew in the 1960s, Greece remains the go-to destination for glittering holidays. Each step of the journey is enrobed in luxury, from culinary traditions with the highest standard of execution and name-brand, high-end shopping to first-rate wellness locales and elite accommodations, like 5-star hotels, private villas and yachts.
The countdown to Halloween weekend is on! Are you are still unsure about plans? Do you go to a house party? Stay in to hand out candy? Try something different this year and join Philadelphia's  The Mütter Museum at its 6th annual Mischief at The Mütter.