My husband and I have just returned from a 10-day vacation in Central Oregon. We stayed at Eagle Crest Resort, located just outside of Redmond and about 20 minutes from Bend. This part of the state is considered high desert, with less than 12 inches of precipitation annually and 300 days of sunshine. Don't let the term "desert" lead you to believe it's all sand and cactus, though. In fact, there are no cacti, but mixed forests of pine and juniper (some very old and fascinatingly gnarly)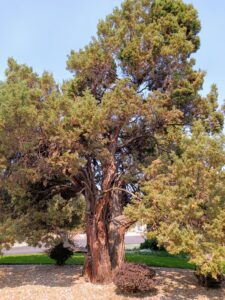 cover large areas, interspersed with sage and irrigated crop and grazing land.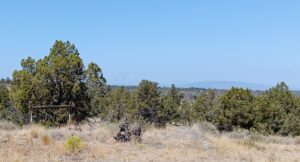 The elevation of the area averages more than 3,ooo feet, so winters are snowy and summer days can be quite warm, but most nights cool off quickly. The landscape was formed by lots of volcanic activity, so one can climb 10,000-plus-foot mountain peaks, explore lava tubes, fish or white-water raft rivers, and scale sheer rock faces. In the winter one can snowshoe and cross-country ski, and there is snowboarding and world-class downhill at Mt. Bachelor, where the U.S. Olympic ski team trains on the excellent powder.
The resort at Eagle Crest offers lots of other recreational activities. Foremost is golf: With three 18-hole courses
and one 18-hole putting course (and an unlimited golf package), it's a golfer's paradise.
Even if you're not a golfer, there's plenty to do over the 1,700 acres of the resort. Most mornings I enjoyed strolling a portion of the 18 miles of walking and biking trails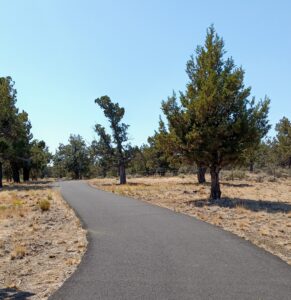 that loop around the golf courses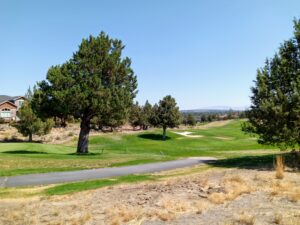 and through the neighborhoods. (I like to check out the beautiful homes and landscaping throughout). The three sports centers located at different areas of the resort offer a range of fitness classes; cardio and weight equipment; and various indoor and outdoor sports courts: raquetball, pickleball, basketball, volleyball and tennis. There are game and bike rentals, three outdoor pools and one indoor pool, hot tubs, kids' playgrounds and wading pools, and (when pampering is required) a full-service spa.
The resort offers a wide range of accommodations, starting with the lodge with its guestrooms and suites, meeting and events spaces, café and restaurant. Beyond that, vacation rentals offering two to four bedrooms include stand-alone three-bedroom chalets, townhouses, vacation homes and custom homes. We stayed in one of the chalets (through our ownership in WorldMark by Wyndham) and loved the space and privacy it offered. Upstairs lay the master suite and a loft area open to the living space below. The great room featured a gas fireplace and soaring windows, with access to the large deck boasting a gas grill, tables and chairs and our own hot tub. The dining room's large table easily accommodated eight, and the kitchen, though not huge, was equipped with all the basics. A full bath was shared by two additional bedrooms, and we really appreciated the full-size washer and dryer also provided.
The house, surrounded by green lawn, backed onto a large pond that drew a doe and her fawn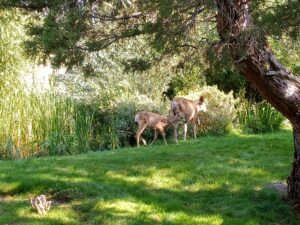 nearly every day and was home to ducks and frogs. It was the perfect set-up for our visiting grandkids, giving them a place to run, play and explore.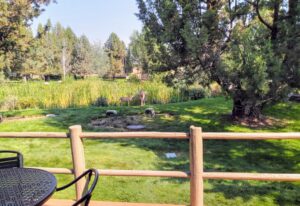 We've visited Eagle Crest and this part of Oregon in the past, and we are sure we'll be back in the future. We love the weather, the beautiful landscapes and views, the range of activities available, and the food and drink options in the area. If you're looking for a great domestic vacation option, consider Central Oregon. With six airlines serving Redmond Airport connecting to 11 destinations, it's easy to get to . . . but you'll find it hard to leave!
— Patty Vanikiotis, associate editor/copy editor
FX Excursions
FX Excursions offers the chance for once-in-a-lifetime experiences in destinations around the world.
Galataport Istanbul, a new cruise and lifestyle destination on the Bosphorus in Istanbul, welcomed its first ship, SeaDream II, on Oct. 1. Approximately 150 passengers and crew from Bulgaria Varna arrived at 10 a.m. for a two-day homeport operation before continuing to Bulgaria Burgaz.
Sponsored Content
Since its prestige for attracting the world elite grew in the 1960s, Greece remains the go-to destination for glittering holidays. Each step of the journey is enrobed in luxury, from culinary traditions with the highest standard of execution and name-brand, high-end shopping to first-rate wellness locales and elite accommodations, like 5-star hotels, private villas and yachts.
The countdown to Halloween weekend is on! Are you are still unsure about plans? Do you go to a house party? Stay in to hand out candy? Try something different this year and join Philadelphia's  The Mütter Museum at its 6th annual Mischief at The Mütter.