When I was growing up, my siblings always reminded me they dreaded my birthday because it meant the end of summer and the start of a new school year. My birthday is Sept. 3 and typically falls somewhere within the Labor Day holiday weekend or sometimes right after — on the first day of school. I'll never forget the feeling of wanting an everlasting summer vacation while anxiously waiting for my birthday to arrive.
Now that we are all adults, I think everyone looks forward to the long holiday weekend, and we can all enjoy time together, reminiscing on the summer that is now behind us and awaiting autumn weather and football season.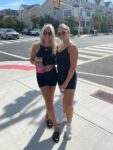 This year was especially exciting as my family filled our beach rental home to squeeze out every ounce of sunshine left in the summer 2022 season. We packed as many family members and friends as we could on beds and air mattresses for Labor Day weekend celebrations that would include a 25th birthday party for me, hosted by my mom and two sisters.
I celebrated with my best friend, Kennedy, who flew in from Nashville for the weekend; my family; boyfriend; and other friends that swung by for a cheers. The day was complete with hours spent on Margate Beach, followed by happy hour and a catered dinner from Barrels.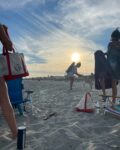 Sunday brought a lot of lying around for the group as we got ready to pack up the rental home that filled with sand trickled in from the beach and countless post-sun naps for two months. We took one last trip to the beach with our puppy, Kahlua, to say goodbye to the shoreline for the season. While I was very grateful to have had this place to escape to, I am very much looking forward to soup season and pulling out my biggest sweaters from storage.
— Haley Fogarty, advertising manager
FX Excursions
FX Excursions offers the chance for once-in-a-lifetime experiences in destinations around the world.
Crystal Bridges Museum of American Art, located in Bentonville, Arkansas, presents Diego Rivera's America, the first major exhibition focused solely on the Mexican artist in more than 20 years, on view until July 31. Crystal Bridges is the second and final stop for the exhibition, the only remaining opportunity for visitors to experience Rivera's expansive vision of America.
Sponsored Content
Whether it's the people, the craic (fun) or the coasts, travelers always find something to love about the island of Ireland. What fills your heart?
In San Antonio, Texas, old buildings are seldom destroyed. When they fall into disrepair, they are instead repurposed and restored to maintain the city's history and traditions for future generations to appreciate. Whether it's a former brewery or bank transforming into a chic hotel or a candy factory evolving into stylish lofts, this Texas city embraces both history and sustainability.