Bilbao doesn't fit the usual tourist images of Spain: flamenco dancers, hilltop castles, Moorish palaces. In fact, until 20 years ago, this gritty industrial port on Spain's north coast was hardly known to tourists at all.
Now more than a million visit each year, and the city's name is synonymous with the travel trend it created — architourism. As if that were not enough, the city also gave its name to an economic phenomenon known as the Bilbao Effect.
How did Bilbao transform itself from an ugly, run-down industrial wasteland to a glittering city where tourists come just to stand and marvel at its buildings and bridges? It's a story of foresight and vision, and one that elevates risk-taking to a fine art.
The ambitious redevelopment program began in the late 1980s with a new airport and a stunning footbridge, both designed by acclaimed architect Santiago Calatrava. Then a performance and convention center, the Palacio Euskalduna, was erected on the riverside site of the former shipyard. Following discussions with the Guggenheim Foundation, work started in 1993 on Frank O. Gehry's design for a building that would knock the socks off the architectural world. The reaction to the opening of Guggenheim Museum Bilbao in 1997 surpassed the city's wildest dreams; within only three years, revenue generated by Gehry's masterpiece more than exceeded its cost.
The result is a city not just beautiful but fun to visit, and a perfect choice for a group of friends with different interests. It's not so big that the choice of activities is overwhelming or the attractions hard to get to, but it's diverse enough to please a variety of tastes. Because Bilbao is relatively small and manageable, it's easy for art lovers, modern architecture fans, history buffs and fashionistas to go their own ways and meet for a typically late Spanish lunch before regrouping for afternoon explorations.
Whether or not your traveling companions like art or architecture, they will certainly want to begin at the Guggenheim, walking around its undulating walls to watch the curving golden panels shimmer in the sunlight as the building itself seems to move and drift above the river. Inside, soaring galleries showcase changing exhibits and dramatic installations of non-traditional art. One permanent exhibition, however, is Richard Serra's The Matter of Time, a series of pressed steel sheets that rise in double-torqued ellipses that visitors walk through.
An outdoor gallery of sculpture surrounds the building. Sitting in front as though waiting to be scratched behind the ears is a 40-foot Highland terrier, completely covered in live flowering plants. Jeff Koons' Puppy, whose colorful floral skin changes with the seasons, arrived as a temporary exhibit but proved so popular with locals the city purchased it as part of the Guggenheim's permanent collection.
The Guggenheim may be the star, but it's certainly not Bilbao's only architectural blockbuster. Along with Calatrava's striking Zubizuri Footbridge and metro station canopies by Norman Foster, look for historic architectural landmarks. A couple of blocks from the Guggenheim, the leafy Jardines de Albia fill a square surrounded by Art Nouveau buildings that include Café Iruña (a good stop for coffee and pastries). And two blocks away, along the Alameda Recalde, find a more over-the-top Art Nouveau example, the Montero House.
Named a UNESCO World Heritage site for its historical architecture and engineering, the Vizcaya Bridge was the world's first to carry people and vehicles on a high, suspended car. This outstanding invention of the Industrial Revolution, more than 150 feet tall, remains in use today.
Nor is the Guggenheim the city's only art museum. The outstanding Museo de Bellas Artes bursts with priceless art — medieval woodcarvings; paintings by Spanish masters El Greco and Goya; and works by Cézanne, Gauguin and Mary Cassatt, as well as by 20th-century Basque and Spanish artists. Its shop makes a good place to find classy gifts and souvenirs.
Bilbao's preoccupation with art and design extends into the world of fashion — and even shopping. Perhaps the greatest of all couturiers, designer Cristóbal Balenciaga, was born only 15 miles away in the charming little seaside town of Getaria, where the Balenciaga Museum's collection of 1,200 pieces includes several outfits made for Princess Grace of Monaco.
Contemporary Basque designers carry on his tradition, and fashionistas can shop for their works in Bilbao. View the collection of Alicia Rueda in a gift-wrap setting of her signature pink bows at Concha General 4, and the colorful, fun-loving fashion designs of Iratxe and Olatz in Traka Barraka at Cinturería 1. Gran Vía, between Plaza Abando and Plaza Moyua, is the main shopping street, with Zara, H&M, Mango and El Corte Ingles department stores.
Explore Bilbao and the region's long, colorful past at the Basque Museum in the heart of the oldest part of town, the Casco Viejo. Exhibits on fishing, farming, traditional crafts and Basque culture draw from the 20,000 artifacts that make up the collections, some dating back to Iron Age settlements. The Casco Viejo is Bilbao's medieval heart, where centuries ago pilgrims followed the legendary Camino de Santiago, the route of St. James to Santiago de Compostella. Look in these narrow old lanes for scallop-shell tiles leading the way beneath overhanging balconies and shuttered porches to the Cathedral of St. James, with its carved stone portal and peaceful cloister.
However they spend their sightseeing time, visitors love the food in Bilbao, where traditional Spanish tapas take on new forms and meaning in hearty little snacks called pintxos. Deep in the Casco Viejo, Plaza Nueva offers a good place to pause and sample some. Café tables sprawl out from the sedate Neoclassical arcades that surround the square, built in 1849. In the afternoon and evening these are lively with locals enjoying their pintxos with a glass of local Txakoli, a slightly effervescent white wine.
There's a lot to like in Bilbao … after all, you have to love a city that embraces as its own a giant puppy sculpted of flowers.
Bilbao Info to Go
Iberia Airlines flies daily from several U.S. hubs to Madrid (MAD), where multiple daily flights connect to Bilbao Airport (BIO), whose elegant terminal was designed by Santiago Calatrava. Transport into the city ranks among the easiest and least expensive of any in Europe, with buses leaving the airport every half hour 6 a.m.–midnight. Taxi fare into Bilbao costs about €25 (about $28).
Where to Stay in Bilbao
GRAN HOTEL DOMINE BILBAO The best views of Guggenheim Bilbao may well be from the rooftop breakfast terrace or any front guestroom of this smartly designed hotel just across the street. Alameda de Mazarredo 61 $$$
HOTEL MIRÓ Also opposite the Guggenheim — and the work of premier fashion designer Antonio Miró — this intimate boutique hotel pampers guests with a spa. Alameda Mazarredo 77 $$$
NH COLLECTION VILLA DE BILBAO In a prime location on Bilbao's most fashionable shopping street, this stylish lodging sits just a five-minute walk from the atmospheric old town. Gran Vía 87 $$$
Restaurants in Bilbao
CASA RUFO Enjoy the fine cuts of meat expertly prepared and served in dining rooms behind a food emporium and wine shop. Calle Hurtado de Amezaga 5 $$–$$$
RESTAURANTE PORRUE The skilled Basque chef artfully blends local seafood, vegetables from the restaurant's own fields and other area ingredients. Alameda Recalde 4 $$
ZORTZIKO Wild mushrooms stuffed with foie gras, partridge braised in bitter chocolate, shrimp scented with roses … expect the unexpected at this stylish restaurant. Alameda de Mazarredo 17 $$$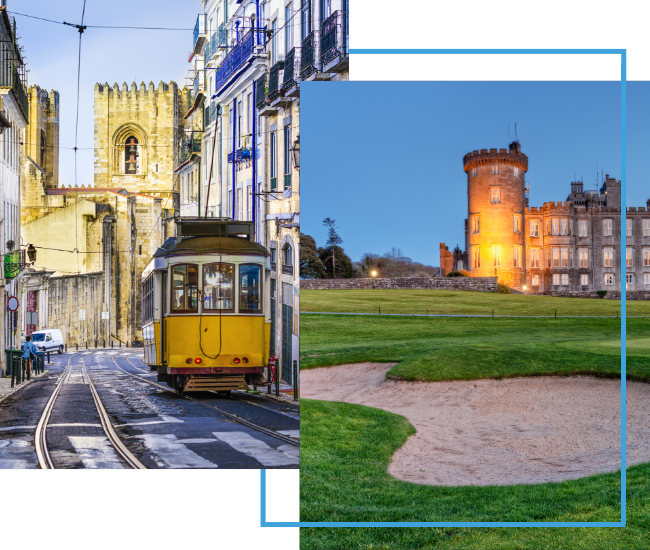 FX Excursions
FX Excursions offers the chance for once-in-a-lifetime experiences in destinations around the world.
Explore Excursions
For the first time in Olympic history, when the 2024 Summer Olympics kick off on July 26, 2024, they will not do so in a stadium. Instead of an Olympic venue, the entire city of Paris will become the Olympic stadium, hosting the games among monuments, on bridges and on the grounds of some of the world's most historic sites. The Opening Ceremony will take place on the River Seine, where athletes will drift along on a flotilla of boats as spectators wave them on from the quays and bridges throughout the city.
Sponsored Content
Are you looking to enhance your business trip with a little leisure? Look no further than Portugal, a country renowned for its captivating blend of history, culture and natural beauty. And with TAP Air Portugal, you can effortlessly transform your business trip into an unforgettable bleisure adventure. Discover why Portugal and TAP Air Portugal are the perfect combination for an enriching and rejuvenating experience.
Hilton Istanbul Bosphorus launched a major reconstruction and redesign project in January 2023. Its completion date is set for 2025 to coincide with the 70th anniversary of the star-studded hotel debut, which took place June 10, 1955, after only 21 months of construction. Happily, the hotel will retain its urban resort ambiance, complete with its lush sprawling gardens and iconic pool.