One of the most remote cities of North America, Anchorage nonetheless sits at the crossroads of continents and proves as unique as the wildlife and glaciers that surround it. At 1,706 square miles, the city spans an area larger than the state of Rhode Island, with a population of just 291,000. With a half-million-acre state park within the municipality, Anchorage offers easy access to outdoor activities like biking, camping, horseback riding, off-roading and snowmobiling.
Boasting the world's busiest seaplane base, Lake Hood is far more than a novelty, providing the supply chain and lifeline of the many remote oil rigs, hunting camps and fishing lodges that rely on charter flights for food, equipment, personnel and supplies. Most visitors to Anchorage, however, arrive at Ted Stevens Anchorage International Airport, serving more than 5 million passengers annually and receiving scheduled flights from Asia to the west and Europe to the east, with reliable service from hubs across the United States. Situated almost equidistant from Tokyo, Frankfurt and New York, the airport also serves as a critical hub for FedEx. Warmed by the Pacific marine climate even in the coldest months, the city registers relatively mild mean temperatures for its latitude. Travelers visit Anchorage year-round, often via cruise ships in the warmer months.
In mid-2022 Anchorage will welcome a new airline, Northern Pacific Airways. With Anchorage as its hub, it will connect Asia to the Lower 48. As an added incentive, the carrier will offer stopover options in Anchorage, allowing passengers to explore the city between flights.
The city also welcomes new and expanded hotels and meeting space, including the grand opening of Aloft Anchorage, anticipated for 2023. This 146-room, contemporary boutique hotel will feature the latest connectivity, a 24-hour fitness center and a recharging pool. Meanwhile, Marriott Anchorage Downtown recently completed a comprehensive renovation including a redesign of all 392 guestrooms, dining options and meeting space.
The Iditarod Trail Sled Dog Race, perhaps Alaska's most famous event, will celebrate its 50th anniversary this year, covering more than 1,000 miles of snowy Alaskan terrain. The ceremonial start is scheduled for March 5 in downtown Anchor- age, with the March 6 official start near Willow. More than 50 teams are expected to compete this year. Typically, the sleds take from eight to 14 days to reach Nome.
Anchorage plans to establish a portion of Fourth Avenue as the Anchorage Mushing District. Permanent attractions will honor the sport and famous dogs with a designated Hall of Fame. This spring and summer are anticipated to be the busiest for tourism in Anchorage history, with new airlines, ships and cruise lines sailing to and from the city, bringing almost 1.6 million passengers to Anchorage and Alaska.
SCENIC DRIVES
From Anchorage, roads are few and far between; in fact, the entire state has only nine designated highways. But travelers who venture from the convenience and comforts of Alaska's largest city will discover many rewards.
If you don't want to navigate by rental car or tour bus, the Alaska Railway provides a comfortable alternative. Opt for the famous railroad from Anchorage north to Denali National Park & Preserve, home of Mount Denali, the highest peak in North America. From there head to Fairbanks, with a stop in historic Talkeetna. Relax and enjoy the scenery from your luxury domed rail car — watch for wildlife and wild rivers teeming with salmon.
Drive south from Anchorage to Portage Valley on Highway 1 (the Seward Highway), along the Turnagain Arm of Cook Inlet, and you'll encounter beluga whale sightings, eagles in flight, Dall sheep grazing above in the mountains and Arctic terns cruising over the bay. Stop for an easy hike on the Trail of Blue Ice and then visit Alaska Wildlife Conservation Center. In Whittier you can take a day cruise on Prince William Sound, gateway to more than two dozen glaciers and home to marine wildlife galore. Then see Portage Glacier up close and personal.
Alaska's Glenn Highway will take you north and east to Eagle River and on to glacier-fed Eklutna Lake, where you can bike, kayak or rent an ATV. But allow time for two important stops. First, the Alaska Native Heritage Center provides an excellent place to experience native culture established long before Anchorage existed. Native artifacts and guides bring life to exhibits and arts from the indigenous people of Alaska. Then on to Eagle River Nature Center for a chance to get up close to local wildlife and hike trails accommodating all levels of ability. If you have time, stay north on Highway 3 heading toward Denali National Park.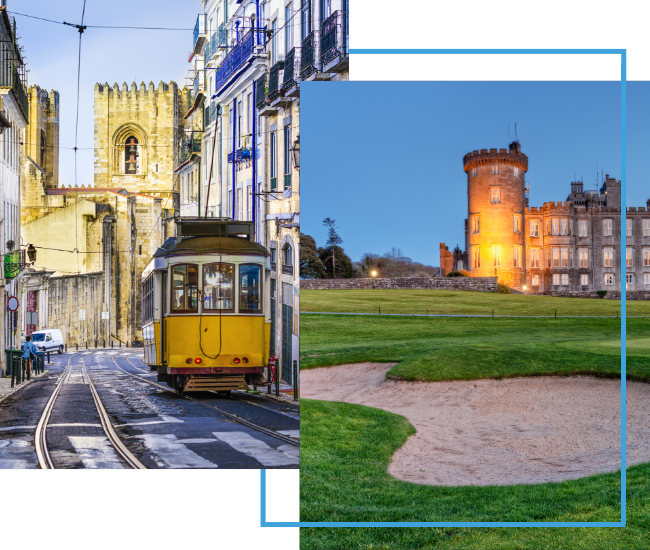 FX Excursions
FX Excursions offers the chance for once-in-a-lifetime experiences in destinations around the world.
Explore Excursions
If fabulous food and beverages are a must-have for any weekend getaway, then look no further than the City of Brotherly Love. Whether your palate has a penchant for vibrant Latin American fare or cozy French cuisine, whether you're an oenophile looking to swirl, sniff and sip your way around the globe or you'd rather sample farm-to-glass cocktails, Philly's got it all this fall. (With the exception of Bolo, which is a short taxi or Uber ride away and definitely worth the trip, the rest of these spots are all within walking distance of each other.)
Sponsored Content
Learning more about our readers' travel habits and preferences ensures Global Traveler delivers the content you desire. As the travel industry has adapted and changed over the last few years, it's more important than ever to connect. To best meet your short- and long-term travel content needs, please help us!
From Santoríni to Dubai to New York, some hotels just have that "it" factor that draws visitors far and wide. For some hotels it's their proximity to popular landmarks and attractions, for others it's their amenities. But these hotels have something few can claim: a true room with a view.