In 1928 a group of New York businessmen known as "The Forty Millionaires" assigned A.W. Tillinghast to design and construct the Aldecress Golf Course on the New Jersey site that is now Alpine Country Club. One of the most prolific golf course architects of his time, Tillinghast designed 265 courses, among them The Black Course of Bethpage State Park, The Ridgewood Country Club and Winged Foot Golf Club. Global Traveler has reviewed many a Tillinghast design, including Scarsdale Golf Club (August 2009) and Sleepy Hollow Country Club (January 2015). To top it off, Tillinghast, like yours truly, was a Philadelphia native who spent most of his career in New York.
In 1960 the course was sold and renamed Alpine Country Club. More recently, a significant project restored Tillinghast's vision and style and improved irrigation and turf quality. The beautiful new clubhouse alone cost $18 million.
I played Alpine Country Club as part of Inside Access from Chase, a program in which select JPMorgan Chase cardholders can participate in events all over the country, from culinary experiences and concerts to golf. (Sign up before events are sold out by frequently visiting insideaccess.com.)
Legendary golf coach Hank Haney brought this fantastic golf event to a new level. Haney shaped Tiger Woods into the player we all knew and loved and then followed him through his slide. Not only did Haney have great stories plus a question and answer period after dinner about Woods and golf, but he also spent time with each golfer at Hole 1 for an encouraging golf swing analysis and coaching. Where else can players get a one-on-one session with the best golf coach in the world?
We started the day with a group clinic with Haney and an introduction from David Gold, general manager for partnerships, Chase, who spearheaded the successful launch of the United MileagePlus Club Card from Chase. The card is popular with the readers of Global Traveler. As a parting gift, we each received an autographed copy of Haney's bestselling book, The Big Miss: My Years Coaching Tiger Woods.
I joined two Chase cardholders, Don and Tom, and Andrew Marler of Facebook, with whom I played at a previous Inside Access golf event at Pebble Beach (June 2015). I nicknamed Andrew "Wonder Boy" for his graceful and powerful swing, which helped our team greatly in the tournament.
HOLE 1 | 418 yards, par 4
According to Haney, my swing was a little inside-out, a common problem; about 80 percent of golfers have this swing, which causes their drives to drift right (or that nasty word, slice). Haney's suggestion was not to change my takeaway or backswing but to come through with a corrective swing strong and through the ball, turning fully with the shot and pivoting my right foot in the follow-through. Haney does not believe in slow, cautious swings but in deliberate and powerful swings. Some of his greatest commentaries were, "What sport tells you to go slow and back off?" and "You are not swinging too fast."
From the tee box, take proper aim, as the box positions golfers to shoot right, which is lined with tall pine trees. We played a modified scramble in which we selected a drive on each hole and then played our own balls to the green. Wonder Boy slammed a great shot to the center of the fairway favoring the left; Haney was impressed. From here I was able to contribute to the team effort with a nice lob wedge just beyond the hole, which sits in typical Tillinghast fashion elevated with a left trap and a "death area" falling sharply into a ravine. Don's ball disappeared into this abyss, but I secured a team birdie for the card.
HOLE 2 | 391 yards, par 4
I found this not particularly long or difficult hole pleasing in its design and hit a decent "Haney" drive, to boot. The dogleg right features a beautiful lily pad-filled pond just in front of the green. I landed in front of the pond and about 80 yards from the green. The green's false front fooled me, and I landed short and on the right side but puttable. The rest of the team had some glory and mishaps, overputting the fast green but securing a par. The beautiful stone clubhouse sits as a backdrop to the green.
HOLE 7 | 601 yards, par 5
This is deemed the most difficult par 5 on the course, but it offers a beautiful backdrop of Western Bergen County. The boys wanted to power away with super drives, but all four of us took various degrees left, some more harsh than others. Wonder Boy's ball, still slightly left and in the rough, was the best option for a clean shot back to the fairway. A few good slams with our fairway woods got the team back into position for another par. The green plays right on the number, no more, no less — trust the yardage. Avoid the bunkers in front at all costs.
HOLE 14 | 311 yards, par 4
Fourteen was the final hole we played on our rotation at Alpine. We had a great day of golf, met some good friends and learned a great deal at a lovely course. We decided to let the balls fly and swing hard as Hank Haney instructed. I hit a great drive, landing on the right side of the fairway about 90 yards from the elevated green, which is tucked on the right side. Wonder Boy went for the green using a 5-wood, resulting in hoots and hollers from the rest of us. Don put one in the trap on the left side of the fairway, and Tom came up a little short on his drive. With adrenalin pumping, everyone except me went to the green to assess WB's drive, only to find it overpowered the green and was lost in the bushes behind. I called them back to the fairway, where I reminded them they were playing my drive. We ended the round with another birdie for the team and came in second place for the outing. A great day of golf thanks to Inside Access from Chase, it culminated in a culinary showcase from the Alpine team.
ALPINE COUNTRY CLUB
80 Anderson Ave.
Demarest, NJ 07627
tel 201 768 2121
alpinecc.org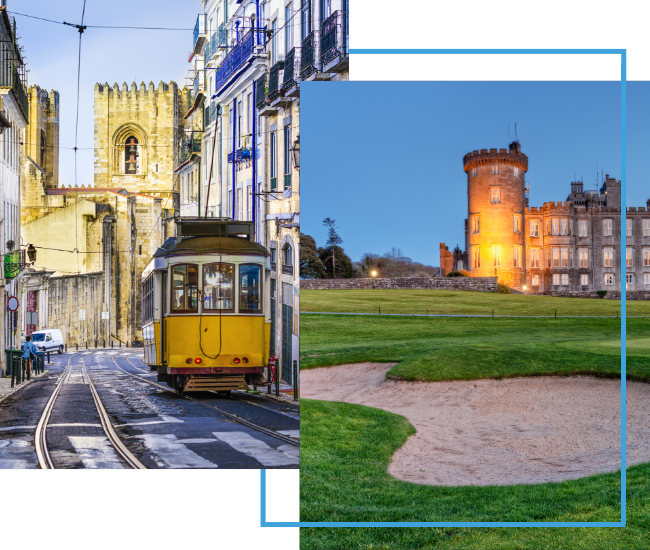 FX Excursions
FX Excursions offers the chance for once-in-a-lifetime experiences in destinations around the world.
Explore Excursions
If fabulous food and beverages are a must-have for any weekend getaway, then look no further than the City of Brotherly Love. Whether your palate has a penchant for vibrant Latin American fare or cozy French cuisine, whether you're an oenophile looking to swirl, sniff and sip your way around the globe or you'd rather sample farm-to-glass cocktails, Philly's got it all this fall. (With the exception of Bolo, which is a short taxi or Uber ride away and definitely worth the trip, the rest of these spots are all within walking distance of each other.)
Sponsored Content
The Global Business Travel Association (GBTA) believes business travel is a fundamental force for good and brings the industry together to connect, innovate and set new standards. With members from across the globe, GBTA engages the many voices of business travel to build a collective future, providing a platform for buyers and suppliers to come together, connect with peers, grow their network and shape the future of the industry.
From Santoríni to Dubai to New York, some hotels just have that "it" factor that draws visitors far and wide. For some hotels it's their proximity to popular landmarks and attractions, for others it's their amenities. But these hotels have something few can claim: a true room with a view.