PASSENGERS CRUISING THOUGH Minneapolis-St. Paul International Airport tend to do a double-take as they pass a treadmill with a large desk in Concourse C parked alongside a bright window overlooking the airport's light rail. A "Welcome to Walkway" sign offers a bit of privacy for treadmill users while also explaining the exercise equipment's offerings: free walking, device charging, internet access. This obviously isn't your normal treadmill. For one, the machine's maximum speed is only 2 mph, but the payoff is worth it for passengers who will soon be sedentary in airplane cabin seats. The benefits of walking are endless, even helping work performance. Researchers at the University of Minnesota discovered walking while working improves the quality and quantity of work and interactions among colleagues. What better place than an airport to help travelers produce better work, burn a few calories and boost their moods? It's an ideal combination.
Passengers not needing internet access can also take advantage of the airport's Start! Walking program, sponsored by the American Heart Association's nationally recognized Start! Walking campaign and designed to offer Minneapolis-St. Paul International Airport customers a way to stay fit while traveling. The 1.4-mile walking path offers a tour of Terminal 1-Lindbergh.
This isn't the only airport putting a spin on fitness. Indianapolis International Airport also teamed with the American Heart Association to create five walking paths routed both pre- and post-security. The walking paths range from 0.23 to 0.52 miles or 1.04 miles roundtrip between the A and B gates.
Phoenix Sky Harbor International Airport presents the Sky Harbor Fitness Trail, created in partnership with FitPHX, an initiative to get local residents moving. The airport's trail runs from Gate A30 to Gate D8 and offers a variety of sightseeing opportunities including the Phoenix skyline, FAA Control Tower, PHX Sky Train bridge, Air National Guard, local scenery such as Camelback and, naturally, plenty of plane-spotting.
Yearning for yoga? "There are certain airports that are extra-accommodating to passenger health and fitness needs, such as San Francisco International Airport (SFO)," says Collette Stohler, creative director, Roamaroo.com. Indeed, tense, frazzled or overstimulated passengers are finding some airports provide complimentary Zen-like spaces for stretching, yoga or simply relaxing. "Head to the SFO Yoga Room during a long layover to stretch, work out or even if you just need a little shavasana. Then head to the AMEX Centurion Lounge for some healthy snacks," says Stohler. The airport describes the rooms in terminals 2 and 3 as "space devoted to relaxation, self-reflection and practicing yoga."
Dallas/Fort Worth International Airport boasts not one but two Yoga Studio locations. The first studio is in Terminal B (D40/B1) and the second in Terminal E (E31) with a view of arriving and departing planes. Travelers can take advantage of complimentary mats, exercise balls and stretch bands as well as 20-minute-long beginner and advanced instructional videos.
Vermont's Burlington International Airport takes pride in the new space offered by Vermont Evolution Yoga. Located on the second floor, the room allows travelers to stretch or relax between flights in the quiet ambience. A family bathroom complete with a shower is located across from the Observation Tower.
The traveling public can also find a quiet place at Raleigh-Durham International Airport. The Meditation Room makes an ideal space for reflection, meditation and prayer. Always open, it is located pre-security on the ticketing level of Terminal 2.
Passengers with long layovers who wish to break a sweat are in luck, too. Hilton Chicago O'Hare Airport is the only hotel directly connected to Chicago O'Hare International Airport via underground walkways and offers day rates for travelers to get in a workout at the hotel's fitness center. Airport guests are invited to utilize the facilities which include an 8,000-square-foot fitness center complete with weight room and cardio machines, indoor lap pool, sauna and full-service locker room.
New on the airport scene is ROAM Fitness. Cynthia Sandall and Ty Manegold, who met at the University of Oregon while getting their MBAs, founded this brilliant brainchild. The active pair were frustrated but also inspired by the lack of healthy options available at airports. Knowing there was demand, Sandall and Manegold developed a plan to combine air travel and fitness. The end result is ROAM Fitness, which opened last year in Baltimore-Washington International Airport in the new connector between concourses D and E. Members have access to state-of-the-art equipment. Lululemon Athletica activewear is available for rent and is included in the price of a pass purchase. In addition to fitness offerings, travelers will find healthy food and beverage items and showers operated via a reservation system to guarantee members arrive at their gate on time. What's especially impressive, ROAM can vacuum-seal used clothing for the purpose of keeping odors limited. The cost? Day pass: $40; month: $175; annual: $600.
Health-conscious airports aren't limited to the United States. Toronto Pearson International offers the GoodLife Fitness, 10,000-square-foot facilities for $15 per person, per day. GoodLife members with all Club access memberships are welcome to use the Toronto Pearson Club as a part of their membership. Clothing and shoe rentals are available for rent for $10. Expect a full workout between strength training and cardio equipment with personal viewing monitors.
While shoulder massage offerings aren't new in airports, some locations are welcoming full-service spas. Emily Bernard, co-founder, PlacePass.com, recommends the Airport Wellness Oasis in Singapore Changi Airport's Terminal 1, East Lounge. Travelers can indulge in massages, foot reflexology, manicures and pedicures or try the spa's signature Fish Spa.
The Hilton Munich Airport (located on site, between terminals 1 and 2) is home to the Fit & Fly Spa, says Bernard. The spa menu includes a variety of massages and treatments, while guests can also use the steam bath or sauna with separate areas for ladies and gentlemen. There is no need to be a hotel guest, as travelers can purchase a two-hour spa card.
Travelers hoping to complement their fitness efforts with healthy eating options may get a little nervous facing airport food courts, but Lindsay Mersereau of YourFitTrip.com is the guru of healthy airport options and says not to fear. Many airport venues are offering travelers better alternatives to greasy fast food. "Places like Hudson News and Cibo Market are placing an emphasis on healthy options versus candy and snacks by adding more fresh fruit, salads, healthy bars and protein drinks to their shelves," Mersereau says, "Some airports have juice bars, salad bar-only options, frozen yogurt and other healthy concepts — but there is no pattern as to which airports have what. Notable mentions include the Farmers Market at Chicago O'Hare and Charlotte, N.C.; The Plant Café in San Francisco; and Camden Food Company in JFK. The best thing travelers can do is look up the options ahead of time to assess their best options."
As Confucius says, "Wherever you go, there you are." And, we hope, wherever you go caters to your health, wellness and fitness needs.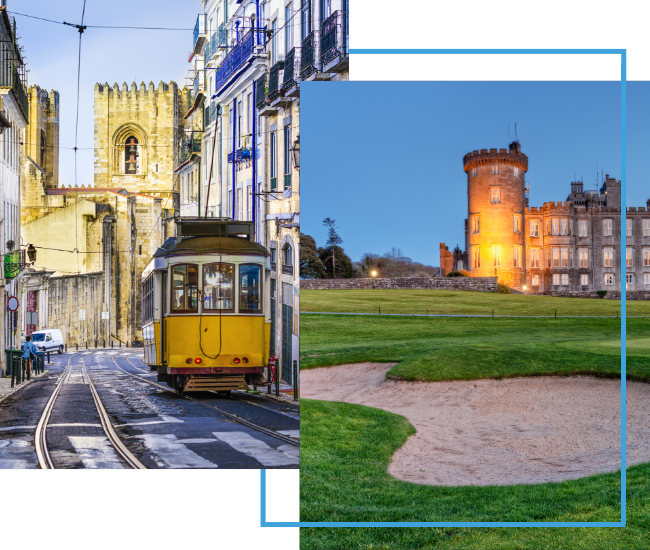 FX Excursions
FX Excursions offers the chance for once-in-a-lifetime experiences in destinations around the world.
Explore Excursions
There may not be snow in Los Angeles this season, but Waldorf Astoria Beverly Hills is certainly full of the holiday spirit, with Christmas, Hanukkah and New Year's events happening in the hotel's gorgeous event spaces.
Sponsored Content
Learning more about our readers' travel habits and preferences ensures Global Traveler delivers the content you desire. As the travel industry has adapted and changed over the last few years, it's more important than ever to connect. To best meet your short- and long-term travel content needs, please help us!
Looking for fun things to stuff into the toe of a few holiday stockings? Here are some great choices: