Hot, safe and delicious. According to Michael Henny, managing director, Onboard Services Operations, Delta Air Lines, that's the goal of the company's in-flight catering program, which serves meals to thousands of passengers hurtling through the sky each day. And while the COVID- 19 pandemic certainly made getting meals from the kitchen to the tray table even more complicated, Henny chooses to look at the changes wrought by the pandemic as an opportunity. "Bringing things back after COVID was almost like starting with a blank slate," he said. "We were really able to focus on what customers want, which, conversely, is food that's exciting but familiar and healthy but indulgent."
One way Delta provides customers with the experience they desire is by working with local vendors who can help the airline translate regional tastes into something that can be replicated on an airplane. "The next generation of menus will have been created with a lot of experimentation," noted Henny. "We need to make sure it works within the confines of what we can deliver consistently."
The airline recently returned to serving coursed meals in Delta One.
Union Square Events, the catering and venue hospitality division of Danny Meyer's Union Square Hospitality Group, which includes New York's Union Square Cafe and Gramercy Tavern, is one of Delta's partners to serve restaurant-quality meals to passengers departing from New York's John F. Kennedy and LaGuardia airports. The decade-old partnership got its start when Delta approached Meyers about serving dishes from Blue Smoke, the company's barbecue restaurant, on certain flights. The resulting partnership proved such a success, before long Delta began rotating menu items from several Union Square restaurants onto its planes.
Today, Union Square Events includes a team dedicated to developing menus for Delta. Brett Romberg, associate director of culinary operations, Union Square Events, said creating menu items that can withstand the kitchen-to-plane gauntlet poses more hurdles than expected. "It's amazing what you have to think through," he said. "We created a fabulous short rib dish that we just knew would be a hit; but when we tried to put it in the warming oven on the plane, it was too tall. That hadn't occurred to us. But now we know."
Romberg also noted Delta and Union Square Events both put a lot of faith into what flight attendants tell them about passenger responses to specific menu items. "That cumulative view gives us a lot of data, from what looks dried out to what never gets finished," he explained. "Just yesterday we heard that the blueberries in a breakfast parfait were turning the yogurt a weird shade of grey. We can easily make that adjustment, and passengers will enjoy the dish more."
Romberg said as passenger tastes evolve, his team adds more global flavors to Delta's menus, such as a Moroccan chicken stew that just passed all the R&D tests. "There's a fine line at creating something that sounds a little differ- ent but is still approachable," he said. "A lot of the dish's ingredients are familiar, but instead of adding a bunch of salt, we used harissa and other aromatics to mitigate the taste bud changes that occur at altitude."
Bill Gillen, director of culinary excellence/North American region, LSG Group, which provides airline catering services to dozens of airlines around the world, said he, too, enjoys the challenge of introducing new flavors to customers but wants the dish to delight those who may have grown up eating it as well. "For us, the key is recreating the flavors that make a dish distinct," he explained. "To make sure everything we serve has an authentic flavor profile, we enlist the expertise of chefs who specialize in specific cuisines."
Gillen said the realities of in-flight catering — such as long waits between the time an item is cooked and when it is served — forced him to get creative with ways to maintain the integrity of the ingredients. "Fish is always a challenge, so we got the idea of wrapping each fillet in a steamed cabbage leaf before plating it," he said. "When the dish is served, the flight attendant removes the leaf and discards it. The result is beautifully moist, flavorful fish." The company also experiments with more plant-based proteins.
LSG will also re-introduce the company's Choose Your Own Menu program, a casualty of COVID. "Passengers built their own meals with choices for protein, starch and sauce," Gillen said. "It was very popular."
Other airlines found ways to bring back pre-COVID programs as well. Austrian Airlines introduced a smaller-scale version of its Flying Coffeehouse, offering coffee classics such as the Melangerie, Viennese iced coffee or a mocha on board and making crispy schnitzel available on select flights.
British Airways features classic British dishes including a traditional roast made with aged British beef and served with Yorkshire pudding, chicken pie with mash, and shepherd's pie. The menu also features vegetarian options using butternut squash, wild cavolo nero and asparagus grown in Britain.
In February American Airlines re-introduced hot, plated meals in both economy and business classes and will add healthy grain bowls and entrée salads later in the spring. Passenger favorites like short ribs and warmed mixed nuts will also reappear.
Beyond food choices, travelers can look forward to other changes on upcoming flights. Increasingly, passengers make onboard food and beverage purchases using an app on mobile devices; most require a pre-loaded payment method. Pre-order options are also exploding, from British Airways' Buy Before You Fly menus, which include a selection of food from Michelin-starred chef Tom Kerridge, to Delta's First and Business Class Pre-Select menus. "Passengers can choose a regular menu item or one of our limited selections, which is only available as a pre-order," said Delta's Henny. "Since we know exactly how many we'll need for each flight, it gives us a chance to get creative."
Airlines also look to minimize single-use plastics and other noncompostable materials, which poses even more of a challenge in today's COVID era. Delta and ANA are switching to cutlery and dishes made from biodegradable materials; in the main cabin, Delta will serve wines in aluminum cans from a sustainable winery. Swiss International Air Lines and Austrian Airlines are exploring programs to reduce food waste by offering unpurchased fresh products for sale at a discounted price on the last flights of the day.
Emirates purchases a number of products from companies that utilize ecologically friendly practices. These include Castello Monte Vibiano Vecchio Cantina, Italy's first olive oil producer to achieve zero greenhouse gas emissions; Gate Gourmet Japan, which sources produce from farms less than a mile from its facility; and Amarula, an African company that harvests fruit for its cream liqueur from uncultivated trees and supports both elephant conservation and eco-tourism skill building throughout Africa. The company is also building a vertical farm in Dubai that will provide produce served on flights and in Emirates lounges.
"COVID forced us to forge new relationships, get innovative with technology and rethink how we do almost everything," said Delta's Henny. "It's been an adventure, but it's made us more nimble."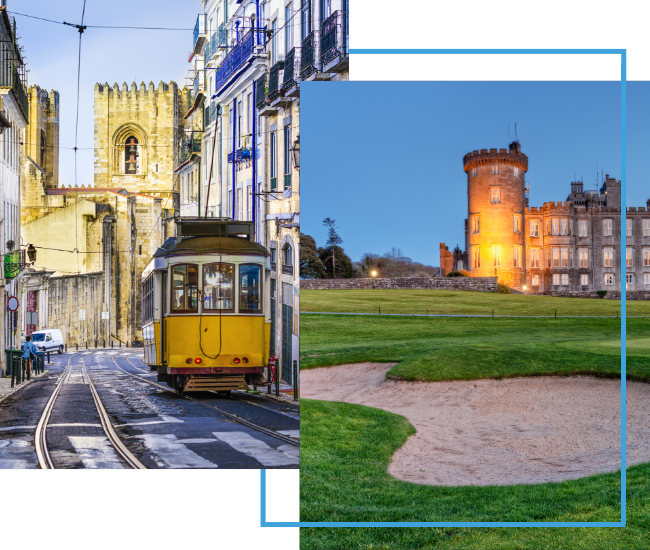 FX Excursions
FX Excursions offers the chance for once-in-a-lifetime experiences in destinations around the world.
Explore Excursions
The Perelman Performing Arts Center (PAC NYC), the cultural cornerstone and final public element of the World Trade Center site, opened this September.  The new performing arts center in Lower Manhattan provides a dynamic home for the arts, serving audiences and creators through flexible venues enabling the facility to embrace wide-ranging artistic programs.
Sponsored Content
United Airlines is in the midst of a major initiative to modernize its fleet over the next several years. After first announcing the plan in 2021, planes fitted with United's signature interior are finally beginning to appear across the airline's narrowbody fleet of Boeing and Airbus planes. United flyers are sure to notice these enhancements from the moment they step on board: Each new or updated plane sports remodeled seats, seatback entertainment screens for everyone, Bluetooth connectivity and more, all adding up to a better experience on every journey.
Whether you call secondhand fashion treasure troves "thrift stores," "fripperies," "charity shops," "vintage boutiques" or something else, shifting the paradigm from "old clothes" to "new finds," you may find the best, most conversation-starting souvenirs inside these shops and neighborhoods located in the world's most fashionable cities and a few unexpected places.