LOTTE HOTEL SEOUL DEBUTED THE EXECUTIVE TOWER BUILDING THIS MONTH, offering a new standard in premium luxury hotels. The Executive Tower boasts 278 guestrooms and the Michelin two-starred Pierre Gagnaire a Seoul, a modern French restaurant.
The GA Group, a world-renowned interior design firm that worked on Four Seasons Casablanca and Waldorf Astoria Amsterdam, led the work on Executive Tower. The design is full of Korean beauty, yet remains simple and classic. Rooms boast Beautyrest The One mattresses to ensure a comfortable stay, and a new-concept clothing management device, Styler, in suite rooms.
The Royal Suite, the largest of its kind in Korea, lives up to its name, featuring Beautyrest Black, the largest bed available in Korea and one of the most premium mattresses made. A C. Bechstein grand piano is also a highlight, as well as the private fitness area with equipment from Italian brand TechnoGym.
Wrap yourself in relaxation the minute you enter the Executive Tower with its Walk in the Woods signature scent. The notes of citrus green, freesia floral and woody musk refresh and soothe, and blend with a balance of refreshing fruit and aromatic flowers scents. In room, amenities are crafted by the hotelier collection of Diptyque, using oils and essences of citrus, green mandarin, cashmere and cumin. The hair care products and cleansing gel uplift with citrus and orange blossom hints.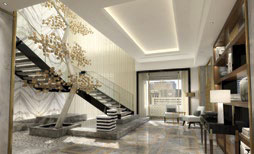 Executive Tower features the largest club lounge in Korea. Here, guests privately check-in at Sky Lobby. Meeting rooms, business services and Packing & Unpacking services are also available. All suites have a Valet Box, so there's no need to ask staff for laundry service.
Le Salon is an exclusive luxury lounge for Executive Lounge guests. Breakfast, light snacks, afternoon tea and happy hour are served, and the Live Station boasts bartenders, baristas and a chef at your service.
Korea's only restaurant by Pierre Gagnaire returns at Lotte Hotel Seoul, introducing a new menu with reasonable prices to offer customers more opportunities to enjoy classic French cuisine in the Korean city. Pierre's Bar offers a stunning nighttime view and 10 new signature cocktails. The French boutique-style space also boasts a wide selection of single-malt whiskeys. The PG Bar Membership's two tiers, Gold and Platinum, entitle members to select drinks dependent on the level. Additional benefits include discounts on snack dishes and free Keeping Box service.
A luxury experience awaits. Visit lottehotel.com for more information.
FX Excursions
FX Excursions offers the chance for once-in-a-lifetime experiences in destinations around the world.
West Palm Beach, Florida, recently welcomed AKA West Palm, a hotel residence offering long-stay accommodations. As AKA's second South Florida property, AKA West Palm features 215 hotel residences comprised of studios, one- and two-bedroom spaces, and Penthouse suites. The five-story hotel blends modern luxuries with comfort and simplicity, with sleek kitchens, washers and dryers, and private terraces. Room furnishings contrast with a backdrop of stone, metal and wood to create simple, clean lines with minimal contrast.
Sponsored Content
Experience the beauty of Alaska and save 60 percent off cruise fares on your second and fourth guests. Plus, drinks, WiFi and tips are all included.
Birmingham, Alabama, was named for the city in the English Midlands that kept the fires burning, warmed the homes and made much of the steel for the United Kingdom's industrial revolution. Decades later, the American city also made steel, so much of it, in fact, it became known as the "Magic City" for steel production, and the moniker stuck. But today's Magic City makes more than steel, taking the raw product a few more steps to become a major center for automobile parts manufacturing and more, including Honda, Mercedes-Benz and U.S. Steel. Thanks to local leadership and long-term planning, the magic still works for Birmingham, as evidenced by its role hosting The World Games 2022 last summer.