LOTTE HOTEL SEOUL DEBUTED THE EXECUTIVE TOWER BUILDING THIS MONTH, offering a new standard in premium luxury hotels. The Executive Tower boasts 278 guestrooms and the Michelin two-starred Pierre Gagnaire a Seoul, a modern French restaurant.
The GA Group, a world-renowned interior design firm that worked on Four Seasons Casablanca and Waldorf Astoria Amsterdam, led the work on Executive Tower. The design is full of Korean beauty, yet remains simple and classic. Rooms boast Beautyrest The One mattresses to ensure a comfortable stay, and a new-concept clothing management device, Styler, in suite rooms.
The Royal Suite, the largest of its kind in Korea, lives up to its name, featuring Beautyrest Black, the largest bed available in Korea and one of the most premium mattresses made. A C. Bechstein grand piano is also a highlight, as well as the private fitness area with equipment from Italian brand TechnoGym.
Wrap yourself in relaxation the minute you enter the Executive Tower with its Walk in the Woods signature scent. The notes of citrus green, freesia floral and woody musk refresh and soothe, and blend with a balance of refreshing fruit and aromatic flowers scents. In room, amenities are crafted by the hotelier collection of Diptyque, using oils and essences of citrus, green mandarin, cashmere and cumin. The hair care products and cleansing gel uplift with citrus and orange blossom hints.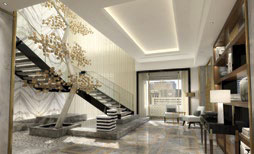 Executive Tower features the largest club lounge in Korea. Here, guests privately check-in at Sky Lobby. Meeting rooms, business services and Packing & Unpacking services are also available. All suites have a Valet Box, so there's no need to ask staff for laundry service.
Le Salon is an exclusive luxury lounge for Executive Lounge guests. Breakfast, light snacks, afternoon tea and happy hour are served, and the Live Station boasts bartenders, baristas and a chef at your service.
Korea's only restaurant by Pierre Gagnaire returns at Lotte Hotel Seoul, introducing a new menu with reasonable prices to offer customers more opportunities to enjoy classic French cuisine in the Korean city. Pierre's Bar offers a stunning nighttime view and 10 new signature cocktails. The French boutique-style space also boasts a wide selection of single-malt whiskeys. The PG Bar Membership's two tiers, Gold and Platinum, entitle members to select drinks dependent on the level. Additional benefits include discounts on snack dishes and free Keeping Box service.
A luxury experience awaits. Visit lottehotel.com for more information.
FX Excursions
FX Excursions offers the chance for once-in-a-lifetime experiences in destinations around the world.
Windstar Cruises partnered with the National Health Association to create a new vegan menu available on all six of the line's yachts. The plant-based dishes are prepared without added salt, oil or sugar, and are also gluten-free.
Sponsored Content
Europe is more fun with a Portugal Stopover.
Viceroy Hotels & Resorts recently announced a partnership with Out & Equal Workplace Advocates, the premier nonprofit organization working exclusively on LGBTQIA+ workplace equality. O&E will provide Viceroy with LGBTQIA+ executive leadership development; comprehensive Diversity, Equality & Inclusion training and consultation; and opportunities for professional networking, creating and sustaining an inclusive and welcoming work environment.